The demand for skilled painters throughout the United Kingdom has never been higher than at the present.Indeed, this role involves much more than placing a few finish coats upon a wall.Professionals are normally experts in other areas such as plastering, speciality finishes, interior decoration and even basic carpentry skills.If a CV does not reflect these and other aptitudes, it is highly unlikely that a business will be interested in what the applicant has to offer.This is the primary reason why our painter CV sample is essential for those who are looking to excel within this growing industry.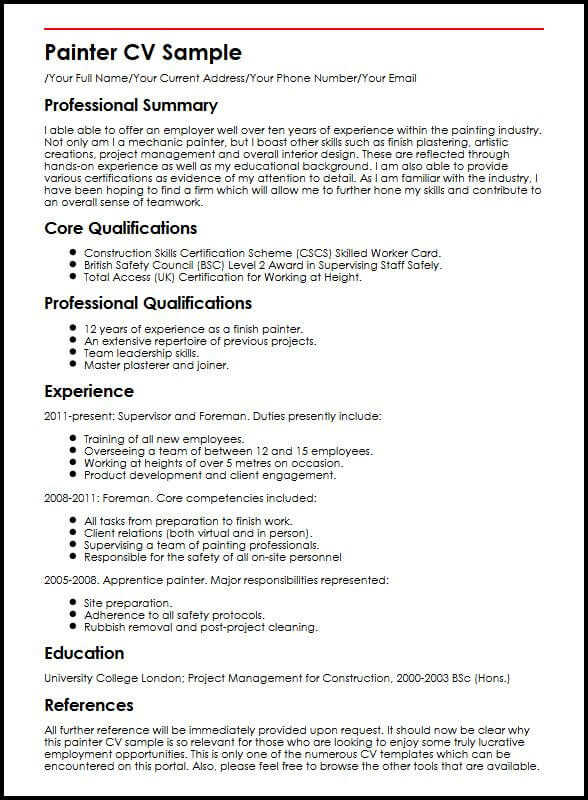 Our professional CV builder is designed to build the most powerful CV and save you time.
Painter CV Sample/Your Full Name/Your Current Address/Your Phone Number/Your Email
Professional Summary
I able able to offer an employer well over ten years of experience within the painting industry.Not only am I a mechanic painter, but I boast other skills such as finish plastering, artistic creations, project management and overall interior design.These are reflected through hands-on experience as well as my educational background.I am also able to provide various certifications as evidence of my attention to detail.As I am familiar with the industry, I have been hoping to find a firm which will allow me to further hone my skills and contribute to an overall sense of teamwork.
Core Qualifications
Construction Skills Certification Scheme (CSCS) Skilled Worker Card.
British Safety Council (BSC) Level 2 Award in Supervising Staff Safely.
Total Access (UK) Certification for Working at Height.
Professional Qualifications
12 years of experience as a finish painter.
An extensive repertoire of previous projects.
Team leadership skills.
Master plasterer and joiner.
Experience
2011-present: Supervisor and Foreman.Duties presently include:
Training of all new employees.
Overseeing a team of between 12 and 15 employees.
Working at heights of over 5 metres on occasion.
Product development and client engagement.
2008-2011: Foreman.Core competencies included:
All tasks from preparation to finish work.
Client relations (both virtual and in person).
Supervising a team of painting professionals.
Responsible for the safety of all on-site personnel
2005-2008. Apprentice painter.Major responsibilities represented:
Site preparation.
Adherence to all safety protocols.
Rubbish removal and post-project cleaning.
Education
University College London; Project Management for Construction, 2000-2003 BSc (Hons.)
References
All further reference will be immediately provided upon request.It should now be clear why this painter CV sample is so relevant for those who are looking to enjoy some truly lucrative employment opportunities.This is only one of the numerous CV templates which can be encountered on this portal.Also, please feel free to browse the other tools that are available.