Customize this CV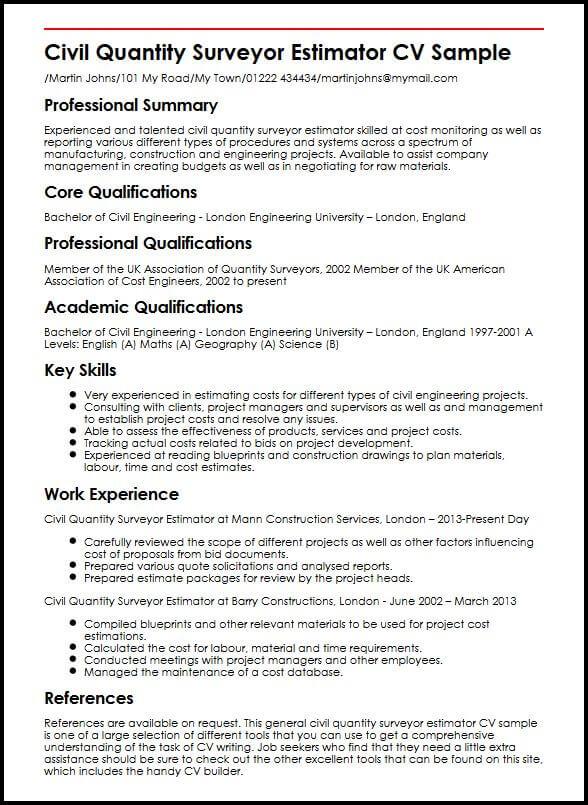 ---
Create This CV
If you are looking for a job as a civil quantity surveyor estimator, it is critical to create a CV that displays your key talents and skills as well as highlighting your relevant strengths. You are invited use this free civil quantity surveyor estimator CV sample as a pattern to help you to understand the different fundamentals that you need to incorporate when you write your own civil quantity surveyor estimator CV and you can use the format that has been set out here to assist you.
Civil Quantity Surveyor Estimator CV Sample
/Martin Johns/101 My Road/My Town/01222 434434/martinjohns@mymail.com
Professional Summary
Experienced and talented civil quantity surveyor estimator skilled at cost monitoring as well as reporting various different types of procedures and systems across a spectrum of manufacturing, construction and engineering projects. Available to assist company management in creating budgets as well as in negotiating for raw materials.
Core Qualifications
Bachelor of Civil Engineering – London Engineering University | London, England
Professional Qualifications
Member of the UK Association of Quantity Surveyors, 2002 Member of the UK American Association of Cost Engineers, 2002 to present
Academic Qualifications
Bachelor of Civil Engineering – London Engineering University | London, England 1997-2001 A Levels: English (A) Maths (A) Geography (A) Science (B)
Key Skills
Very experienced in estimating costs for different types of civil engineering projects.
Consulting with clients, project managers and supervisors as well as and management to establish project costs and resolve any issues.
Able to assess the effectiveness of products, services and project costs.
Tracking actual costs related to bids on project development.
Experienced at reading blueprints and construction drawings to plan materials, labour, time and cost estimates.
Work Experience
Civil Quantity Surveyor Estimator at Mann Construction Services, London | 2013-Present Day
Carefully reviewed the scope of different projects as well as other factors influencing cost of proposals from bid documents.
Prepared various quote solicitations and analysed reports.
Prepared estimate packages for review by the project heads.
Civil Quantity Surveyor Estimator at Barry Constructions, London – June 2002 | March 2013
Compiled blueprints and other relevant materials to be used for project cost estimations.
Calculated the cost for labour, material and time requirements.
Conducted meetings with project managers and other employees.
Managed the maintenance of a cost database.
References
References are available on request. This general civil quantity surveyor estimator CV sample is one of a large selection of different tools that you can use to get a comprehensive understanding of the task of CV writing. Job seekers who find that they need a little extra assistance should be sure to check out the other excellent tools that can be found on this site, which includes the handy CV builder.