Are you thinking about leaving your current job position for a better opportunity?You may be entering into the world of employment for the first time.These are two instances of when a well-written CV will come in very handy.However, there are many skilled applicants who are unaware of how this document should be formatted.We have made things simple by providing you with a common CV example.Please spend some time examining its contents, its layout and the information that it presents to the recruiter.You can then modify this framework to suit your unique skills and past experience.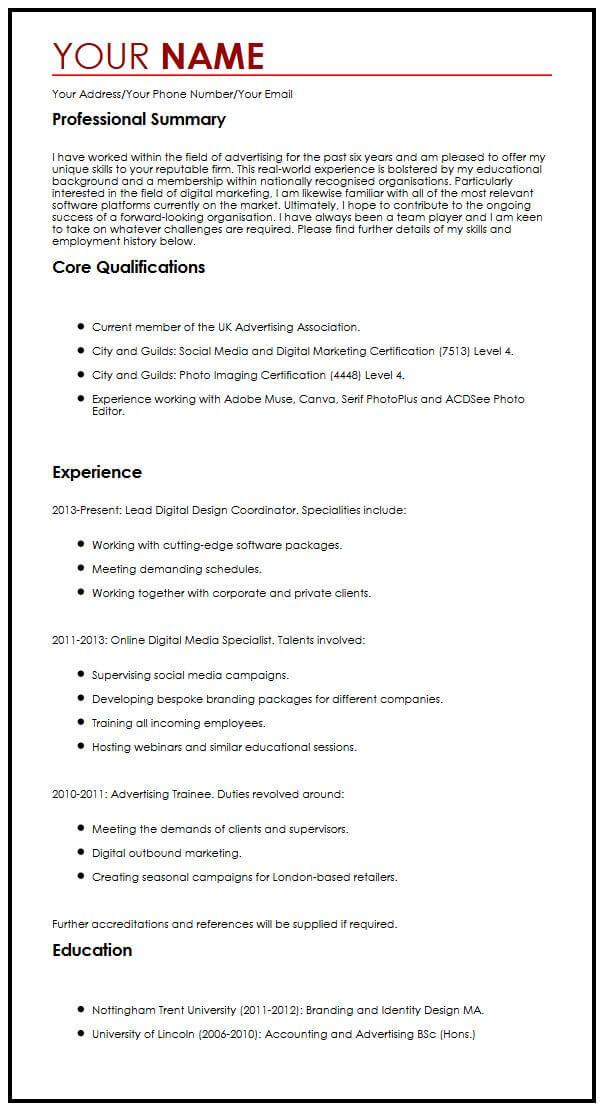 Your Address/Your Phone Number/Your Email
Professional Summary
I have worked within the field of advertising for the past six years and am pleased to offer my unique skills to your reputable firm.This real-world experience is bolstered by my educational background and a membership within nationally recognised organisations.Particularly interested in the field of digital marketing, I am likewise familiar with all of the most relevant software platforms currently on the market.Ultimately, I hope to contribute to the ongoing success of a forward-looking organisation.I have always been a team player and I am keen to take on whatever challenges are required.Please find further details of my skills and employment history below.
Core Qualifications
Current member of the UK Advertising Association.
City and Guilds: Social Media and Digital Marketing Certification (7513) Level 4.
City and Guilds: Photo Imaging Certification (4448) Level 4.
Experience working with Adobe Muse, Canva, Serif PhotoPlus and ACDSee Photo Editor.
Experience
2013-Present: Lead Digital Design Coordinator.Specialities include:
Working with cutting-edge software packages.
Meeting demanding schedules.
Working together with corporate and private clients.
2011-2013: Online Digital Media Specialist.Talents involved:
Supervising social media campaigns.
Developing bespoke branding packages for different companies.
Training all incoming employees.
Hosting webinars and similar educational sessions.
2010-2011: Advertising Trainee.Duties revolved around:
Meeting the demands of clients and supervisors.
Digital outbound marketing.
Creating seasonal campaigns for London-based retailers.
Further accreditations and references will be supplied if required.
Education
Nottingham Trent University (2011-2012): Branding and Identity Design MA.
University of Lincoln (2006-2010): Accounting and Advertising BSc (Hons.)
Conclusion
This common CV example reflects the basic format and information that should be presented to a prospective employer.If you are looking for a sample that reflects a specific industry, please browse through the additional pages within this website.There are countless other templates to choose from as well as further tips and tricks to enhance the job-seeking process.