CV example for PhD candidates
The purpose of a CV is to secure a job interview from a prospective employer by highlighting your qualifications, experience and personal qualities. The PhD you hold is more than likely going to satisfy any academic requirements. Moreover, it demonstrates that you have a detailed and specialist knowledge of your chosen field, can research information and produce cogent, easily understood, written arguments that reach a conclusion. It is very important, therefore, that your CV flows, and is free from spelling and grammatical errors. It is unlikely that you will gain employment on the basis of your CV alone, so you have to pack it with other information about yourself, that will make a recruiting officer select you for a second look. Use the free CV example for PhD candidates below as a template to produce your own.
32, Pinedale Road, Exton./03936 56987/dsj3@flymail.co.uk
I completed my PhD in cognitive psychology in April 2016. My thesis was well received by the profession and led to a number of high-profile speaking engagements at conferences and other meetings, where practising psychologists wanted to hear about and discuss my work. I am therefore well versed in speaking to large numbers of people, creating and delivering PowerPoint presentations and answering questions. During my six-year period of study I worked in several bars and a couple of restaurants. These jobs enabled me to earn money to help finance my study and meet my living expenses. They also gave me lots of experience in dealing with people from all different walks of life.I am able to quickly build a rapport with people, put them at their ease and deal diplomatically with any problems. Since gaining my PhD I registered with an agency that supplies lecturers to universities, teacher training colleges and other establishments providing higher education, and I have successfully completed a number of temporary postings. I believe this demonstrates my ability to go into new situations and environments, quickly take control and carry out my remit. In addition to my academic qualifications I am also a qualified Neuro-Linguistic Programming Practitioner and have used the skills I have learned through this to coach members of my family, friends and fellow students. I like to keep fit; I run regularly and take part in medium-distance community events. I play the cello to relax and enjoy any reading; this gives me a break from my chosen field of practice.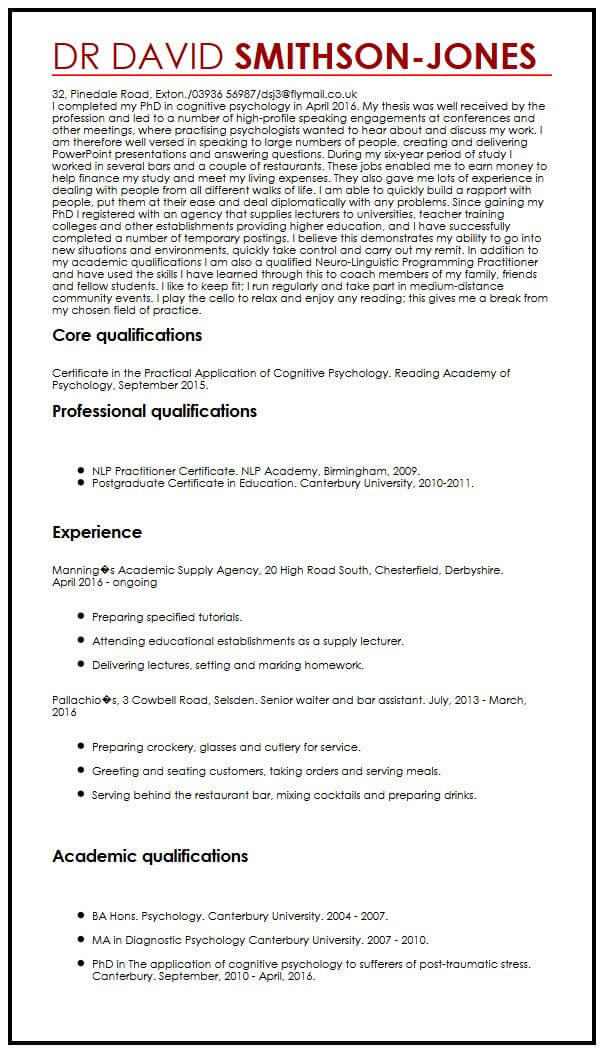 Core qualifications
Certificate in the Practical Application of Cognitive Psychology. Reading Academy of Psychology, September 2015.
Professional qualifications
NLP Practitioner Certificate. NLP Academy, Birmingham, 2009.
Postgraduate Certificate in Education. Canterbury University, 2010-2011.
Experience
Manning's Academic Supply Agency, 20 High Road South, Chesterfield, Derbyshire. April 2016 - ongoing
Preparing specified tutorials.
Attending educational establishments as a supply lecturer.
Delivering lectures, setting and marking homework.
Pallachio's, 3 Cowbell Road, Selsden. Senior waiter and bar assistant.July, 2013 - March, 2016
Preparing crockery, glasses and cutlery for service.
Greeting and seating customers, taking orders and serving meals.
Serving behind the restaurant bar, mixing cocktails and preparing drinks.
Academic qualifications
BA Hons. Psychology. Canterbury University. 2004 - 2007.
MA in Diagnostic PsychologyCanterbury University. 2007 - 2010.
PhD in The application of cognitive psychology to sufferers of post-traumatic stress. Canterbury. September, 2010 - April, 2016.
Conclusion
If you follow the format in the CV example above, you should have a very good chance of progressing to the next stage of any recruitment process. However, you should search this site to find other CV examples for PhD holders as there may be ideas in them that you could also use to your advantage.