Customize this CV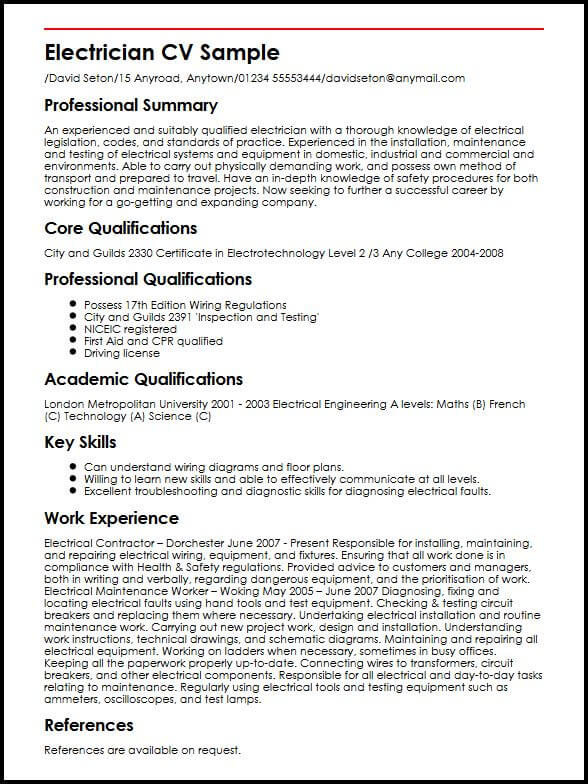 ---
Create This CV
The first step to becoming employed as an electrician is creating a CV that accurately reflects your skills and abilities and highlights your strengths. Using a free electrician CV sample is an invaluable tool that allows you gain insight into the kind of information to include and the formatting that is appropriate.
Electrician CV Sample
/David Seton/15 Anyroad, Anytown/01234 55553444/davidseton@anymail.com
Professional Summary
An experienced and suitably qualified electrician with a thorough knowledge of electrical legislation, codes, and standards of practice. Experienced in the installation, maintenance and testing of electrical systems and equipment in domestic, industrial and commercial and environments. Able to carry out physically demanding work, and possess own method of transport and prepared to travel. Have an in-depth knowledge of safety procedures for both construction and maintenance projects. Now seeking to further a successful career by working for a go-getting and expanding company.
Core Qualifications
City and Guilds 2330 Certificate in Electrotechnology Level 2 /3 Any College 2004-2008
Professional Qualifications
Possess 17th Edition Wiring Regulations
City and Guilds 2391 'Inspection and Testing'
NICEIC registered
First Aid and CPR qualified
Driving license
Academic Qualifications
London Metropolitan University 2001 – 2003 Electrical Engineering A levels: Maths (B) French (C) Technology (A) Science (C)
Key Skills
Can understand wiring diagrams and floor plans.
Willing to learn new skills and able to effectively communicate at all levels.
Excellent troubleshooting and diagnostic skills for diagnosing electrical faults.
Work Experience
Electrical Contractor | Dorchester June 2007 – Present Responsible for installing, maintaining, and repairing electrical wiring, equipment, and fixtures. Ensuring that all work done is in compliance with Health & Safety regulations. Provided advice to customers and managers, both in writing and verbally, regarding dangerous equipment, and the prioritisation of work. Electrical Maintenance Worker | Woking May 2005 | June 2007 Diagnosing, fixing and locating electrical faults using hand tools and test equipment. Checking & testing circuit breakers and replacing them where necessary. Undertaking electrical installation and routine maintenance work. Carrying out new project work, design and installation. Understanding work instructions, technical drawings, and schematic diagrams. Maintaining and repairing all electrical equipment. Working on ladders when necessary, sometimes in busy offices. Keeping all the paperwork properly up-to-date. Connecting wires to transformers, circuit breakers, and other electrical components. Responsible for all electrical and day-to-day tasks relating to maintenance. Regularly using electrical tools and testing equipment such as ammeters, oscilloscopes, and test lamps.
References
References are available on request.