Customize this CV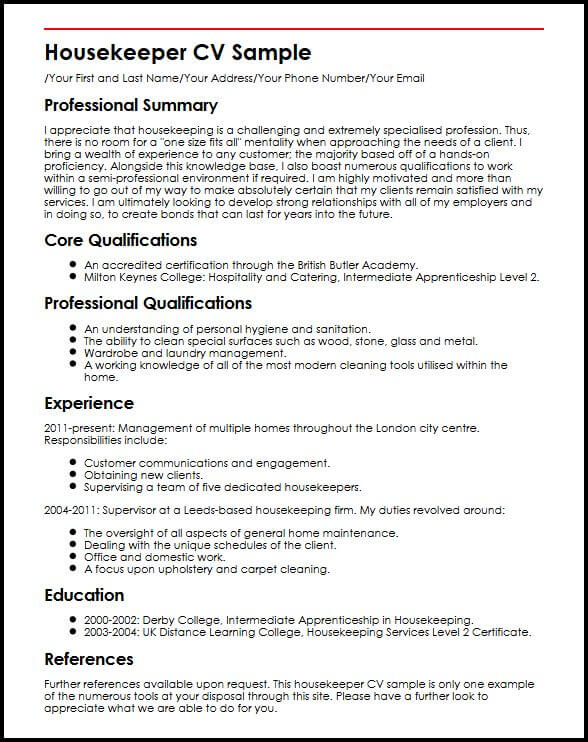 ---
Create This CV
The role of a housekeeper is as varied as it is challenging. Of course, this position can be defined in numerous different ways. Some will specialise in the general maintenance of a home while others could instead be interested in more targeted applications such as yard work, caring for children or even managing multiple locations on different days of the week. It is therefore critical that you present yourself in the most attractive manner during the entire interview process and much of this will tend to revolve around how a CV is created. So, please take a look at this comprehensive housekeeper CV sample to better appreciate the work that goes into creating a stunning and memorable summary of your work experience.
Housekeeper CV Sample
/Your First and Last Name/Your Address/Your Phone Number/Your Email
Professional Summary
I appreciate that housekeeping is a challenging and extremely specialised profession. Thus, there is no room for a "one size fits all" mentality when approaching the needs of a client. I bring a wealth of experience to any customer; the majority based off of a hands-on proficiency. Alongside this knowledge base, I also boast numerous qualifications to work within a semi-professional environment if required. I am highly motivated and more than willing to go out of my way to make absolutely certain that my clients remain satisfied with my services. I am ultimately looking to develop strong relationships with all of my employers and in doing so, to create bonds that can last for years into the future.
Core Qualifications
An accredited certification through the British Butler Academy.
Milton Keynes College: Hospitality and Catering, Intermediate Apprenticeship Level 2.
Professional Qualifications
An understanding of personal hygiene and sanitation.
The ability to clean special surfaces such as wood, stone, glass and metal.
Wardrobe and laundry management.
A working knowledge of all of the most modern cleaning tools utilised within the home.
Experience
2011-present: Management of multiple homes throughout the London city centre. Responsibilities include:
Customer communications and engagement.
Obtaining new clients.
Supervising a team of five dedicated housekeepers.
2004-2011: Supervisor at a Leeds-based housekeeping firm. My duties revolved around:
The oversight of all aspects of general home maintenance.
Dealing with the unique schedules of the client.
Office and domestic work.
A focus upon upholstery and carpet cleaning.
Education
2000-2002: Derby College, Intermediate Apprenticeship in Housekeeping.
2003-2004: UK Distance Learning College, Housekeeping Services Level 2 Certificate.
References
Further references available upon request. This housekeeper CV sample is only one example of the numerous tools at your disposal through this site. Please have a further look to appreciate what we are able to do for you.