Head Housekeeper CV Example
Housekeeping is an industry which has been a staple of the English economy for thousands of years and this very same trend continues into the present day.As the demand for skilled labour continues to increase at a breakneck pace, we should fully expect head housekeepers to enjoy high wages and a malleable work environment.The only downside to these observations is the fact that competition is indeed on the rise.In turn, it is critical that you present yourself in the most professional manner during the job-seeking process.This head housekeeper CV sample is meant to provide you with the insight required to fashion an attractive presentation and to list all of your most impressive talents.
Create This CVSee all templates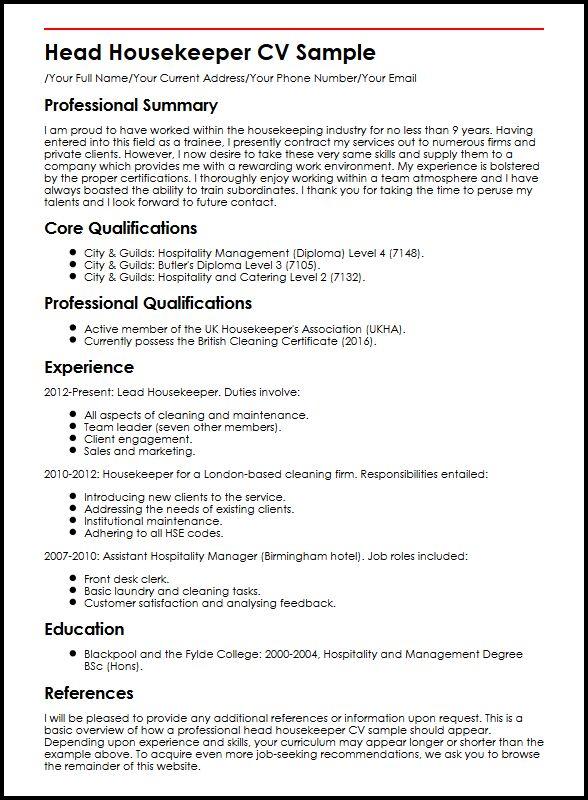 Build a professional CV that gets you hired.
Head Housekeeper CV Sample/Your Full Name/Your Current Address/Your Phone Number/Your Email
Professional Summary
I am proud to have worked within the housekeeping industry for no less than 9 years. Having entered into this field as a trainee, I presently contract my services out to numerous firms and private clients.However, I now desire to take these very same skills and supply them to a company which provides me with a rewarding work environment.My experience is bolstered by the proper certifications.I thoroughly enjoy working within a team atmosphere and I have always boasted the ability to train subordinates.I thank you for taking the time to peruse my talents and I look forward to future contact.
Core Qualifications
City & Guilds: Hospitality Management (Diploma) Level 4 (7148).
City & Guilds: Butler's Diploma Level 3 (7105).
City & Guilds: Hospitality and Catering Level 2 (7132).
Professional Qualifications
Active member of the UK Housekeeper's Association (UKHA).
Currently possess the British Cleaning Certificate (2016).
Experience
2012-Present: Lead Housekeeper.Duties involve:
All aspects of cleaning and maintenance.
Team leader (seven other members).
Client engagement.
Sales and marketing.
2010-2012: Housekeeper for a London-based cleaning firm.Responsibilities entailed:
Introducing new clients to the service.
Addressing the needs of existing clients.
Institutional maintenance.
Adhering to all HSE codes.
2007-2010: Assistant Hospitality Manager (Birmingham hotel).Job roles included:
Front desk clerk.
Basic laundry and cleaning tasks.
Customer satisfaction and analysing feedback.
Education
Blackpool and the Fylde College: 2000-2004, Hospitality and Management Degree BSc (Hons).
References
I will be pleased to provide any additional references or information upon request.This is a basic overview of how a professional head housekeeper CV sample should appear.Depending upon experience and skills, your curriculum may appear longer or shorter than the example above.To acquire even more job-seeking recommendations, we ask you to browse the remainder of this website.