Cleaning Supervisor CV Example
What are some of the traits which serve to define the modern cleaning supervisor?Common answers will include an attention to detail, a strong work ethic, the ability to manage others and the talent of adapting well to demanding situations.In truth, these are only some of the assets which employers are now looking for.It can also be very difficult to know how to format a CV for those who may be new to the industry.The cleaning supervisor CV sample that is found immediately below is meant to serve as a template for an applicant.Please examine its contents and structure in more detail in order to appreciate the common approaches that are taken.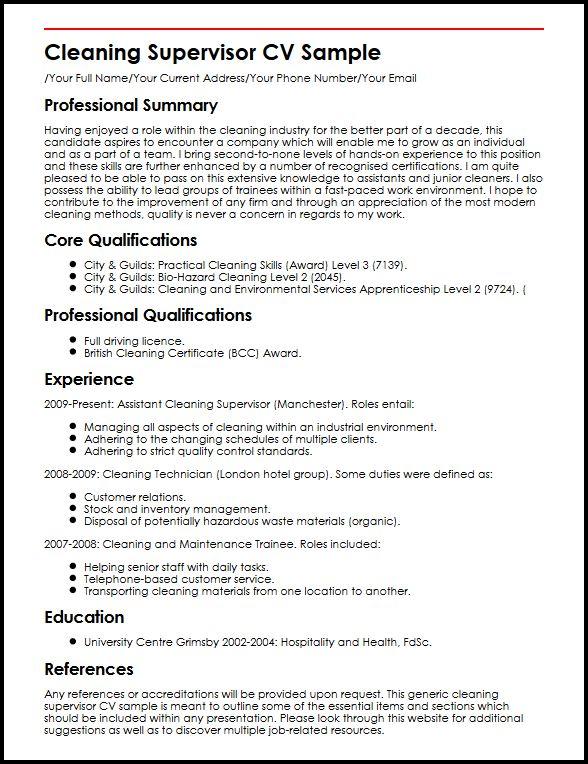 Our professional CV builder is designed to build the most powerful CV and save you time.
Cleaning Supervisor CV Sample/Your Full Name/Your Current Address/Your Phone Number/Your Email
Professional Summary
Having enjoyed a role within the cleaning industry for the better part of a decade, this candidate aspires to encounter a company which will enable me to grow as an individual and as a part of a team.I bring second-to-none levels of hands-on experience to this position and these skills are further enhanced by a number of recognised certifications.I am quite pleased to be able to pass on this extensive knowledge to assistants and junior cleaners.I also possess the ability to lead groups of trainees within a fast-paced work environment.I hope to contribute to the improvement of any firm and through an appreciation of the most modern cleaning methods, quality is never a concern in regards to my work.
Core Qualifications
City & Guilds: Practical Cleaning Skills (Award) Level 3 (7139).
City & Guilds: Bio-Hazard Cleaning Level 2 (2045).
City & Guilds: Cleaning and Environmental Services Apprenticeship Level 2 (9724). (
Professional Qualifications
Full driving licence.
British Cleaning Certificate (BCC) Award.
Experience
2009-Present: Assistant Cleaning Supervisor (Manchester).Roles entail:
Managing all aspects of cleaning within an industrial environment.
Adhering to the changing schedules of multiple clients.
Adhering to strict quality control standards.
2008-2009: Cleaning Technician (London hotel group).Some duties were defined as:
Customer relations.
Stock and inventory management.
Disposal of potentially hazardous waste materials (organic).
2007-2008: Cleaning and Maintenance Trainee.Roles included:
Helping senior staff with daily tasks.
Telephone-based customer service.
Transporting cleaning materials from one location to another.
Education
University Centre Grimsby 2002-2004: Hospitality and Health, FdSc.
References
Any references or accreditations will be provided upon request.This generic cleaning supervisor CV sample is meant to outline some of the essential items and sections which should be included within any presentation.Please look through this website for additional suggestions as well as to discover multiple job-related resources.