Medical Student CV Example
This CV Example for Medical Students is a crucial document in any job search, since it serves as a record of your achievements, skills and personal / academic strengths. The CV Example for Medical Students that you will find in this section will put you on the right track when it comes to proving to prospective employers that you are the strongest candidate and a valuable addition to their clinical team. Feel free to study the content and format of this CV Sample for Medical Students and prepare to enjoy a strong start to your career in medicine.

Create This CVSee all templates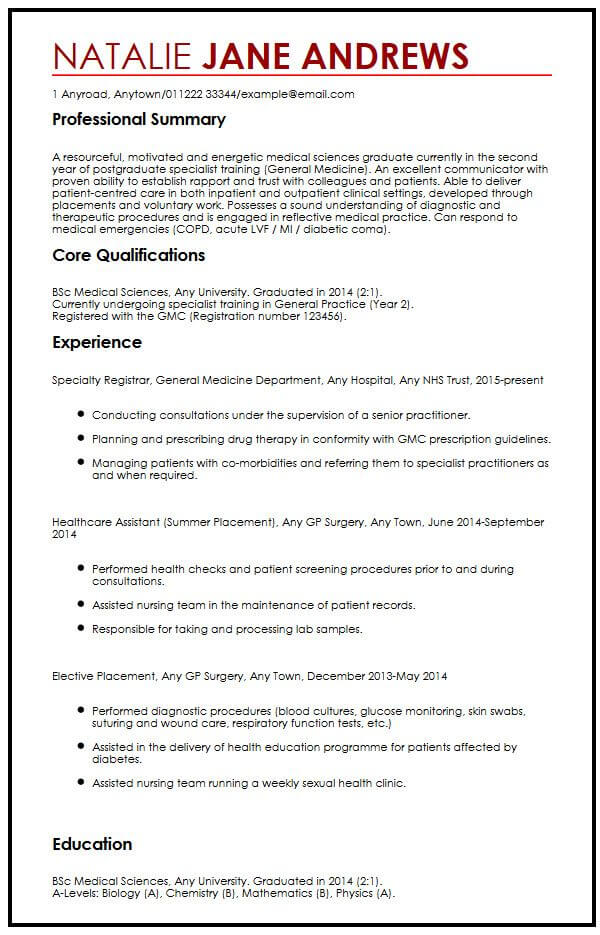 Build a professional CV that gets you hired.
1 Anyroad, Anytown/011222 33344/example@email.com
Professional Summary
A resourceful, motivated and energetic medical sciences graduate currently in the second year of postgraduate specialist training (General Medicine). An excellent communicator with proven ability to establish rapport and trust with colleagues and patients. Able to deliver patient-centred care in both inpatient and outpatient clinical settings, developed through placements and voluntary work. Possesses a sound understanding of diagnostic and therapeutic procedures and is engaged in reflective medical practice. Can respond to medical emergencies (COPD, acute LVF / MI / diabetic coma).
Core Qualifications
BSc Medical Sciences, Any University. Graduated in 2014 (2:1).Currently undergoing specialist training in General Practice (Year 2).Registered with the GMC (Registration number 123456).
Experience
Specialty Registrar, General Medicine Department, Any Hospital, Any NHS Trust, 2015-present
Conducting consultations under the supervision of a senior practitioner.
Planning and prescribing drug therapy in conformity with GMC prescription guidelines.
Managing patients with co-morbidities and referring them to specialist practitioners as and when required.
Healthcare Assistant (Summer Placement), Any GP Surgery, Any Town, June 2014-September 2014
Performed health checks and patient screening procedures prior to and during consultations.
Assisted nursing team in the maintenance of patient records.
Responsible for taking and processing lab samples.
Elective Placement, Any GP Surgery, Any Town, December 2013-May 2014
Performed diagnostic procedures (blood cultures, glucose monitoring, skin swabs, suturing and wound care, respiratory function tests, etc.)
Assisted in the delivery of health education programme for patients affected by diabetes.
Assisted nursing team running a weekly sexual health clinic.
Education
BSc Medical Sciences, Any University. Graduated in 2014 (2:1).A-Levels: Biology (A), Chemistry (B), Mathematics (B), Physics (A).
Conclusion
This CV Example for Medical Students is a handy tool that can help you position yourself ahead of other candidates. If you found it useful, don't forget to check out the rest of our CV builder tools, which are available online at no cost.
Related CVs Entry Level CV Examples