Environmental Officer CV Example
When seeking a career as an environmental officer, you need a professional CV to illustrate your dedication to the environment together with your strengths and capabilities reinforced through your formal qualifications. Our environmental officer CV sample will help you build a credible CV to include all the essential information presented in the right language, style and format. Using the online environmental officer CV sample is a sure way to get your application noticed by the recruiting team, thereby maximizing your chances of getting the job.
Create This CVSee all templates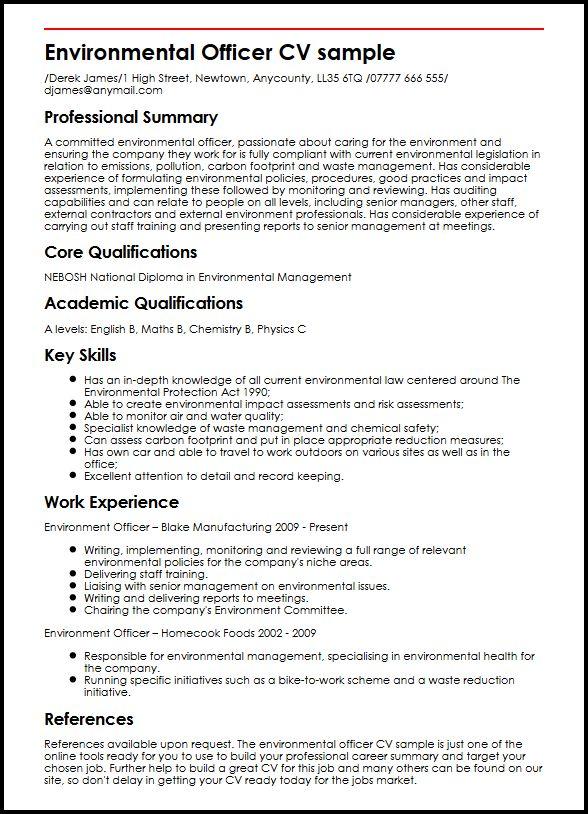 Build a professional CV that gets you hired.
Environmental Officer CV sample/Derek James/1 High Street, Newtown, Anycounty, LL35 6TQ /07777 666 555/ djames@anymail.com
Professional Summary
A committed environmental officer, passionate about caring for the environment and ensuring the company they work for is fully compliant with current environmental legislation in relation to emissions, pollution, carbon footprint and waste management. Has considerable experience of formulating environmental policies, procedures, good practices and impact assessments, implementing these followed by monitoring and reviewing. Has auditing capabilities and can relate to people on all levels, including senior managers, other staff, external contractors and external environment professionals. Has considerable experience of carrying out staff training and presenting reports to senior management at meetings.
Core Qualifications
NEBOSH National Diploma in Environmental Management
Academic Qualifications
A levels: English B, Maths B, Chemistry B, Physics C
Key Skills
Has an in-depth knowledge of all current environmental law centered around The Environmental Protection Act 1990;
Able to create environmental impact assessments and risk assessments;
Able to monitor air and water quality;
Specialist knowledge of waste management and chemical safety;
Can assess carbon footprint and put in place appropriate reduction measures;
Has own car and able to travel to work outdoors on various sites as well as in the office;
Excellent attention to detail and record keeping.
Work Experience
Environment Officer | Blake Manufacturing 2009 - Present
Writing, implementing, monitoring and reviewing a full range of relevant environmental policies for the company's niche areas.
Delivering staff training.
Liaising with senior management on environmental issues.
Writing and delivering reports to meetings.
Chairing the company's Environment Committee.
Environment Officer | Homecook Foods 2002 - 2009
Responsible for environmental management, specialising in environmental health for the company.
Running specific initiatives such as a bike-to-work scheme and a waste reduction initiative.
References
References available upon request.The environmental officer CV sample is just one of the online tools ready for you to use to build your professional career summary and target your chosen job. Further help to build a great CV for this job and many others can be found on our site, so don't delay in getting your CV ready today for the jobs market.