Environmental Consultant CV Example
A potential employer's first impression of you as a candidate is formed by your CV, so it's vital to get things right when you're listing your education, experience, and qualifications. It's equally important to use the right layout and format, making it easier to pick out the information at a glance. Reading through an environmental consultant CV sample before you begin is a good way to work out which details you need to include, and how you should display them. The environmental consultant CV sample below gives a good example of a well thought out and constructed CV, likely to catch the eye of a recruiter or employer.
Create This CVSee all templates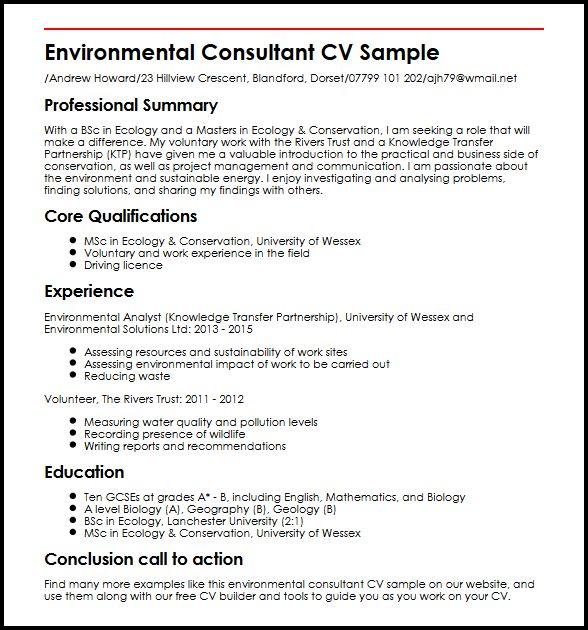 Build a professional CV that gets you hired.
Environmental Consultant CV Sample/Andrew Howard/23 Hillview Crescent, Blandford, Dorset/07799 101 202/ajh79@wmail.net
Professional Summary
With a BSc in Ecology and a Masters in Ecology & Conservation, I am seeking a role that will make a difference. My voluntary work with the Rivers Trust and a Knowledge Transfer Partnership (KTP) have given me a valuable introduction to the practical and business side of conservation, as well as project management and communication. I am passionate about the environment and sustainable energy. I enjoy investigating and analysing problems, finding solutions, and sharing my findings with others.
Core Qualifications
MSc in Ecology & Conservation, University of Wessex
Voluntary and work experience in the field
Driving licence
Experience
Environmental Analyst (Knowledge Transfer Partnership), University of Wessex and Environmental Solutions Ltd: 2013 - 2015
Assessing resources and sustainability of work sites
Assessing environmental impact of work to be carried out
Reducing waste
Volunteer, The Rivers Trust: 2011 - 2012
Measuring water quality and pollution levels
Recording presence of wildlife
Writing reports and recommendations
Education
Ten GCSEs at grades A* - B, including English, Mathematics, and Biology
A level Biology (A), Geography (B), Geology (B)
BSc in Ecology, Lanchester University (2:1)
MSc in Ecology & Conservation, University of Wessex
Conclusion call to action
Find many more examples like this environmental consultant CV sample on our website, and use them along with our free CV builder and tools to guide you as you work on your CV.