Geographic Information Systems Analyst CV Example
The road to your new dream job starts with crafting the ideal CV, as this is the first thing employers see of you. Showing them you're the perfect choice can be tricky, so feel free to use our free GIS analyst CV sample to start the process. From here, you can write a strong CV with a smart, eye-catching layout that will kick start your new career.
Create This CVSee all templates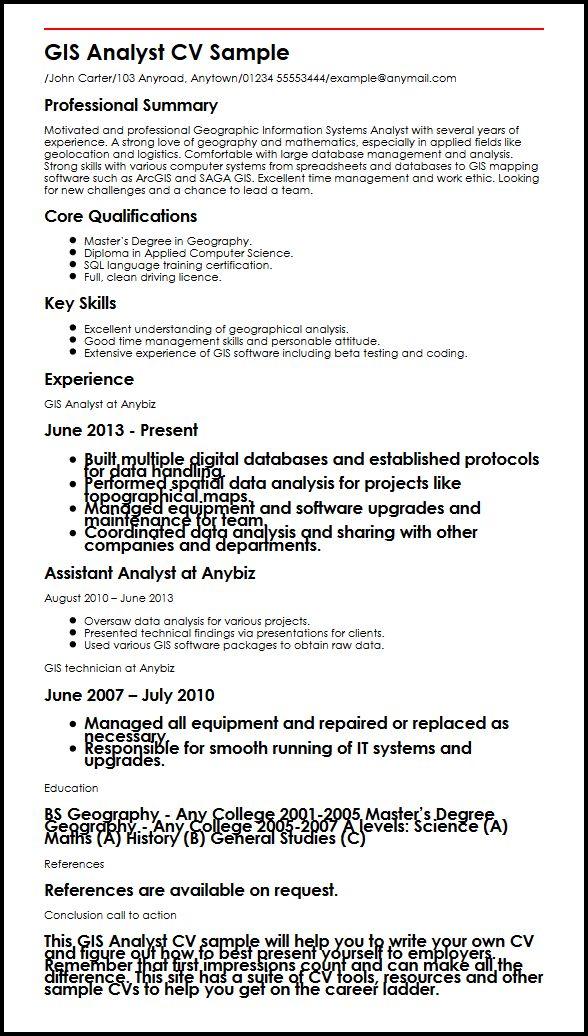 Build a professional CV that gets you hired.
GIS Analyst CV Sample/John Carter/103 Anyroad, Anytown/01234 55553444/example@anymail.com
Professional Summary
Motivated and professional Geographic Information Systems Analyst with several years of experience. A strong love of geography and mathematics, especially in applied fields like geolocation and logistics. Comfortable with large database management and analysis. Strong skills with various computer systems from spreadsheets and databases to GIS mapping software such as ArcGIS and SAGA GIS. Excellent time management and work ethic. Looking for new challenges and a chance to lead a team.
Core Qualifications
Master's Degree in Geography.
Diploma in Applied Computer Science.
SQL language training certification.
Full, clean driving licence.
Key Skills
Excellent understanding of geographical analysis.
Good time management skills and personable attitude.
Extensive experience of GIS software including beta testing and coding.
Experience
GIS Analyst at Anybiz
June 2013 - Present

Built multiple digital databases and established protocols for data handling.
Performed spatial data analysis for projects like topographical maps.
Managed equipment and software upgrades and maintenance for team.
Coordinated data analysis and sharing with other companies and departments.

Assistant Analyst at Anybiz
August 2010 | June 2013
Oversaw data analysis for various projects.
Presented technical findings via presentations for clients.
Used various GIS software packages to obtain raw data.
GIS technician at Anybiz
June 2007 | July 2010

Managed all equipment and repaired or replaced as necessary.
Responsible for smooth running of IT systems and upgrades.
Education
BS Geography - Any College 2001-2005Master's Degree Geography - Any College 2005-2007A levels: Science (A) Maths (A) History (B) General Studies (C)
References
References are available on request.
Conclusion call to action
This GIS Analyst CV sample will help you to write your own CV and figure out how to best present yourself to employers. Remember that first impressions count and can make all the difference. This site has a suite of CV tools, resources and other sample CVs to help you get on the career ladder.