Health, Safety and Environment Officer CV Example
To get a job as a health, safety and environment officer you need a CV that shows you have the right qualifications, skills and abilities for the role. Our free hse officer CV sample allows you to put your details into a professional format, ensuring you've included everything necessary to make a strong impression on the recruiting manager, who's bound to put you on the shortlist for interview.
Create This CVSee all templates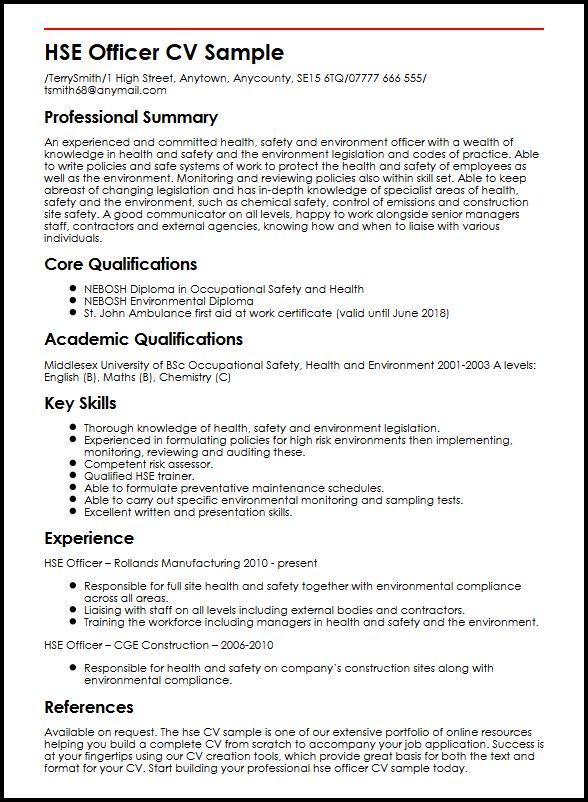 Build a professional CV that gets you hired.
HSE Officer CV Sample/TerrySmith/1 High Street, Anytown, Anycounty, SE15 6TQ/07777 666 555/ tsmith68@anymail.com
Professional Summary
An experienced and committed health, safety and environment officer with a wealth of knowledge in health and safety and the environment legislation and codes of practice. Able to write policies and safe systems of work to protect the health and safety of employees as well as the environment. Monitoring and reviewing policies also within skill set. Able to keep abreast of changing legislation and has in-depth knowledge of specialist areas of health, safety and the environment, such as chemical safety, control of emissions and construction site safety. A good communicator on all levels, happy to work alongside senior managers staff, contractors and external agencies, knowing how and when to liaise with various individuals.
Core Qualifications
NEBOSH Diploma in Occupational Safety and Health
NEBOSH Environmental Diploma
St. John Ambulance first aid at work certificate (valid until June 2018)
Academic Qualifications
Middlesex University of BSc Occupational Safety, Health and Environment 2001-2003A levels: English (B), Maths (B), Chemistry (C)
Key Skills
Thorough knowledge of health, safety and environment legislation.
Experienced in formulating policies for high risk environments then implementing, monitoring, reviewing and auditing these.
Competent risk assessor.
Qualified HSE trainer.
Able to formulate preventative maintenance schedules.
Able to carry out specific environmental monitoring and sampling tests.
Excellent written and presentation skills.
Experience
HSE Officer | Rollands Manufacturing 2010 - present
Responsible for full site health and safety together with environmental compliance across all areas.
Liaising with staff on all levels including external bodies and contractors.
Training the workforce including managers in health and safety and the environment.
HSE Officer | CGE Construction | 2006-2010
Responsible for health and safety on company's construction sites along with environmental compliance.
References
Available on request.The hse CV sample is one of our extensive portfolio of online resources helping you build a complete CV from scratch to accompany your job application. Success is at your fingertips using our CV creation tools, which provide great basis for both the text and format for your CV. Start building your professional hse officer CV sample today.