Camera Operator CV Example
The road to your new dream job starts with crafting the ideal CV, to show employers that you're serious and a good choice. Getting this right can be tricky, so feel free to use our free camera operator CV sample to start the process. From here, you can write a strong CV with a smart, eye-catching layout that will kick start your new career.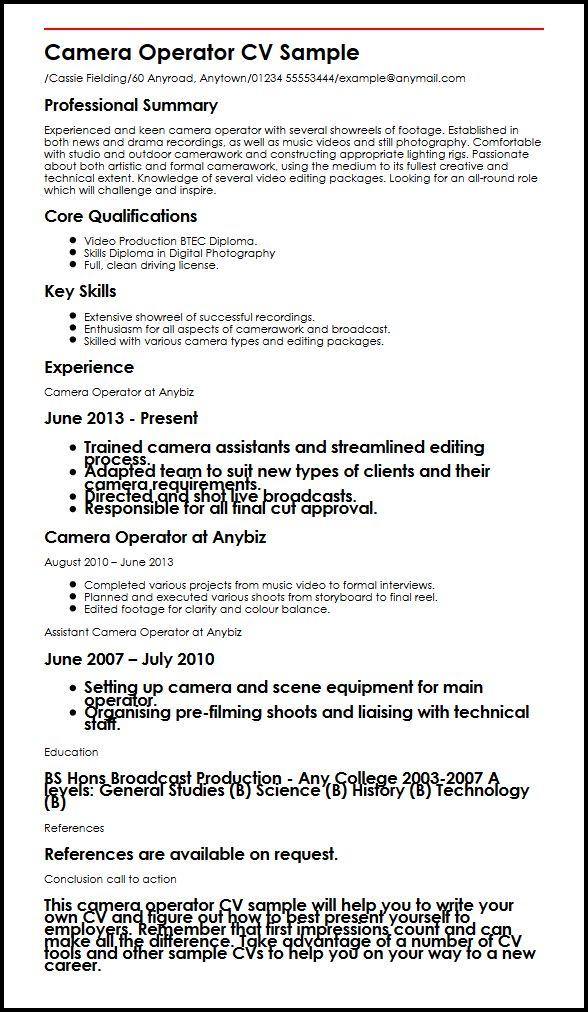 Our professional CV builder is designed to build the most powerful CV and save you time.
Camera Operator CV Sample/Cassie Fielding/60 Anyroad, Anytown/01234 55553444/example@anymail.com
Professional Summary
Experienced and keen camera operator with several showreels of footage. Established in both news and drama recordings, as well as music videos and still photography. Comfortable with studio and outdoor camerawork and constructing appropriate lighting rigs. Passionate about both artistic and formal camerawork, using the medium to its fullest creative and technical extent. Knowledge of several video editing packages. Looking for an all-round role which will challenge and inspire.
Core Qualifications
Video Production BTEC Diploma.
Skills Diploma in Digital Photography
Full, clean driving license.
Key Skills
Extensive showreel of successful recordings.
Enthusiasm for all aspects of camerawork and broadcast.
Skilled with various camera types and editing packages.
Experience
Camera Operator at Anybiz
June 2013 - Present

Trained camera assistants and streamlined editing process.
Adapted team to suit new types of clients and their camera requirements.
Directed and shot live broadcasts.
Responsible for all final cut approval.

Camera Operator at Anybiz
August 2010 | June 2013
Completed various projects from music video to formal interviews.
Planned and executed various shoots from storyboard to final reel.
Edited footage for clarity and colour balance.
Assistant Camera Operator at Anybiz
June 2007 | July 2010

Setting up camera and scene equipment for main operator.
Organising pre-filming shoots and liaising with technical staff.
Education
BS Hons Broadcast Production - Any College 2003-2007A levels: General Studies (B) Science (B) History (B) Technology (B)
References
References are available on request.
Conclusion call to action
This camera operator CV sample will help you to write your own CV and figure out how to best present yourself to employers. Remember that first impressions count and can make all the difference. Take advantage of a number of CV tools and other sample CVs to help you on your way to a new career.