Videographer Editor CV Example
The first step in growing your career in the film and video industry as a Videographer Editor is to design an outstanding CV that positively brings out all your strengths and also clearly reflects your competencies and skills. Our free Videographer Editor CV sample is a great tool that has been designed to help you with useful tips on what you must include in your resume. It also guides you on suitable CV formats that will instantly catch the recruiter's attention.
Create This CVSee all templates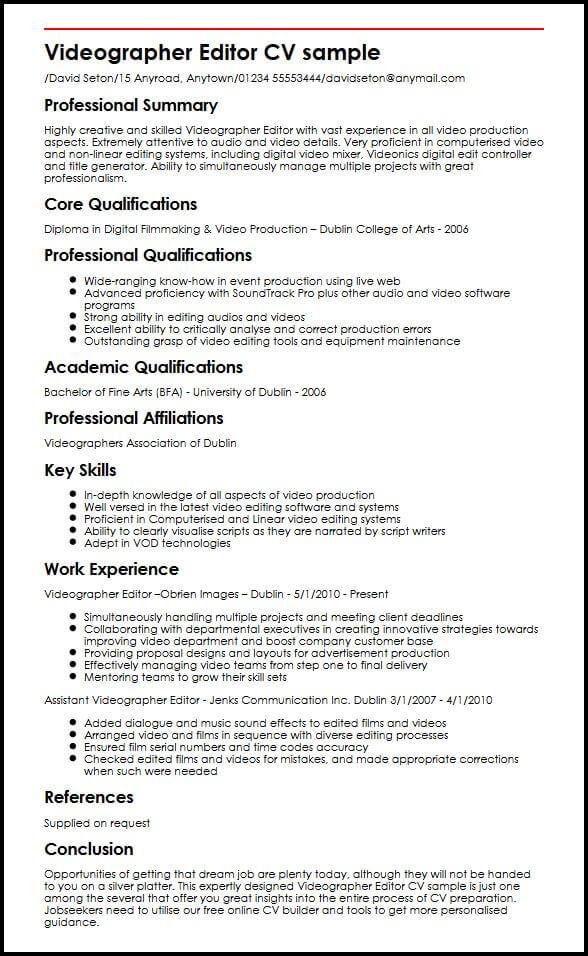 Build a professional CV that gets you hired.
Videographer Editor CV sample /David Seton/15 Anyroad, Anytown/01234 55553444/davidseton@anymail.com
Professional Summary
Highly creative and skilled Videographer Editor with vast experience in all video production aspects. Extremely attentive to audio and video details. Very proficient in computerised video and non-linear editing systems, including digital video mixer, Videonics digital edit controller and title generator. Ability to simultaneously manage multiple projects with great professionalism.
Core Qualifications
Diploma in Digital Filmmaking & Video Production | Dublin College of Arts - 2006
Professional Qualifications
Wide-ranging know-how in event production using live web
Advanced proficiency with SoundTrack Pro plus other audio and video software programs
Strong ability in editing audios and videos
Excellent ability to critically analyse and correct production errors
Outstanding grasp of video editing tools and equipment maintenance
Academic Qualifications
Bachelor of Fine Arts (BFA) - University of Dublin - 2006
Professional Affiliations
Videographers Association of Dublin
Key Skills
In-depth knowledge of all aspects of video production
Well versed in the latest video editing software and systems
Proficient in Computerised and Linear video editing systems
Ability to clearly visualise scripts as they are narrated by script writers
Adept in VOD technologies
Work Experience
Videographer Editor |Obrien Images | Dublin - 5/1/2010 - Present
Simultaneously handling multiple projects and meeting client deadlines
Collaborating with departmental executives in creating innovative strategies towards improving video department and boost company customer base
Providing proposal designs and layouts for advertisement production
Effectively managing video teams from step one to final delivery
Mentoring teams to grow their skill sets
Assistant Videographer Editor - Jenks Communication Inc. Dublin 3/1/2007 - 4/1/2010
Added dialogue and music sound effects to edited films and videos
Arranged video and films in sequence with diverse editing processes
Ensured film serial numbers and time codes accuracy
Checked edited films and videos for mistakes, and made appropriate corrections when such were needed
References
Supplied on request
Conclusion
Opportunities of getting that dream job are plenty today, although they will not be handed to you on a silver platter. This expertly designed Videographer Editor CV sample is just one among the several that offer you great insights into the entire process of CV preparation. Jobseekers need to utilise our free online CV builder and tools to get more personalised guidance.
Related CVs Film television media production