Audio Visual Technician CV Example
Your first critical step towards building your career as an Audio Visual Technician is drafting a CV that stands out: one that positively brings out all your strengths while also clearly reflecting your professional abilities and skills. Our free Audio Visual Technician CV Sample will be very handy in giving you insights into what goes into a good CV. The sample also instructs you on what is the most appropriate CV formatting style guaranteed to catch the attention of recruiters.
Create This CVSee all templates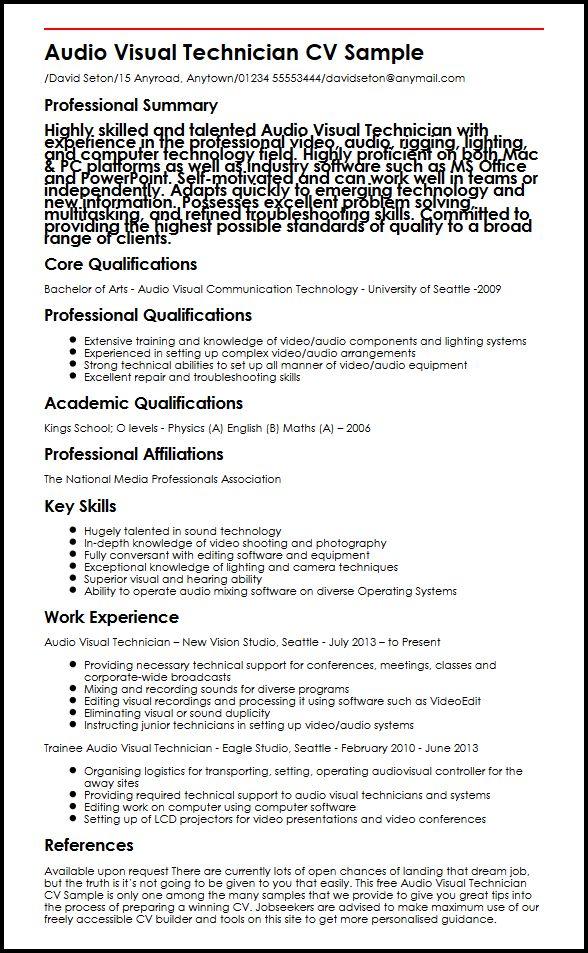 Build a professional CV that gets you hired.
Audio Visual Technician CV Sample/David Seton/15 Anyroad, Anytown/01234 55553444/davidseton@anymail.com
Professional Summary
Highly skilled and talented Audio Visual Technician with experience in the professional video, audio, rigging, lighting, and computer technology field. Highly proficient on both Mac & PC platforms as well as industry software such as MS Office and PowerPoint. Self-motivated and can work well in teams or independently. Adapts quickly to emerging technology and new information. Possesses excellent problem solving, multitasking, and refined troubleshooting skills. Committed to providing the highest possible standards of quality to a broad range of clients.
Core Qualifications
Bachelor of Arts - Audio Visual Communication Technology - University of Seattle -2009
Professional Qualifications
Extensive training and knowledge of video/audio components and lighting systems
Experienced in setting up complex video/audio arrangements
Strong technical abilities to set up all manner of video/audio equipment
Excellent repair and troubleshooting skills
Academic Qualifications
Kings School; O levels - Physics (A) English (B) Maths (A) | 2006
Professional Affiliations
The National Media Professionals Association
Key Skills
Hugely talented in sound technology
In-depth knowledge of video shooting and photography
Fully conversant with editing software and equipment
Exceptional knowledge of lighting and camera techniques
Superior visual and hearing ability
Ability to operate audio mixing software on diverse Operating Systems
Work Experience
Audio Visual Technician | New Vision Studio, Seattle - July 2013 | to Present
Providing necessary technical support for conferences, meetings, classes and corporate-wide broadcasts
Mixing and recording sounds for diverse programs
Editing visual recordings and processing it using software such as VideoEdit
Eliminating visual or sound duplicity
Instructing junior technicians in setting up video/audio systems
Trainee Audio Visual Technician - Eagle Studio, Seattle - February 2010 - June 2013
Organising logistics for transporting, setting, operating audiovisual controller for the away sites
Providing required technical support to audio visual technicians and systems
Editing work on computer using computer software
Setting up of LCD projectors for video presentations and video conferences
References
Available upon requestThere are currently lots of open chances of landing that dream job, but the truth is it's not going to be given to you that easily. This free Audio Visual Technician CV Sample is only one among the many samples that we provide to give you great tips into the process of preparing a winning CV. Jobseekers are advised to make maximum use of our freely accessible CV builder and tools on this site to get more personalised guidance.
Related CVs Film television media production