Stock Controller CV Example
The role of stock controller is a responsible, professional position that requires a certain level of skill together with relevant knowledge and past on-the-job experience. The stock controller CV sample is a professionally complied and ready-formatted document ready for you to use and edit. It's the perfect partner to your job application form and is almost certain to get you noticed when candidates are being shortlisted for interview.
Create This CVSee all templates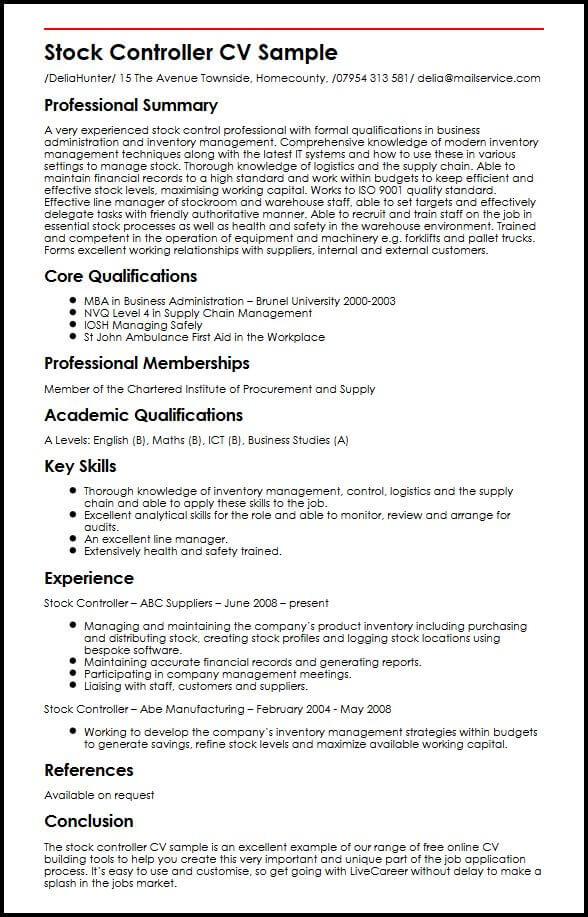 Build a professional CV that gets you hired.
Stock Controller CV Sample/DeliaHunter/ 15 The Avenue Townside, Homecounty, /07954 313 581/ delia@mailservice.com
Professional Summary
A very experienced stock control professional with formal qualifications in business administration and inventory management. Comprehensive knowledge of modern inventory management techniques along with the latest IT systems and how to use these in various settings to manage stock. Thorough knowledge of logistics and the supply chain. Able to maintain financial records to a high standard and work within budgets to keep efficient and effective stock levels, maximising working capital. Works to ISO 9001 quality standard. Effective line manager of stockroom and warehouse staff, able to set targets and effectively delegate tasks with friendly authoritative manner. Able to recruit and train staff on the job in essential stock processes as well as health and safety in the warehouse environment. Trained and competent in the operation of equipment and machinery e.g. forklifts and pallet trucks. Forms excellent working relationships with suppliers, internal and external customers.
Core Qualifications
MBA in Business Administration | Brunel University 2000-2003
NVQ Level 4 in Supply Chain Management
IOSH Managing Safely
St John Ambulance First Aid in the Workplace
Professional Memberships
Member of the Chartered Institute of Procurement and Supply
Academic Qualifications
A Levels: English (B), Maths (B), ICT (B), Business Studies (A)
Key Skills
Thorough knowledge of inventory management, control, logistics and the supply chain and able to apply these skills to the job.
Excellent analytical skills for the role and able to monitor, review and arrange for audits.
An excellent line manager.
Extensively health and safety trained.
Experience
Stock Controller | ABC Suppliers | June 2008 | present
Managing and maintaining the company's product inventory including purchasing and distributing stock, creating stock profiles and logging stock locations using bespoke software.
Maintaining accurate financial records and generating reports.
Participating in company management meetings.
Liaising with staff, customers and suppliers.
Stock Controller | Abe Manufacturing | February 2004 - May 2008
Working to develop the company's inventory management strategies within budgets to generate savings, refine stock levels and maximize available working capital.
References
Available on request
Conclusion
The stock controller CV sample is an excellent example of our range of free online CV building tools to help you create this very important and unique part of the job application process. It's easy to use and customise, so get going with LiveCareer without delay to make a splash in the jobs market.
Related CVs Inventory management