Warehouse Team Leader CV Example
Take the first steps to an exciting new career now. Using our free warehouse team leader CV sample, you have the ideal framework to shape your own application. With a bit of customising to meet your experiences and qualifications, you're on a sure-fire route to employment success.
Create This CVSee all templates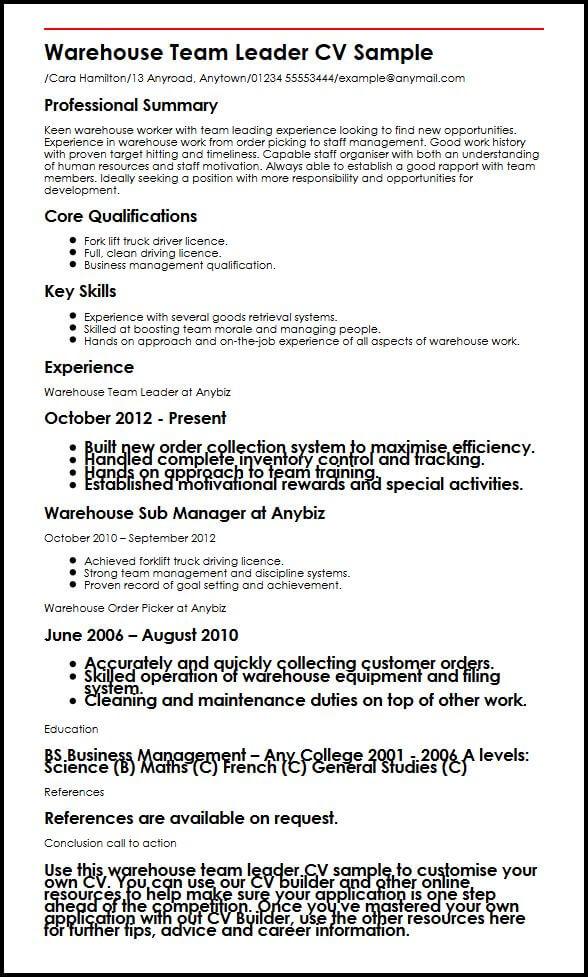 Build a professional CV that gets you hired.
Warehouse Team Leader CV Sample/Cara Hamilton/13 Anyroad, Anytown/01234 55553444/example@anymail.com
Professional Summary
Keen warehouse worker with team leading experience looking to find new opportunities. Experience in warehouse work from order picking to staff management. Good work history with proven target hitting and timeliness. Capable staff organiser with both an understanding of human resources and staff motivation. Always able to establish a good rapport with team members. Ideally seeking a position with more responsibility and opportunities for development.
Core Qualifications
Fork lift truck driver licence.
Full, clean driving licence.
Business management qualification.
Key Skills
Experience with several goods retrieval systems.
Skilled at boosting team morale and managing people.
Hands on approach and on-the-job experience of all aspects of warehouse work.
Experience
Warehouse Team Leader at Anybiz
October 2012 - Present

Built new order collection system to maximise efficiency.
Handled complete inventory control and tracking.
Hands on approach to team training.
Established motivational rewards and special activities.

Warehouse Sub Manager at Anybiz
October 2010 | September 2012
Achieved forklift truck driving licence.
Strong team management and discipline systems.
Proven record of goal setting and achievement.
Warehouse Order Picker at Anybiz
June 2006 | August 2010

Accurately and quickly collecting customer orders.
Skilled operation of warehouse equipment and filing system.
Cleaning and maintenance duties on top of other work.
Education
BS Business Management | Any College 2001 - 2006A levels:Science (B) Maths (C) French (C) General Studies (C)
References
References are available on request.
Conclusion call to action
Use this warehouse team leader CV sample to customise your own CV. You can use our CV builder and other online resources to help make sure your application is one step ahead of the competition. Once you've mastered your own application with out CV Builder, use the other resources here for further tips, advice and career information.