Stockroom Assistant CV Example
To gain employment as a stockroom assistant, you first need a professional CV to illustrate your key skills along with your qualifications and past experience. The stockroom assistant CV sample has everything you need to get started in crafting your unique and individual CV. The goal is to make a great impression on the recruiting team receiving your application and the stockroom assistant CV sample's the ideal tool for the job.
Create This CVSee all templates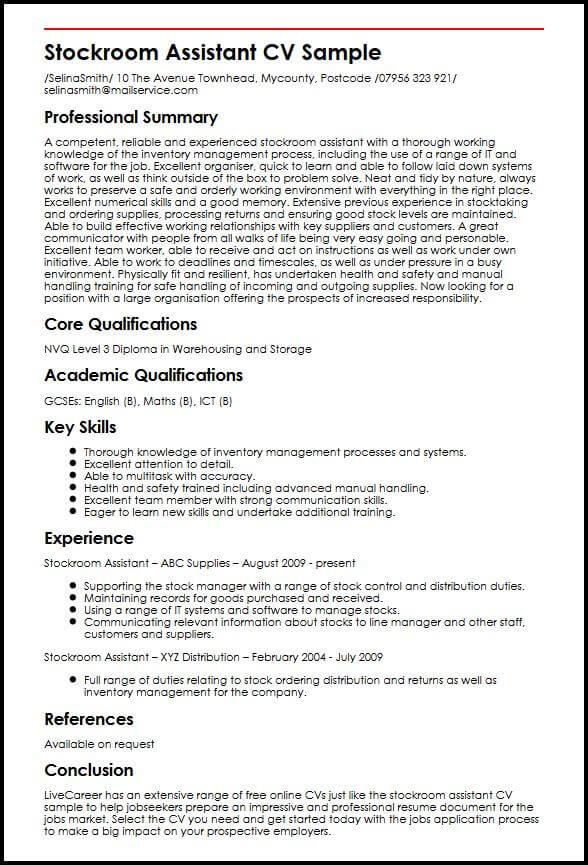 Build a professional CV that gets you hired.
Stockroom Assistant CV Sample/SelinaSmith/ 10 The Avenue Townhead, Mycounty, Postcode /07956 323 921/ selinasmith@mailservice.com
Professional Summary
A competent, reliable and experienced stockroom assistant with a thorough working knowledge of the inventory management process, including the use of a range of IT and software for the job. Excellent organiser, quick to learn and able to follow laid down systems of work, as well as think outside of the box to problem solve. Neat and tidy by nature, always works to preserve a safe and orderly working environment with everything in the right place. Excellent numerical skills and a good memory. Extensive previous experience in stocktaking and ordering supplies, processing returns and ensuring good stock levels are maintained. Able to build effective working relationships with key suppliers and customers. A great communicator with people from all walks of life being very easy going and personable. Excellent team worker, able to receive and act on instructions as well as work under own initiative. Able to work to deadlines and timescales, as well as under pressure in a busy environment. Physically fit and resilient, has undertaken health and safety and manual handling training for safe handling of incoming and outgoing supplies. Now looking for a position with a large organisation offering the prospects of increased responsibility.
Core Qualifications
NVQ Level 3 Diploma in Warehousing and Storage
Academic Qualifications
GCSEs: English (B), Maths (B), ICT (B)
Key Skills
Thorough knowledge of inventory management processes and systems.
Excellent attention to detail.
Able to multitask with accuracy.
Health and safety trained including advanced manual handling.
Excellent team member with strong communication skills.
Eager to learn new skills and undertake additional training.
Experience
Stockroom Assistant | ABC Supplies | August 2009 - present
Supporting the stock manager with a range of stock control and distribution duties.
Maintaining records for goods purchased and received.
Using a range of IT systems and software to manage stocks.
Communicating relevant information about stocks to line manager and other staff, customers and suppliers.
Stockroom Assistant | XYZ Distribution | February 2004 - July 2009
Full range of duties relating to stock ordering distribution and returns as well as inventory management for the company.
References
Available on request
Conclusion
LiveCareer has an extensive range of free online CVs just like the stockroom assistant CV sample to help jobseekers prepare an impressive and professional resume document for the jobs market. Select the CV you need and get started today with the jobs application process to make a big impact on your prospective employers.
Related CVs Inventory management