Mechanical Technician CV Example
To make a good mechanical technician job application you will first of all need to produce a well-written CV. Your CV should ideally detail all of your skills with engineering as well as your other technical abilities. Ideally, a well put together work history will highlight your personal strengths, but do so in a way that makes logical sense to the reader. Therefore, your CV ought to be formatted in clear manner which creates a professional first impression. By using our free mechanical technician CV sample as a starting point, you will be able to present all of your information accurately and to great effect.
Create This CVSee all templates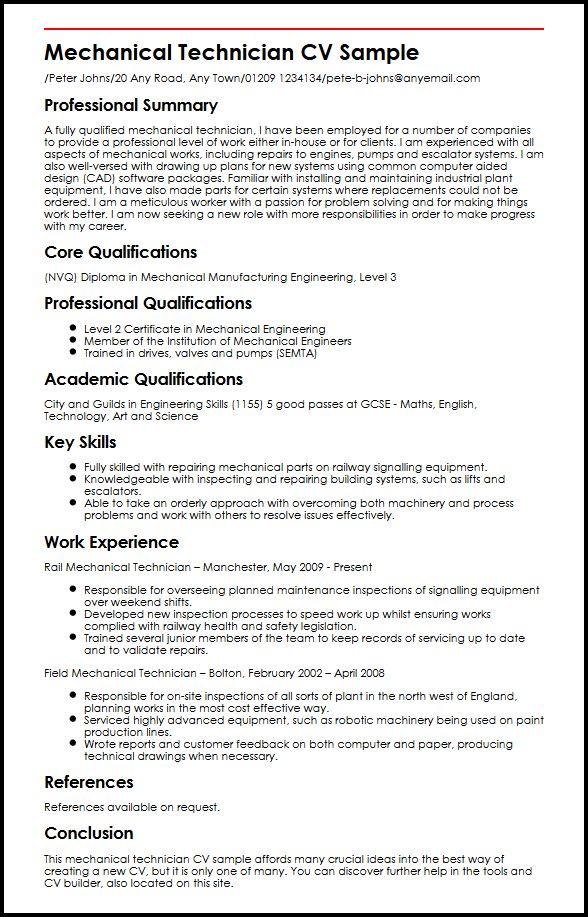 Build a professional CV that gets you hired.
Mechanical Technician CV Sample/Peter Johns/20 Any Road, Any Town/01209 1234134/pete-b-johns@anyemail.com
Professional Summary
A fully qualified mechanical technician, I have been employed for a number of companies to provide a professional level of work either in-house or for clients. I am experienced with all aspects of mechanical works, including repairs to engines, pumps and escalator systems. I am also well-versed with drawing up plans for new systems using common computer aided design (CAD) software packages. Familiar with installing and maintaining industrial plant equipment, I have also made parts for certain systems where replacements could not be ordered. I am a meticulous worker with a passion for problem solving and for making things work better. I am now seeking a new role with more responsibilities in order to make progress with my career.
Core Qualifications
(NVQ) Diploma in Mechanical Manufacturing Engineering, Level 3
Professional Qualifications
Level 2 Certificate in Mechanical Engineering
Member of the Institution of Mechanical Engineers
Trained in drives, valves and pumps (SEMTA)
Academic Qualifications
City and Guilds in Engineering Skills (1155)5 good passes at GCSE - Maths, English, Technology, Art and Science
Key Skills
Fully skilled with repairing mechanical parts on railway signalling equipment.
Knowledgeable with inspecting and repairing building systems, such as lifts and escalators.
Able to take an orderly approach with overcoming both machinery and process problems and work with others to resolve issues effectively.
Work Experience
Rail Mechanical Technician | Manchester, May 2009 - Present
Responsible for overseeing planned maintenance inspections of signalling equipment over weekend shifts.
Developed new inspection processes to speed work up whilst ensuring works complied with railway health and safety legislation.
Trained several junior members of the team to keep records of servicing up to date and to validate repairs.
Field Mechanical Technician | Bolton, February 2002 | April 2008
Responsible for on-site inspections of all sorts of plant in the north west of England, planning works in the most cost effective way.
Serviced highly advanced equipment, such as robotic machinery being used on paint production lines.
Wrote reports and customer feedback on both computer and paper, producing technical drawings when necessary.
References
References available on request.
Conclusion
This mechanical technician CV sample affords many crucial ideas into the best way of creating a new CV, but it is only one of many. You can discover further help in the tools and CV builder, also located on this site.
Related CVs Mechanics CV Examples