Sheet Metal Worker CV Example
If you are looking for a job as a sheet metal worker, then your CV must show how your skills and experience to date come together to make you the perfect candidate. Your CV is the first opportunity you have to demonstrate what you have already achieved and how much potential you have. The words must jump of the page and persuade the recruiting team that you deserve an interview. There are many different styles and formats used for sheet metal worker CV samples; before preparing your own, look at some others and pick one that you feel most comfortable with. The sheet metal worker CV sample here shows one effective way of doing it.
Create This CVSee all templates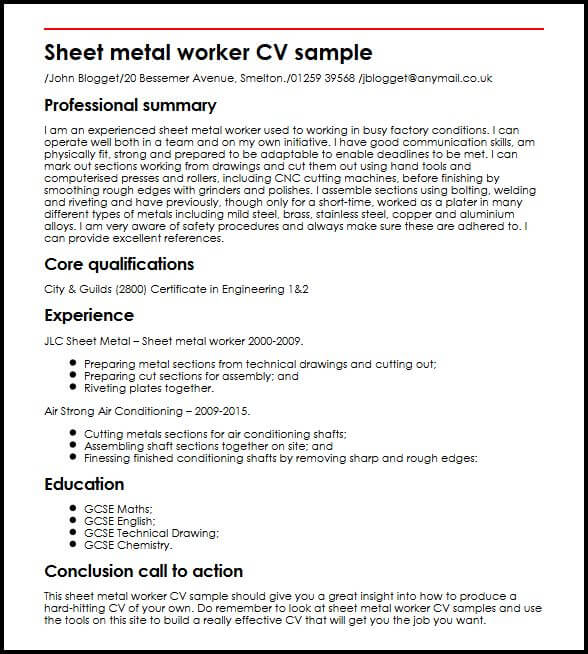 Build a professional CV that gets you hired.
Sheet metal worker CV sample/John Blogget/20 Bessemer Avenue, Smelton./01259 39568 /jblogget@anymail.co.uk
Professional summary
I am an experienced sheet metal worker used to working in busy factory conditions. I can operate well both in a team and on my own initiative. I have good communication skills, am physically fit, strong and prepared to be adaptable to enable deadlines to be met. I can mark out sections working from drawings and cut them out using hand tools and computerised presses and rollers, including CNC cutting machines, before finishing by smoothing rough edges with grinders and polishes. I assemble sections using bolting, welding and riveting and have previously, though only for a short-time, worked as a plater in many different types of metals including mild steel, brass, stainless steel, copper and aluminium alloys. I am very aware of safety procedures and always make sure these are adhered to. I can provide excellent references.
Core qualifications
City & Guilds (2800) Certificate in Engineering 1&2
Experience
JLC Sheet Metal | Sheet metal worker 2000-2009.
Preparing metal sections from technical drawings and cutting out;
Preparing cut sections for assembly; and
Riveting plates together.
Air Strong Air Conditioning | 2009-2015.
Cutting metals sections for air conditioning shafts;
Assembling shaft sections together on site; and
Finessing finished conditioning shafts by removing sharp and rough edges:
Education
GCSE Maths;
GCSE English;
GCSE Technical Drawing;
GCSE Chemistry.
Conclusion call to action
This sheet metal worker CV sample should give you a great insight into how to produce a hard-hitting CV of your own. Do remember to look at sheet metal worker CV samples and use the tools on this site to build a really effective CV that will get you the job you want.