Manual Tester CV Example
QA and testing professionals understand that a quality CV is a vital part of a successful job search. Candidates applying for a manual QA tester position will have the best chances of securing their ideal job with a well-written CV, which is adapted to the job available and includes their most impressive qualifications, accomplishments and relevant skills. Before finalising and sending off a CV, we recommend looking at this manual QA tester CV sample to obtain an idea of the right formatting and information that is required. The manual QA tester CV sample set out below is an example of a very effective and well-organised document that should attract the attention of the hiring manager(s) or recruiter - and win an interview.
Create This CVSee all templates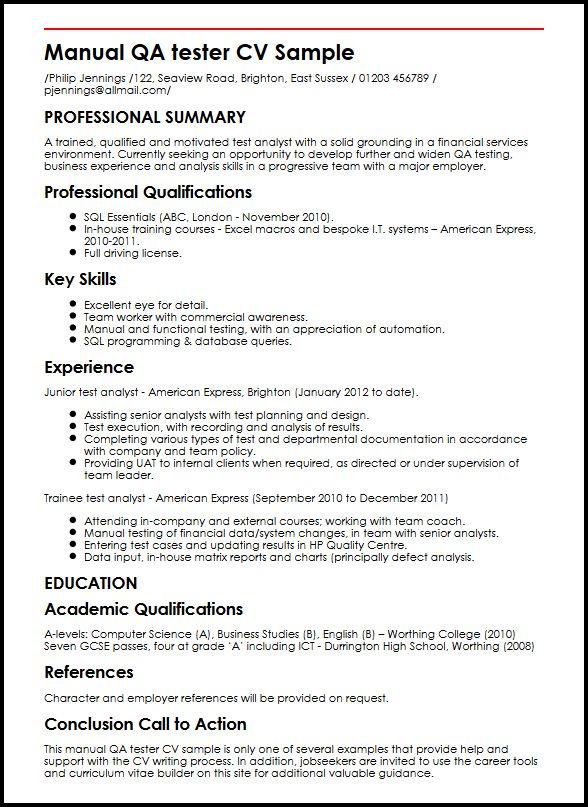 Build a professional CV that gets you hired.
Manual QA tester CV Sample /Philip Jennings /122, Seaview Road, Brighton, East Sussex / 01203 456789 / pjennings@allmail.com/
PROFESSIONAL SUMMARY
A trained, qualified and motivated test analyst with a solid grounding in a financial services environment. Currently seeking an opportunity to develop further and widen QA testing, business experience and analysis skills in a progressive team with a major employer.
Professional Qualifications
SQL Essentials (ABC, London - November 2010).
In-house training courses - Excel macros and bespoke I.T. systems | American Express, 2010-2011.
Full driving license.
Key Skills
Excellent eye for detail.
Team worker with commercial awareness.
Manual and functional testing, with an appreciation of automation.
SQL programming & database queries.
Experience
Junior test analyst - American Express, Brighton (January 2012 to date).
Assisting senior analysts with test planning and design.
Test execution, with recording and analysis of results.
Completing various types of test and departmental documentation in accordance with company and team policy.
Providing UAT to internal clients when required, as directed or under supervision of team leader.
Trainee test analyst - American Express (September 2010 to December 2011)
Attending in-company and external courses; working with team coach.
Manual testing of financial data/system changes, in team with senior analysts.
Entering test cases and updating results in HP Quality Centre.
Data input, in-house matrix reports and charts (principally defect analysis.
EDUCATION
Academic Qualifications
A-levels: Computer Science (A), Business Studies (B), English (B)| Worthing College (2010)Seven GCSE passes, four at grade 'A'including ICT- Durrington High School, Worthing (2008)
References
Character and employer references will be provided on request.
Conclusion Call to Action
This manual QA tester CV sample is only one of several examples that provide help and support with the CV writing process. In addition, jobseekers are invited to use the career tools and curriculum vitae builder on this site for additional valuable guidance.
Related CVs Quality Control