Transport Planner Assistant CV Example
Your CV is usually the first chance you get to make an impression on a prospective employer. It needs to encapsulate what you can bring to the job you are applying for, so you need to make sure your experience and career highlights to date are all captured. It needs to be set out well, too, appealing to the eye of whoever is reading it. Be sure to search the net for planner CV sample and have a look at all the different formatting. The example planner CV sample below is well formatted, covers all the bases and would very likely get the prospective candidate an interview.
Create This CVSee all templates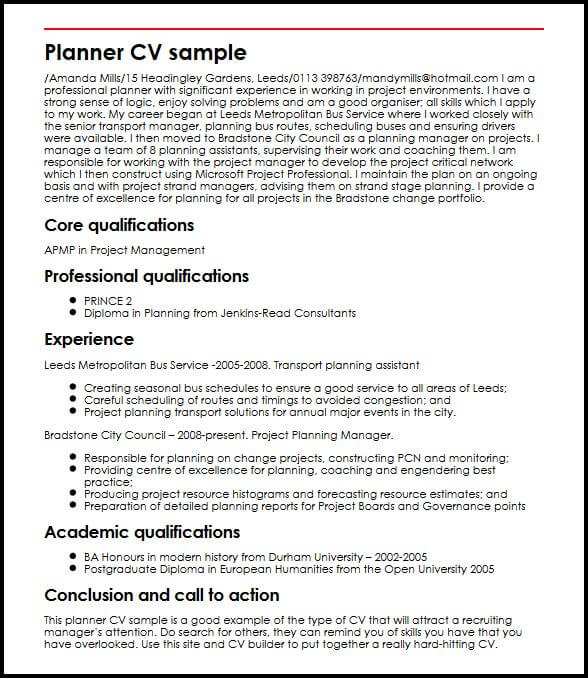 Build a professional CV that gets you hired.
Planner CV sample/Amanda Mills/15 Headingley Gardens,Leeds/0113 398763/mandymills@hotmail.comI am a professional planner with significant experience in working in project environments. I have a strong sense of logic, enjoy solving problems and am a good organiser; all skills which I apply to my work. My career began at Leeds Metropolitan Bus Service where I worked closely with the senior transport manager, planning bus routes, scheduling buses and ensuring drivers were available. I then moved to Bradstone City Council as a planning manager on projects. I manage a team of 8 planning assistants, supervising their work and coaching them. I am responsible for working with the project manager to develop the project critical network which I then construct using Microsoft Project Professional. I maintain the plan on an ongoing basis and with project strand managers, advising them on strand stage planning. I provide a centre of excellence for planning for all projects in the Bradstone change portfolio.
Core qualifications
APMP in Project Management
Professional qualifications
PRINCE 2
Diploma in Planning from Jenkins-Read Consultants
Experience
Leeds Metropolitan Bus Service -2005-2008. Transport planning assistant
Creating seasonal bus schedules to ensure a good service to all areas of Leeds;
Careful scheduling of routes and timings to avoided congestion; and
Project planning transport solutions for annual major events in the city.
Bradstone City Council | 2008-present. Project Planning Manager.
Responsible for planning on change projects, constructing PCN and monitoring;
Providing centre of excellence for planning, coaching and engendering best practice;
Producing project resource histograms and forecasting resource estimates; and
Preparation of detailed planning reports for Project Boards and Governance points
Academic qualifications
BA Honours in modern history from Durham University | 2002-2005
Postgraduate Diploma in European Humanities from the Open University 2005
Conclusion and call to action
This planner CV sample is a good example of the type of CV that will attract a recruiting manager's attention. Do search for others, they can remind you of skills you have that you have overlooked. Use this site and CV builder to put together a really hard-hitting CV.