Track Worker CV Example
You can kick start your new dream career today, by getting a little help with that tricky first step: your CV. Use our free track worker CV sample as a framework to get you started, with a sample layout and inspiration for your personal summary. Tailor this to your needs and then you can focus on selling yourself and starting your new role.
Create This CVSee all templates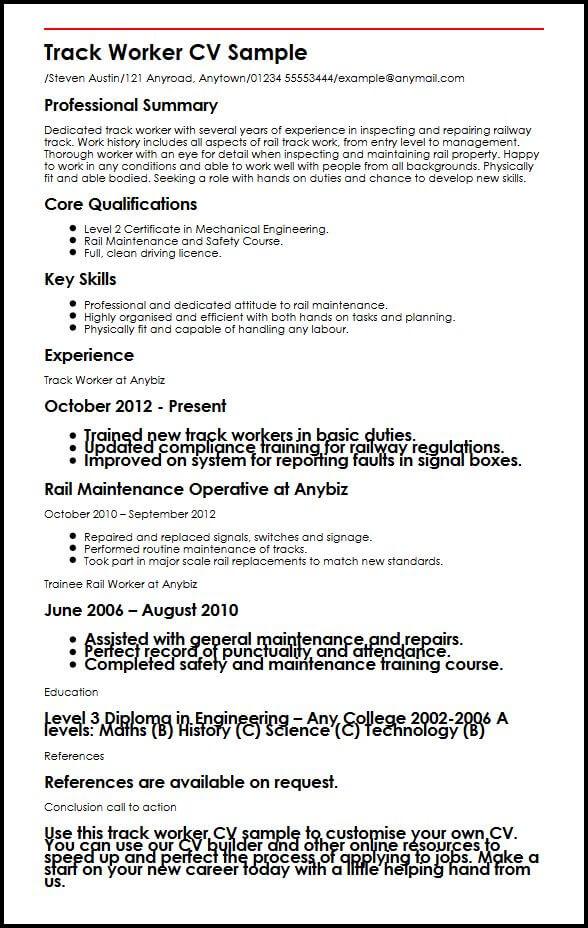 Build a professional CV that gets you hired.
Track Worker CV Sample/Steven Austin/121 Anyroad, Anytown/01234 55553444/example@anymail.com
Professional Summary
Dedicated track worker with several years of experience in inspecting and repairing railway track. Work history includes all aspects of rail track work, from entry level to management. Thorough worker with an eye for detail when inspecting and maintaining rail property. Happy to work in any conditions and able to work well with people from all backgrounds. Physically fit and able bodied. Seeking a role with hands on duties and chance to develop new skills.
Core Qualifications
Level 2 Certificate in Mechanical Engineering.
Rail Maintenance and Safety Course.
Full, clean driving licence.
Key Skills
Professional and dedicated attitude to rail maintenance.
Highly organised and efficient with both hands on tasks and planning.
Physically fit and capable of handling any labour.
Experience
Track Worker at Anybiz
October 2012 - Present

Trained new track workers in basic duties.
Updated compliance training for railway regulations.
Improved on system for reporting faults in signal boxes.

Rail Maintenance Operative at Anybiz
October 2010 | September 2012
Repaired and replaced signals, switches and signage.
Performed routine maintenance of tracks.
Took part in major scale rail replacements to match new standards.
Trainee Rail Worker at Anybiz
June 2006 | August 2010

Assisted with general maintenance and repairs.
Perfect record of punctuality and attendance.
Completed safety and maintenance training course.
Education
Level 3 Diploma in Engineering | Any College 2002-2006A levels: Maths (B) History (C) Science (C) Technology (B)
References
References are available on request.
Conclusion call to action
Use this track worker CV sample to customise your own CV. You can use our CV builder and other online resources to speed up and perfect the process of applying to jobs. Make a start on your new career today with a little helping hand from us.