Writing a CV can be more challenging than it initially appears.You need to take into account various pieces of personal data such as experience, your previous positions and your unique motivations when applying for a specific role.Still, this document is crucial to obtain a worthwhile and rewarding job.Our experts have therefore taken the time to construct what can be called a common CV sample.This template illustrates all of the most important categories, as well as how the document itself needs to be formatted.Please spend a few moments to read through its details to better appreciate the approach that should be taken.

Create This CVSee all templates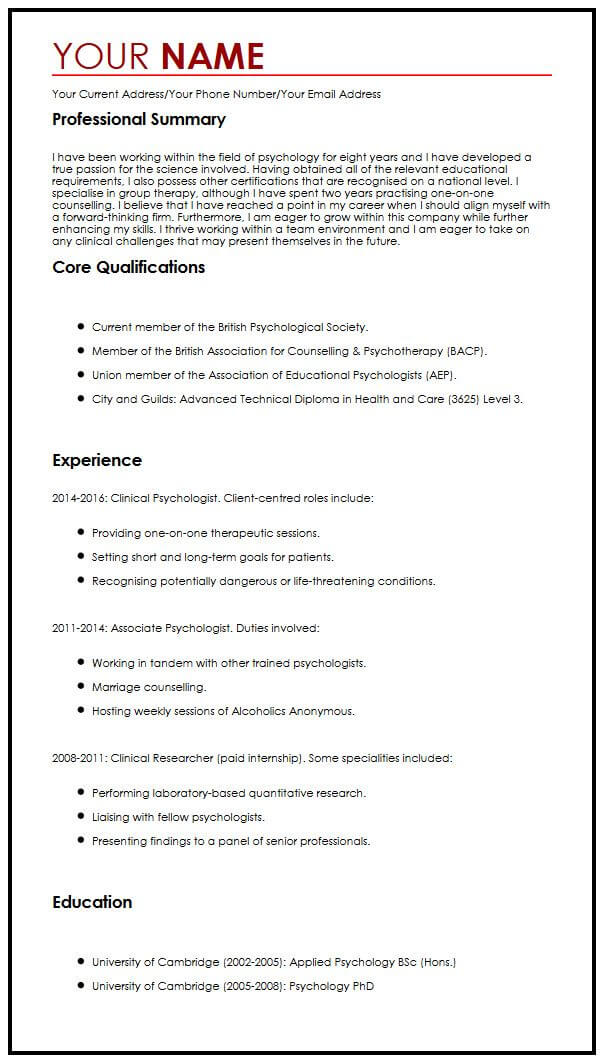 Build a professional CV that gets you hired.
Your Current Address/Your Phone Number/Your Email Address
Professional Summary
I have been working within the field of psychology for eight years and I have developed a true passion for the science involved.Having obtained all of the relevant educational requirements, I also possess other certifications that are recognised on a national level.I specialise in group therapy, although I have spent two years practising one-on-one counselling.I believe that I have reached a point in my career when I should align myself with a forward-thinking firm.Furthermore, I am eager to grow within this company while further enhancing my skills.I thrive working within a team environment and I am eager to take on any clinical challenges that may present themselves in the future.
Core Qualifications
Current member of the British Psychological Society.
Member of the British Association for Counselling & Psychotherapy (BACP).
Union member of the Association of Educational Psychologists (AEP).
City and Guilds: Advanced Technical Diploma in Health and Care (3625) Level 3.
Experience
2014-2016: Clinical Psychologist.Client-centred roles include:
Providing one-on-one therapeutic sessions.
Setting short and long-term goals for patients.
Recognising potentially dangerous or life-threatening conditions.
2011-2014: Associate Psychologist.Duties involved:
Working in tandem with other trained psychologists.
Marriage counselling.
Hosting weekly sessions of Alcoholics Anonymous.
2008-2011: Clinical Researcher (paid internship).Some specialities included:
Performing laboratory-based quantitative research.
Liaising with fellow psychologists.
Presenting findings to a panel of senior professionals.
Education
University of Cambridge (2002-2005): Applied Psychology BSc (Hons.)
University of Cambridge (2005-2008): Psychology PhD
Conclusion
This common CV sample is typical of the information that needs to be presented during the job-seeking process.Depending upon your intended role, the content will naturally differ.It is for this reason that we have constructed a number of variants that can be viewed throughout this website.Please take some time to peruse the alternatives, as well as to appreciate some potent tips and tricks that are very relevant when finding employment.