From entry-level creative roles to professional tradespeople, universal CV templates make it easier to build a CV that works for you. Whatever your experience level, sector or job title, they provide the right structure and layout to show recruiters everything they need to know.
At myPerfectCV, our universal CV templates have been purpose-built to pass ATS software, which is used by many companies to filter down applications. They're also available in a range of conventional designs, which make them ideal for a spectrum of roles and industries. It's simply a case of choosing your favourite.
Download one of our universal CV templates
Traditional

Sometimes the best way to keep your CV universal is to choose a conventional template. With bold headings, concise bullet points and simple formatting, our traditional CV template does exactly that.

Bold

If you're looking for something universal but equally striking, try our bold CV template. The extra-bold headings make it easy for recruiters to skim-read your CV, whatever the job role.

Insightful

Our insightful template is universally popular, with good reason too. A small pop of colour separates your personal details from the main body of your CV to keep things interesting and appealing.
Universal CV templates by job title and industry
By their very nature, universal CV templates can be used to apply for a full range of job titles in practically any industry. Take a look at some of our hand-picked examples below.
Top tips for utilising a universal CV template
Let the CV template do the work

The great thing about universal CV templates is that they're pre-designed so you can simply enter your details about work history, skills, and education. Rather than tweaking the design, it's best to use the CV template as intended. As well as saving you time, this will avoid any issues with formatting and keep your CV ATS-friendly.

Take some time to choose the right template

Just because CV templates are universal, that doesn't mean they're one-size-fits-all. At myPerfectCV, we have a selection of universal CV templates to choose from, varying from traditional and conventional to more modern, interesting designs. They're all universal, but it's still important to choose one that you like – after all, it's your CV you're building.

Include all the must-have information

With universal CV templates, you'll notice that there is room for a personal statement, key skills, work history, and education or qualifications. Whatever role you're applying for, these sections are crucial to demonstrate what you can offer to an employer. With that in mind, it's important not to rush them or remove any sections unless there's nothing you can add that recruiters will want to see. Make sure you consider each area of your CV and include anything that's relevant.

Use reverse-chronology in your work history

Universal CV templates are a solid foundation for your CV, providing the layout and structure you need to enter your all-important information. One thing they can't dictate is how you order that information, especially when it comes to your work history. In this case, it's best to use a reverse-chronological order. Put simply, that means listing your most recent role first. This way, recruiters can see the most relevant information then work backwards to get a better idea of your career to date if needed.
FAQs about using a universal CV template
How do you write a universal CV?
When writing a CV that's universal to different job roles and sectors, it's best to keep things general and transferrable. Your professional summary should focus on personal qualities which all employers want to see, such as your punctuality, work ethic, and years of working experience. Similarly, your skills section should list transferable skills like computer literacy, clear communication, and the ability to work in a team.
Who should use a universal CV template?
Universal CV templates are highly useful if you want to create a single CV to apply for multiple jobs. However, they can also be used by applicants who are looking for one template which can be tailored for different applications. Doing so saves you having to start from scratch time and again or move things around, while still impressing recruiters with your CV.
Can I tailor my universal CV to specific jobs?
As above, a universal CV can still be tailored depending on the job you're applying for. Some small tweaks to the personal statement, education, and work history can make a big difference when recruiters are assessing your suitability for a role. By including job-specific keywords and phrases, you will also make your CV more likely to pass an ATS check.
What should a universal CV look like?
The essential purpose of universal CVs is to look good and read well, no matter what job is being applied for, or what industry it's in. With that in mind, they should stick to CV conventions when it comes to their design and appearance. Minimal colour use is preferred, such as headings or page breaks, with professional colours like navy and grey among the best options. Use a simple font such as Arial or Calibri in a sensible size between 11-13 (or 14-16 for headings) to keep things formal and easy to read.
Dos and don'ts for a successful universal CV
Do
Do keep things concise and to the point Staying brief will be universally appreciated by all employers and recruiters, who have to read through tens or even hundreds of CVs for every role. Universal CVs should be kept to one page where possible or two pages as a maximum. Bullet points are a great way of achieving this, allowing you to list skills or responsibilities without long, winding paragraphs.
Do compare your CV to some examples If universal templates are the foundation for your CV, examples are a model home you can look around. When you've built your CV, take a look at some examples to see how yours measures up, and any parts you've missed. It could trigger your memory about some key skills you possess or inspire you with a well-written professional summary.
Don't
Don't include everything Just because a CV is universal, doesn't mean you need to include everything you've ever done in your career. It's certainly not a case of throwing all your details at a recruiter and letting them find what they need. If you've been working for over 10 years, for example, it's unlikely your GCSEs or equivalent will be of any interest to a recruiter. Additionally, it's best to stick to your last three or four job roles, rather than detailing your entire work history.
Don't forget a cover letter If you are using a universal CV to apply for different job roles, a cover letter could be a great way to tailor your application and set you apart from other applicants. It doesn't have to be particularly long or complicated. Your cover letter is simply a way of introducing your application and why you're a great fit for the job at hand.
Start your application with a

universal CV template
Universal CV templates are the ultimate starting point for a wide range of roles and sectors. At myPerfectCV, we make it easy to choose the best universal template for your needs then fill it with pre-written content such as key skills, work history, and a personal statement.
Once completed, CVs can be downloaded in a choice of formats including Word and PDF, then sent to recruiters in a matter of minutes. Give it a try today to take the next step in your career.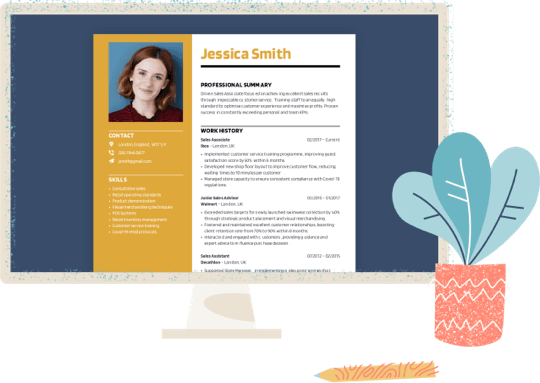 *The names and logos of the companies referred to above are all trademarks of their respective holders. Unless specifically stated otherwise, such references are not intended to imply any affiliation or association with myperfectCV.