Universal CV Template
While CVs should usually be tailored to an individual job for which you are applying, it can sometimes be useful to write a universal resume, for example, if you attend a careers fair and wish to leave copies of your CV with various prospective employers without knowing exactly what job they might have to offer. Writing a resume can seem a daunting task buta polished, well-written CV is essential to get your application noticed. The universal CV example below is a good example of the type of curriculum vitae that includes all your most valuable skills, qualifications and experience: using it as a template will make creating your own interview-winning CV quick and easy.

Create This CVSee all templates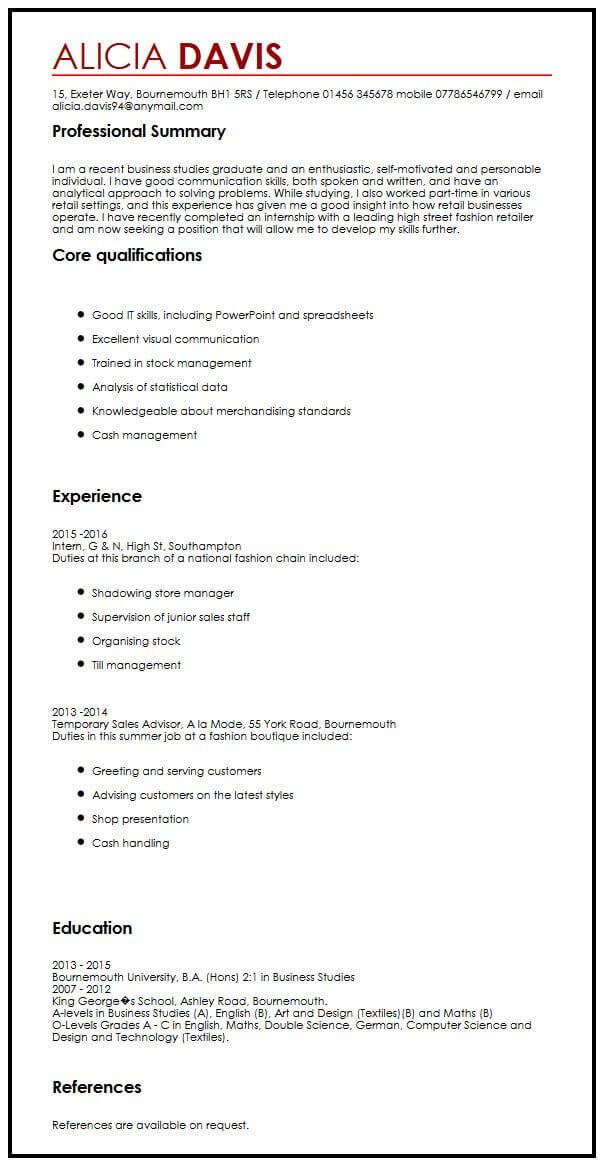 Build a professional CV that gets you hired.
15, Exeter Way, Bournemouth BH1 5RS / Telephone 01456 345678 mobile 07786546799 / email alicia.davis94@anymail.com
Professional Summary
I am a recent business studies graduate and an enthusiastic, self-motivated and personable individual. I have good communication skills, both spoken and written, and have an analytical approach to solving problems. Whilestudying, Ialso worked part-time in various retail settings, and this experience has given me a good insight into how retail businesses operate. I have recently completed an internship with a leading high street fashion retailer and am now seeking a positionthat will allow me to develop my skills further.
Core qualifications
Good IT skills, including PowerPoint and spreadsheets
Excellent visual communication
Trained in stock management
Analysis of statistical data
Knowledgeable about merchandising standards
Cash management
Experience
2015 -2016Intern, G & N, High St, SouthamptonDuties at this branch of a national fashion chain included:
Shadowing store manager
Supervision of junior sales staff
Organising stock
Till management
2013 -2014Temporary Sales Advisor, A la Mode, 55 York Road, BournemouthDuties in this summer job at a fashion boutique included:
Greeting and serving customers
Advising customers on the latest styles
Shop presentation
Cash handling