Agriculture Worker CV Sample
To become qualified in all aspects of a career in agriculture usually begins with a mix of on-the-job training and day release to college. Using our free Agriculture Worker CV Sample gives you the opportunity to learn how to present your academic qualifications, vocational qualifications, and employment positions in a manner which provides a prospective employer all the information he requires at a glance.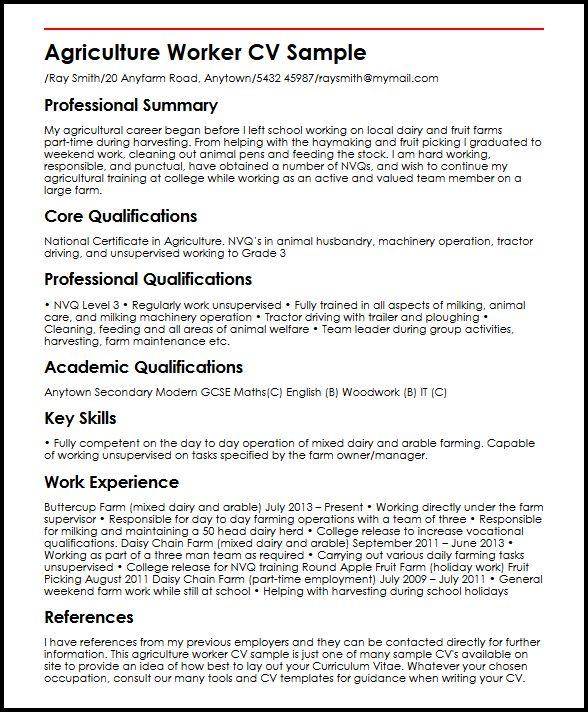 Agriculture Worker CV Sample/Ray Smith/20 Anyfarm Road, Anytown/5432 45987/raysmith@mymail.com
Professional Summary
My agricultural career began before I left school working on local dairy and fruit farms part-time during harvesting. From helping with the haymaking and fruit picking I graduated to weekend work, cleaning out animal pens and feeding the stock. I am hard working, responsible, and punctual, have obtained a number of NVQs, and wish to continue my agricultural training at college while working as an active and valued team member on a large farm.
Core Qualifications
National Certificate in Agriculture. NVQ's in animal husbandry, machinery operation, tractor driving, and unsupervised working to Grade 3
Professional Qualifications

• NVQ Level 3
• Regularly work unsupervised
• Fully trained in all aspects of milking, animal care, and milking machinery operation
•Tractor driving with trailer and ploughing
• Cleaning, feeding and all areas of animal welfare
• Team leader during group activities, harvesting, farm maintenance etc.
Academic Qualifications
Anytown Secondary Modern GCSE Maths(C) English (B) Woodwork (B) IT (C)
Key Skills

• Fully competent on the day to day operation of mixed dairy and arable farming. Capable of working unsupervised on tasks specified by the farm owner/manager.
Work Experience
Buttercup Farm (mixed dairy and arable) July 2013 | Present
• Working directly under the farm supervisor
• Responsible for day to day farming operations with a team of three
• Responsible for milking and maintaining a 50 head dairy herd
• College release to increase vocational qualifications.Daisy Chain Farm (mixed dairy and arable) September 2011 | June 2013
• Working as part of a three man team as required
• Carrying out various daily farming tasks unsupervised
• College release for NVQ trainingRound Apple Fruit Farm (holiday work) Fruit Picking August 2011Daisy Chain Farm (part-time employment) July 2009 | July 2011
• General weekend farm work while still at school
• Helping with harvesting during school holidays
References
I have references from my previous employers and they can be contacted directly for further information.This agriculture worker CV sample is just one of many sample CV's available on site to provide an idea of how best to lay out your Curriculum Vitae. Whatever your chosen occupation, consult our many tools and CV templates for guidance when writing your CV.