If you hope to secure the job of your dreams, it is absolutely essential that you are able to present a well-formatted CV.This can sometimes be difficult and confusing.The CV example and suggestions that are found below are meant to provide you with the insight and clarity to display your skills in the best manner possible.Please feel free to use this template to design your own CV during the job-seeking process.This is only a general illustration and the content and total length of your personal document will vary.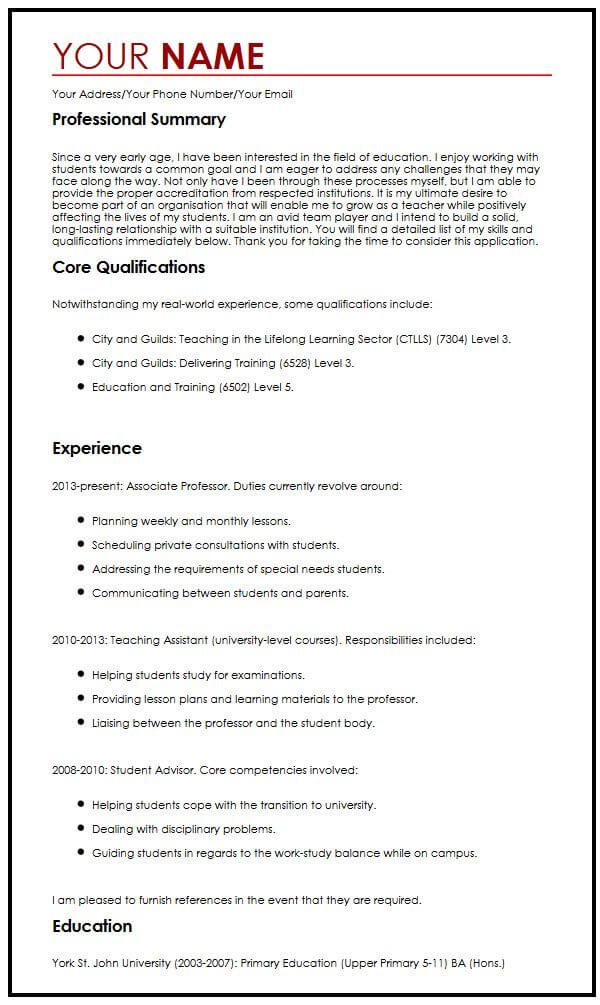 Your Address/Your Phone Number/Your Email
Professional Summary
Since a very early age, I have been interested in the field of education.I enjoy working with students towards a common goal and I am eager to address any challenges that they may face along the way.Not only have I been through these processes myself, but I am able to provide the proper accreditation from respected institutions.It is my ultimate desire to become part of an organisation that will enable me to grow as a teacher while positively affecting the lives of my students.I am an avid team player and I intend to build a solid, long-lasting relationship with a suitable institution.You will find a detailed list of my skills and qualifications immediately below.Thank you for taking the time to consider this application.
Core Qualifications
Notwithstanding my real-world experience, some qualifications include:
City and Guilds: Teaching in the Lifelong Learning Sector (CTLLS) (7304) Level 3.
City and Guilds: Delivering Training (6528) Level 3.
Education and Training (6502) Level 5.
Experience
2013-present:Associate Professor.Duties currently revolve around:
Planning weekly and monthly lessons.
Scheduling private consultations with students.
Addressing the requirements of special needs students.
Communicating between students and parents.
2010-2013: Teaching Assistant (university-level courses).Responsibilities included:
Helping students study for examinations.
Providing lesson plans and learning materials to the professor.
Liaising between the professor and the student body.
2008-2010: Student Advisor.Core competencies involved:
Helping students cope with the transition to university.
Dealing with disciplinary problems.
Guiding students in regards to the work-study balance while on campus.
I am pleased to furnish references in the event that they are required.
Education
York St. John University (2003-2007): Primary Education (Upper Primary 5-11) BA (Hons.)
Conclusion
This CV example and tips should be adapted to your unique experiences and skill sets.This is only one sample of the other resources that are at your disposal.Please take a further look throughout this website for additional tips and hints.