If you're here, you're looking for both a CV sample and tips. The most important thing in creating an effective CV is to tailor it to the job at hand, rewriting it if necessary. The CV itself also needs to be well-written and properly formatted. You might consider putting the most relevant information first in each section, but chronological order is more common for lists of publications, previous employment, and so forth. The annotated CV sample below will provide examples, all while standing on its own as an effective CV its owner could send in to an employer. Read on for both a CV Sample and tips.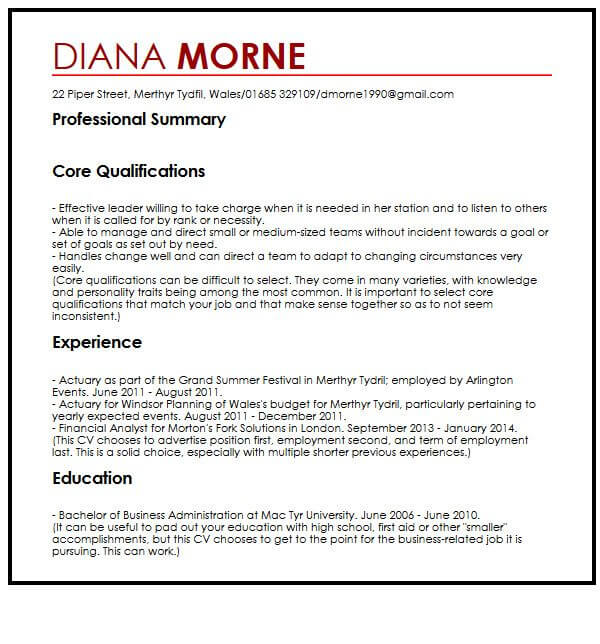 22 Piper Street, Merthyr Tydfil, Wales/01685 329109/dmorne1990@gmail.com

Professional Summary
Core Qualifications
- Effective leader willing to take charge when it is needed in her station and to listen to others when it is called for by rank or necessity. - Able to manage and direct small or medium-sized teams without incident towards a goal or set of goals as set outby need. - Handles change well and can direct a team to adapt to changing circumstances very easily.(Core qualifications can be difficult to select. They come in many varieties, with knowledge and personality traits being among the most common. It is important to select core qualifications that match your job and that make sense together so as to not seem inconsistent.)
Experience
- Actuary as part of the Grand Summer Festival in Merthyr Tydril; employed by Arlington Events. June 2011 - August 2011. - Actuary for Windsor Planning of Wales's budget for Merthyr Tydril, particularly pertaining to yearly expected events. August 2011 - December 2011. - Financial Analyst for Morton's Fork Solutions in London. September 2013 - January 2014.(This CV chooses to advertise position first, employment second, and term of employment last. This is a solid choice, especially with multiple shorter previous experiences.)
Education
- Bachelor of Business Administration at Mac Tyr University. June 2006 - June 2010.(It can be useful to pad out your education with high school, first aid or other "smaller" accomplishments, but this CV chooses to get to the point for the business-related job it is pursuing. This can work.)
Conclusion
Overall, this example CV is not perfect, as the tips accompanying it should indicate. But it is functional, and more importantly, it includes tips that can help in your job search. You may be able to find an example CV closely tailored to your own profile, or make use of the CV builder elsewhere on this website.