Delivery Driver CV Sample
A CV is the first thing that potential employers will see when you apply for a job so it is crucial to have a well-designed CV that displays your personal information, skills and qualifications in an impressive way as possible. Before you start writing your CV, why not have a look at our free delivery driver CV sample as it is a very helpful way of getting an insight into the CV writing process, what to include, and how to format it so that the information is presented in the best possible way. The following CV is an example of the type of document that is likely to grab an employer's attention and, hopefully, lead to an interview.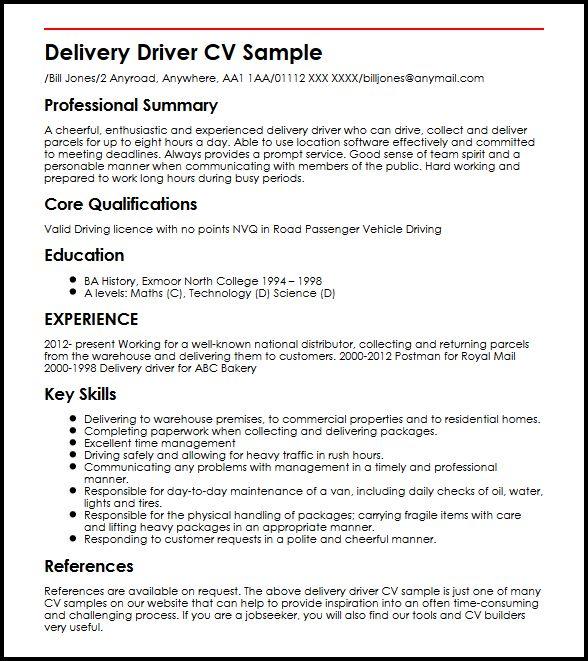 Delivery Driver CV Sample /Bill Jones/2 Anyroad, Anywhere, AA1 1AA/01112 XXX XXXX/billjones@anymail.com
Professional Summary
A cheerful, enthusiastic and experienced delivery driver who can drive, collect and deliver parcels for up to eight hours a day. Able to use location software effectively and committed to meeting deadlines. Always provides a prompt service. Good sense of team spirit and a personable manner when communicating with members of the public. Hard working and prepared to work long hours during busy periods.
Core Qualifications
Valid Driving licence with no pointsNVQ in Road Passenger Vehicle Driving
Education
BA History, Exmoor North College 1994 | 1998
A levels: Maths (C), Technology (D) Science (D)
EXPERIENCE
2012- presentWorking for a well-known national distributor, collecting and returning parcels from the warehouse and delivering them to customers.2000-2012Postman for Royal Mail2000-1998Delivery driver for ABC Bakery
Key Skills
Delivering to warehouse premises, to commercial properties and to residential homes.
Completing paperwork when collecting and delivering packages.
Excellent time management
Driving safely and allowing for heavy traffic in rush hours.
Communicating any problems with management in a timely and professional manner.
Responsible for day-to-day maintenance of a van, including daily checks of oil, water, lights and tires.
Responsible for the physical handling of packages; carrying fragile items with care and lifting heavy packages in an appropriate manner.
Responding to customer requests in a polite and cheerful manner.
References
References are available on request.The above delivery driver CV sample is just one of many CV samples on our website that can help to provide inspiration into an often time-consuming and challenging process. If you are a jobseeker, you will also find our tools and CV builders very useful.