Door Supervisor CV Sample
The responsibilities of a door supervisor are varied and decidedly demanding.However, this is also a role which enables a candidate to meet numerous people and develop valuable contacts.Such a position of authority has always been in high demand and for this reason, one of the most qualified of applicants will be accepted.It therefore makes a great deal of sense that any CV should appear concise, professional and written with care.Those who are not quite certain how this can be accomplished are encouraged to take a look at the door supervisor CV sample found below.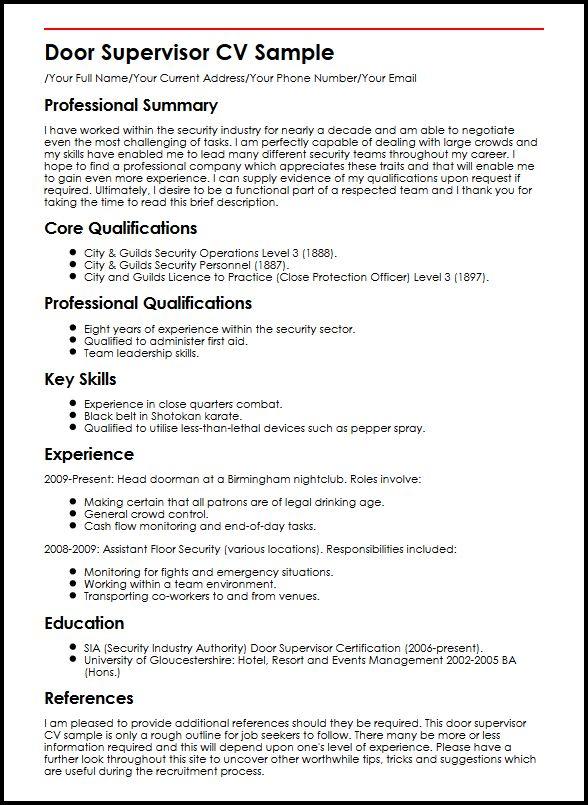 Door Supervisor CV Sample/Your Full Name/Your Current Address/Your Phone Number/Your Email
Professional Summary
I have worked within the security industry for nearly a decade and am able to negotiate even the most challenging of tasks.I am perfectly capable of dealing with large crowds and my skills have enabled me to lead many different security teams throughout my career.I hope to find a professional company which appreciates these traits and that will enable me to gain even more experience.I can supply evidence of my qualifications upon request if required.Ultimately, I desire to be a functional part of a respected team and I thank you for taking the time to read this brief description.
Core Qualifications
City & Guilds Security Operations Level 3 (1888).
City & Guilds Security Personnel (1887).
City and Guilds Licence to Practice (Close Protection Officer) Level 3 (1897).
Professional Qualifications
Eight years of experience within the security sector.
Qualified to administer first aid.
Team leadership skills.
Key Skills
Experience in close quarters combat.
Black belt in Shotokan karate.
Qualified to utilise less-than-lethal devices such as pepper spray.
Experience
2009-Present: Head doorman at a Birmingham nightclub.Roles involve:
Making certain that all patrons are of legal drinking age.
General crowd control.
Cash flow monitoring and end-of-day tasks.
2008-2009: Assistant Floor Security (various locations).Responsibilities included:
Monitoring for fights and emergency situations.
Working within a team environment.
Transporting co-workers to and from venues.
Education
SIA (Security Industry Authority) Door Supervisor Certification (2006-present).
University of Gloucestershire: Hotel, Resort and Events Management 2002-2005 BA (Hons.)
References
I am pleased to provide additional references should they be required.This door supervisor CV sample is only a rough outline for job seekers to follow.There many be more or less information required and this will depend upon one's level of experience.Please have a further look throughout this site to uncover other worthwhile tips, tricks and suggestions which are useful during the recruitment process.