An effective sales executive CV highlights personal skills such as networking, merchandising, and time management. As our sales executive CV examples show, it focuses on your sales track record, including specific examples of your sales successes, from securing repeat business to increasing the company's bottom line.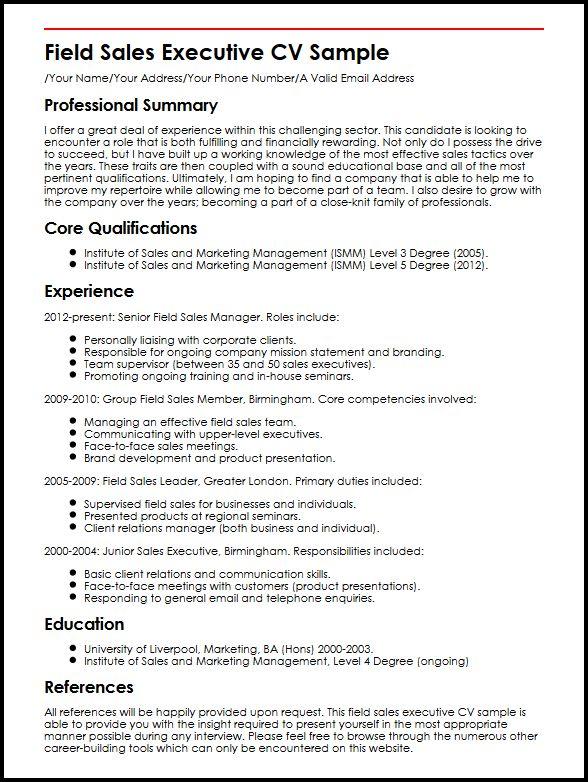 Field Sales Executive CV Sample/Your Name/Your Address/Your Phone Number/A Valid Email Address
Professional Summary
I offer a great deal of experience within this challenging sector.This candidate is looking to encounter a role that is both fulfilling and financially rewarding.Not only do I possess the drive to succeed, but I have built up a working knowledge of the most effective sales tactics over the years.These traits are then coupled with a sound educational base and all of the most pertinent qualifications.Ultimately, I am hoping to find a company that is able to help me to improve my repertoire while allowing me to become part of a team.I also desire to grow with the company over the years; becoming a part of a close-knit family of professionals.
Core Qualifications
Institute of Sales and Marketing Management (ISMM) Level 3 Degree (2005).
Institute of Sales and Marketing Management (ISMM) Level 5 Degree (2012).
Experience
2012-present: Senior Field Sales Manager.Roles include:
Personally liaising with corporate clients.
Responsible for ongoing company mission statement and branding.
Team supervisor (between 35 and 50 sales executives).
Promoting ongoing training and in-house seminars.
2009-2010: Group Field Sales Member, Birmingham.Core competencies involved:
Managing an effective field sales team.
Communicating with upper-level executives.
Face-to-face sales meetings.
Brand development and product presentation.
2005-2009: Field Sales Leader, Greater London.Primary duties included:
Supervised field sales for businesses and individuals.
Presented products at regional seminars.
Client relations manager (both business and individual).
2000-2004: Junior Sales Executive, Birmingham.Responsibilities included:
Basic client relations and communication skills.
Face-to-face meetings with customers (product presentations).
Responding to general email and telephone enquiries.
Education
University of Liverpool, Marketing, BA (Hons) 2000-2003.
Institute of Sales and Marketing Management, Level 4 Degree (ongoing)
References
All references will be happily provided upon request.This field sales executive CV sample is able to provide you with the insight required to present yourself in the most appropriate manner possible during any interview.Please feel free to browse through the numerous other career-building tools which can only be encountered on this website.