Customize this CV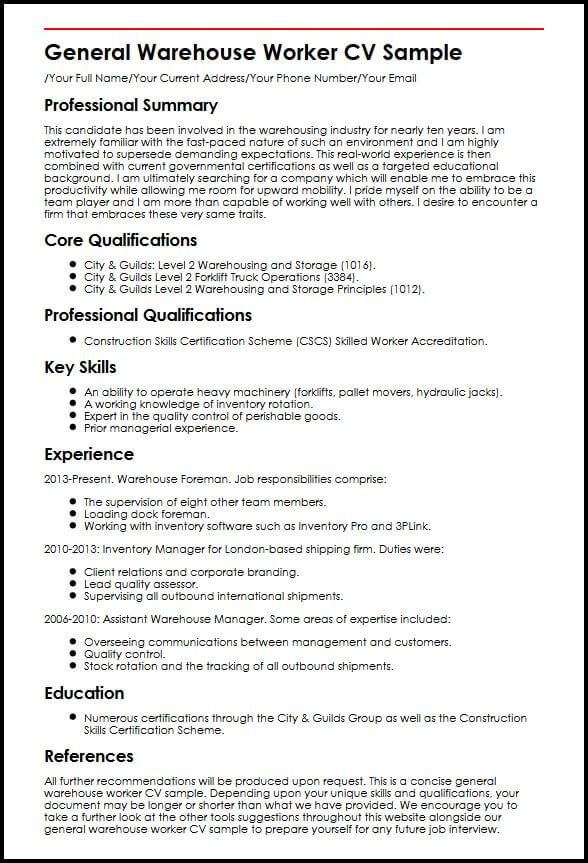 ---
Create This CV
The duties of a general warehouse worker are always in high demand. Although this is an excellent position to guarantee steady employment, it can also be a means of advancement within this lucrative industry. There are more applicants seeking jobs than ever before and therefore, a professional presentation during the employment process is critically important. There are many times when an applicant is unsure how to construct their CV and this can very well be detrimental. The general warehouse worker CV sample found below is an excellent way to appreciate the skills that should be mentioned as well as the overall layout of an effective presentation.
General Warehouse Worker CV Sample
/Your Full Name/Your Current Address/Your Phone Number/Your Email
Professional Summary
This candidate has been involved in the warehousing industry for nearly ten years. I am extremely familiar with the fast-paced nature of such an environment and I am highly motivated to supersede demanding expectations. This real-world experience is then combined with current governmental certifications as well as a targeted educational background. I am ultimately searching for a company which will enable me to embrace this productivity while allowing me room for upward mobility. I pride myself on the ability to be a team player and I am more than capable of working well with others. I desire to encounter a firm that embraces these very same traits.
Core Qualifications
City & Guilds: Level 2 Warehousing and Storage (1016).
City & Guilds Level 2 Forklift Truck Operations (3384).
City & Guilds Level 2 Warehousing and Storage Principles (1012).
Professional Qualifications
Construction Skills Certification Scheme (CSCS) Skilled Worker Accreditation.
Key Skills
An ability to operate heavy machinery (forklifts, pallet movers, hydraulic jacks).
A working knowledge of inventory rotation.
Expert in the quality control of perishable goods.
Prior managerial experience.
Experience
2013-Present. Warehouse Foreman. Job responsibilities comprise:
The supervision of eight other team members.
Loading dock foreman.
Working with inventory software such as Inventory Pro and 3PLink.
2010-2013: Inventory Manager for London-based shipping firm. Duties were:
Client relations and corporate branding.
Lead quality assessor.
Supervising all outbound international shipments.
2006-2010: Assistant Warehouse Manager. Some areas of expertise included:
Overseeing communications between management and customers.
Quality control.
Stock rotation and the tracking of all outbound shipments.
Education
Numerous certifications through the City & Guilds Group as well as the Construction Skills Certification Scheme.
References
All further recommendations will be produced upon request. This is a concise general warehouse worker CV sample. Depending upon your unique skills and qualifications, your document may be longer or shorter than what we have provided. We encourage you to take a further look at the other tools suggestions throughout this website alongside our general warehouse worker CV sample to prepare yourself for any future job interview.