Airport Passenger Service Agent CV Example
Many candidates struggle with the proper order and layout of a CV, yet getting the basics right is vital if your job application is to be noticed and not overlooked. Something as simple as the format in which you list your qualifications can make a CV easier to read and more visually appealing, while drawing attention to your most relevant qualifications and work areas will highlight your suitability for the role. By modelling your own application on our airport passenger service agent CV sample, you can give your skills and work experience the showcase you deserve, immediately improving your chances of gaining an interview.
Create This CVSee all templates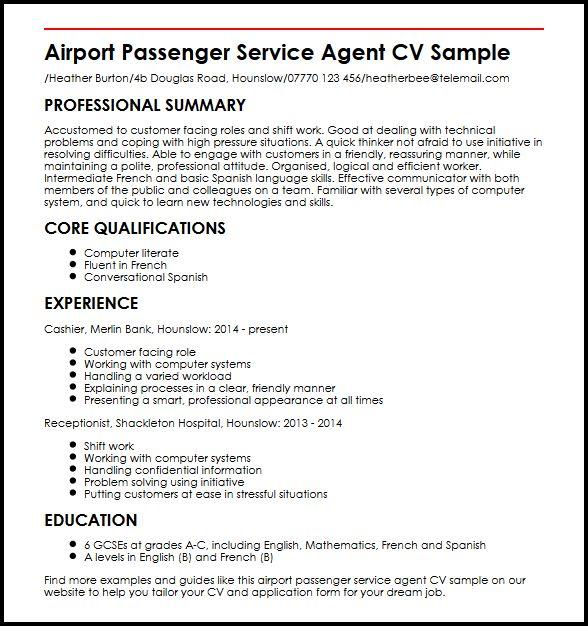 Build a professional CV that gets you hired.
Airport Passenger Service Agent CV Sample/Heather Burton/4b Douglas Road, Hounslow/07770 123 456/heatherbee@telemail.com
PROFESSIONAL SUMMARY
Accustomed to customer facing roles and shift work. Good at dealing with technical problems and coping with high pressure situations. A quick thinker not afraid to use initiative in resolving difficulties. Able to engage with customers in a friendly, reassuring manner, while maintaining a polite, professional attitude. Organised, logical and efficient worker. Intermediate French and basic Spanish language skills. Effective communicator with both members of the public and colleagues on a team. Familiar with several types of computer system, and quick to learn new technologies and skills.
CORE QUALIFICATIONS
Computer literate
Fluent in French
Conversational Spanish
EXPERIENCE
Cashier, Merlin Bank, Hounslow: 2014 - present
Customer facing role
Working with computer systems
Handling a varied workload
Explaining processes in a clear, friendly manner
Presenting a smart, professional appearance at all times
Receptionist, Shackleton Hospital, Hounslow: 2013 - 2014
Shift work
Working with computer systems
Handling confidential information
Problem solving using initiative
Putting customers at ease in stressful situations
EDUCATION
6 GCSEs at grades A-C, including English, Mathematics, French and Spanish
A levels in English (B) and French (B)
Find more examples and guides like this airport passenger service agent CV sample on our website to help you tailor your CV and application form for your dream job.