Travel Agent CV Example
If you are looking for a job as a travel and tourism agent, then creating a wellhoned CV is the first step to securing the job of your dreams. Use our free travel and tourism agent CV sample to gain some valuable tips into key issues, such as how to structure your CV effectively, and how to impress potential employers by presenting your qualifications and skills to their best possible advantage. The travel and tourism agent CV sample below is an example of the type of document that will stand out from the rest and lead to a job interview.
Create This CVSee all templates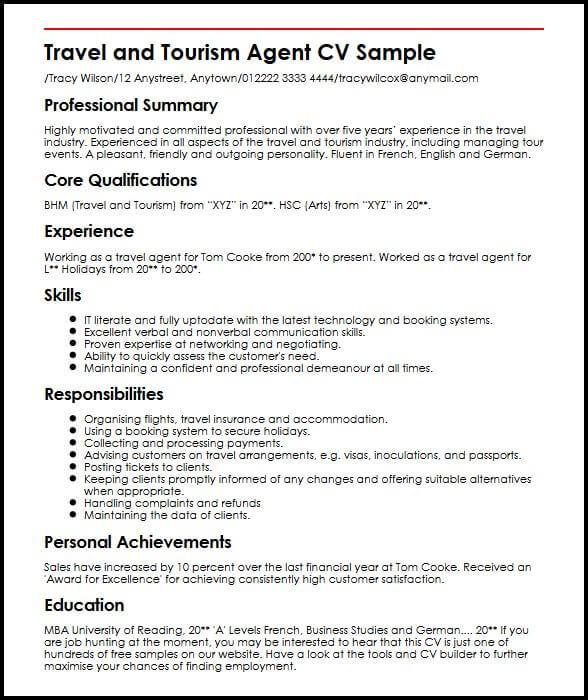 Build a professional CV that gets you hired.
Travel and Tourism Agent CV Sample/Tracy Wilson/12 Anystreet, Anytown/012222 3333 4444/tracywilcox@anymail.com
Professional Summary
Highly motivated and committed professional with over five years' experience in the travel industry. Experienced in all aspects of the travel and tourism industry, including managing tour events. A pleasant, friendly and outgoing personality. Fluent in French, English and German.
Core Qualifications
BHM (Travel and Tourism) from "XYZ" in 20**.HSC (Arts) from "XYZ" in 20**.
Experience
Working as a travel agent for Tom Cooke from 200* to present.Worked as a travel agent for L** Holidays from 20** to 200*.
Skills
IT literate and fully uptodate with the latest technology and booking systems.
Excellent verbal and nonverbal communication skills.
Proven expertise at networking and negotiating.
Ability to quickly assess the customer's need.
Maintaining a confident and professional demeanour at all times.
Responsibilities
Organising flights, travel insurance and accommodation.
Using a booking system to secure holidays.
Collecting and processing payments.
Advising customers on travel arrangements, e.g. visas, inoculations, and passports.
Posting tickets to clients.
Keeping clients promptly informed of any changes and offering suitable alternatives when appropriate.
Handling complaints and refunds
Maintaining the data of clients.
Personal Achievements
Sales have increased by 10 percent over the last financial year at Tom Cooke.Received an 'Award for Excellence' for achieving consistently high customer satisfaction.
Education
MBAUniversity of Reading, 20**'A' Levels French, Business Studies and German.... 20**If you are job hunting at the moment, you may be interested to hear that this CV is just one of hundreds of free samples on our website. Have a look at the tools and CV builder to further maximise your chances of finding employment.
Related CVs Travel & Tourism CV Examples