Sales Marketing Director CV Example
There are many topics that a CV must cover.Some of the most pertinent include your experience, your educational background and your unique set of skills.However, listing career objectives is an additional means of attracting attention to what you have to offer.Many recruiters are now searching for these attributes, for they can separate a generic candidate from one who will eventually land a lucrative employment position.The CV sample with career objectives found below is intended to highlight some of the primary points that need to be covered, as well as how the document itself should be formatted.Let us examine this topic in a bit more detail.

Create This CVSee all templates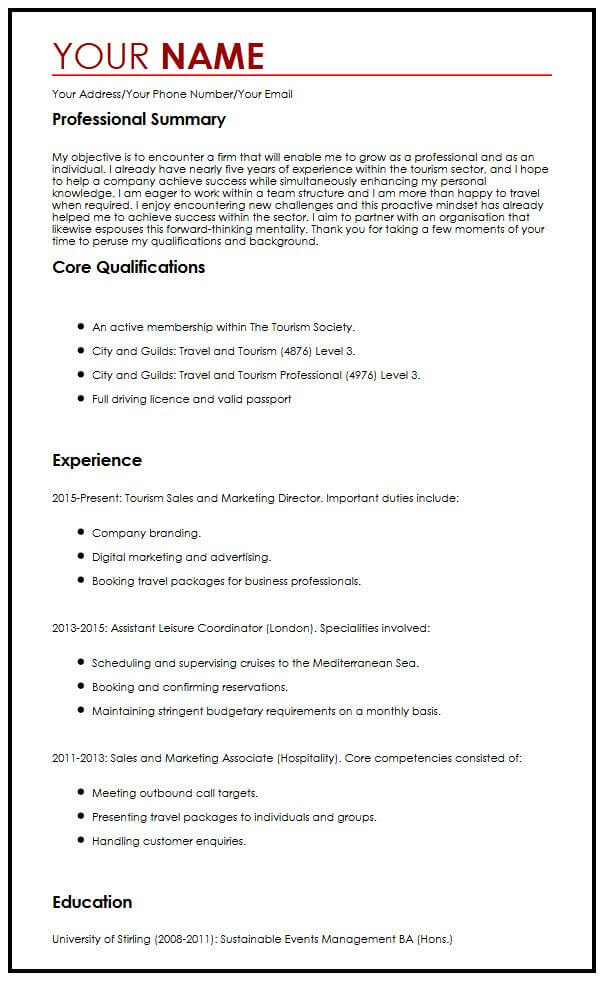 Build a professional CV that gets you hired.
Your Address/Your Phone Number/Your Email
Professional Summary
My objective is to encounter a firm that will enable me to grow as a professional and as an individual.I already have nearly five years of experience within the tourism sector, and I hope to help a company achieve success while simultaneously enhancing my personal knowledge.I am eager to work within a team structure and I am more than happy to travel when required.I enjoy encountering new challenges and this proactive mindset has already helped me to achieve success within the sector.I aim to partner with an organisation that likewise espouses this forward-thinking mentality.Thank you for taking a few moments of your time to peruse my qualifications and background.
Core Qualifications
An active membership within The Tourism Society.
City and Guilds: Travel and Tourism (4876) Level 3.
City and Guilds: Travel and Tourism Professional (4976) Level 3.
Full driving licence and valid passport
Experience
2015-Present: Tourism Sales and Marketing Director.Important duties include:
Company branding.
Digital marketing and advertising.
Booking travel packages for business professionals.
2013-2015: Assistant Leisure Coordinator (London).Specialities involved:
Scheduling and supervising cruises to the Mediterranean Sea.
Booking and confirming reservations.
Maintaining stringent budgetary requirements on a monthly basis.
2011-2013: Sales and Marketing Associate (Hospitality).Core competencies consisted of:
Meeting outbound call targets.
Presenting travel packages to individuals and groups.
Handling customer enquiries.
Education
University of Stirling (2008-2011): Sustainable Events Management BA (Hons.)
Conclusion
This CV sample with career objectives has highlighted a very specific approach.While the candidate has clearly listed his or her skills, personal motivating factors as well as career goals were also included within the text.This can be an excellent way to grab the attention of a recruiter.Please note that there are countless additional CV examples throughout this site.We encourage you to browse through our other pages to uncover even more excellent suggestions.
Related CVs Travel & Tourism CV Examples