Forklift Driver CV Example
Working within a warehouse or similar job site can be challenging and it is often those with technical skills that enjoy ultimate success.One example of such a talent can be see with forklift operators.Not only is this a skill which should be mentioned within any CV, but an employer will also be eager to know other background talents as well as the qualifications that you possess.If you are not completely familiar with this approach, it is wise to utilise the forklift driver CV sample found below.You will be able to gain the clarity and insight required to present yourself in the most positive light and secure a satisfying position.
Create This CVSee all templates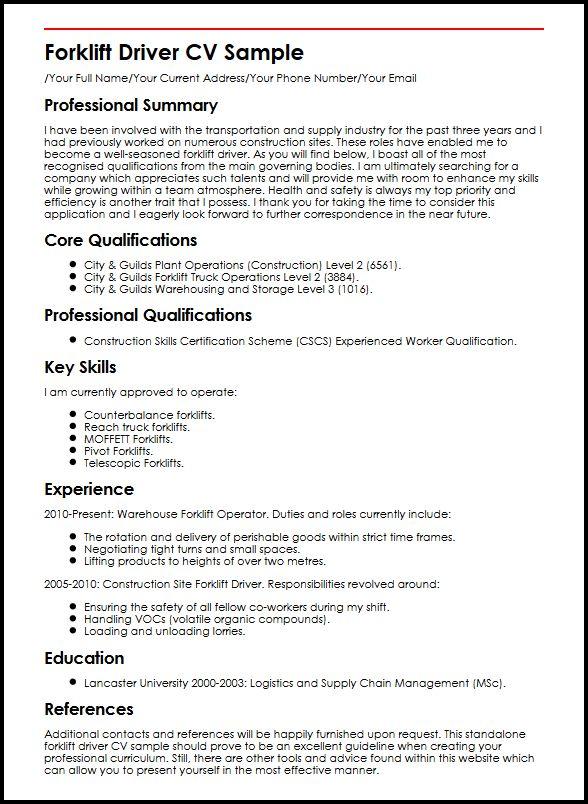 Build a professional CV that gets you hired.
Forklift Driver CV Sample/Your Full Name/Your Current Address/Your Phone Number/Your Email
Professional Summary
I have been involved with the transportation and supply industry for the past three years and I had previously worked on numerous construction sites.These roles have enabled me to become a well-seasoned forklift driver.As you will find below, I boast all of the most recognised qualifications from the main governing bodies.I am ultimately searching for a company which appreciates such talents and will provide me with room to enhance my skills while growing within a team atmosphere.Health and safety is always my top priority and efficiency is another trait that I possess.I thank you for taking the time to consider this application and I eagerly look forward to further correspondence in the near future.
Core Qualifications
City & Guilds Plant Operations (Construction) Level 2 (6561).
City & Guilds Forklift Truck Operations Level 2 (3884).
City & Guilds Warehousing and Storage Level 3 (1016).
Professional Qualifications
Construction Skills Certification Scheme (CSCS) Experienced Worker Qualification.
Key Skills
I am currently approved to operate:
Counterbalance forklifts.
Reach truck forklifts.
MOFFETT Forklifts.
Pivot Forklifts.
Telescopic Forklifts.
Experience
2010-Present: Warehouse Forklift Operator.Duties and roles currently include:
The rotation and delivery of perishable goods within strict time frames.
Negotiating tight turns and small spaces.
Lifting products to heights of over two metres.
2005-2010: Construction Site Forklift Driver.Responsibilities revolved around:
Ensuring the safety of all fellow co-workers during my shift.
Handling VOCs (volatile organic compounds).
Loading and unloading lorries.
Education
Lancaster University 2000-2003: Logistics and Supply Chain Management (MSc).
References
Additional contacts and references will be happily furnished upon request.This standalone forklift driver CV sample should prove to be an excellent guideline when creating your professional curriculum.Still, there are other tools and advice found within this website which can allow you to present yourself in the most effective manner.