Forklift Operator CV Example
If you're looking for work as a forklift operator, it's important to know what you should include on your CV, and how to set it out in a clear, logical order so that potential employers can find the information they need to make a decision. It can be a good idea to read through a forklift operator CV sample before you even start your own application. You can then make sure that you have all the information you need to hand, and that you list your experience and skills in the right order, giving you a great advantage as a candidate for the job.
Create This CVSee all templates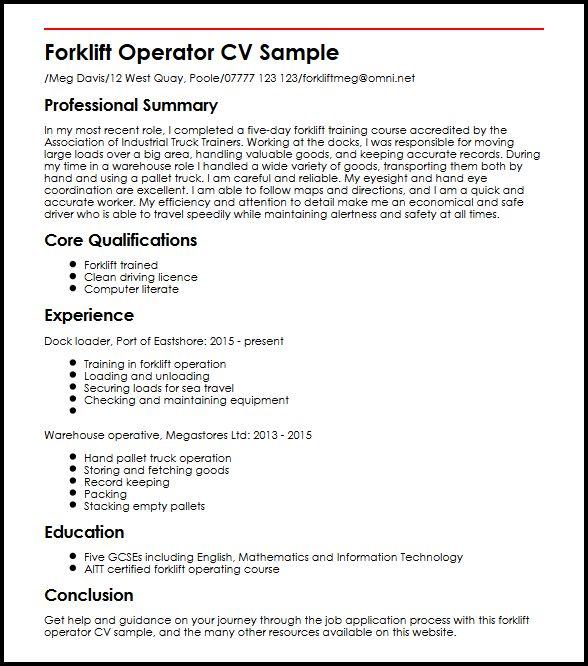 Build a professional CV that gets you hired.
Forklift Operator CV Sample/Meg Davis/12 West Quay, Poole/07777 123 123/forkliftmeg@omni.net
Professional Summary
In my most recent role, I completed a five-day forklift training course accredited by the Association of Industrial Truck Trainers. Working at the docks, I was responsible for moving large loads over a big area, handling valuable goods, and keeping accurate records. During my time in a warehouse role I handled a wide variety of goods, transporting them both by hand and using a pallet truck. I am careful and reliable. My eyesight and hand eye coordination are excellent. I am able to follow maps and directions, and I am a quick and accurate worker. My efficiency and attention to detail make me an economical and safe driver who is able to travel speedily while maintaining alertness and safety at all times.
Core Qualifications
Forklift trained
Clean driving licence
Computer literate
Experience
Dock loader, Port of Eastshore: 2015 - present
Training in forklift operation
Loading and unloading
Securing loads for sea travel
Checking and maintaining equipment
Warehouse operative, Megastores Ltd: 2013 - 2015
Hand pallet truck operation
Storing and fetching goods
Record keeping
Packing
Stacking empty pallets
Education
Five GCSEs including English, Mathematics and Information Technology
AITT certified forklift operating course
Conclusion
Get help and guidance on your journey through the job application process with this forklift operator CV sample, and the many other resources available on this website.