Machine Operator CV Example
An operator needs to have a specific set of skills to carry out the job and when you're applying for operator positions, you need to be able to demonstrate that you have the necessary credentials to meet the job description and person specification. LiveCareer's operator CV sample helps you to integrate your personal details into a unique resume document, which will look good when it's received by your prospective employer. What's more, a company is likely to invite you to attend an interview if they see an impressive CV.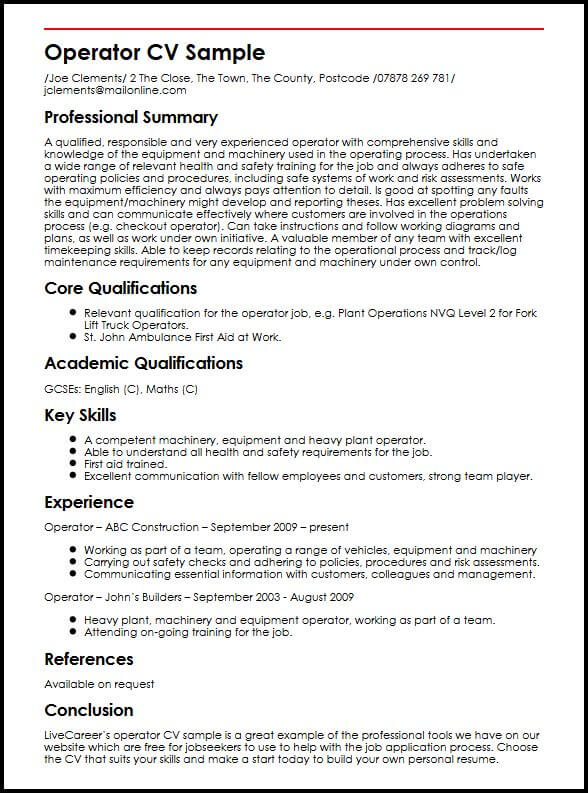 Our professional CV builder is designed to build the most powerful CV and save you time.
Operator CV Sample/Joe Clements/ 2 The Close, The Town, The County, Postcode /07878 269 781/ jclements@mailonline.com
Professional Summary
A qualified, responsible and very experienced operator with comprehensive skills and knowledge of the equipment and machinery used in the operating process. Has undertaken a wide range of relevant health and safety training for the job and always adheres to safe operating policies and procedures, including safe systems of work and risk assessments. Works with maximum efficiency and always pays attention to detail. Is good at spotting any faults the equipment/machinery might develop and reporting theses. Has excellent problem solving skills and can communicate effectively where customers are involved in the operations process (e.g. checkout operator). Can take instructions and follow working diagrams and plans, as well as work under own initiative. A valuable member of any team with excellent timekeeping skills. Able to keep records relating to the operational process and track/log maintenance requirements for any equipment and machinery under own control.
Core Qualifications
Relevant qualification for the operator job, e.g. Plant Operations NVQ Level 2 for Fork Lift Truck Operators.
St. John Ambulance First Aid at Work.
Academic Qualifications
GCSEs: English (C), Maths (C)
Key Skills
A competent machinery, equipment and heavy plant operator.
Able to understand all health and safety requirements for the job.
First aid trained.
Excellent communication with fellow employees and customers, strong team player.
Experience
Operator | ABC Construction | September 2009 | present
Working as part of a team, operating a range of vehicles, equipment and machinery
Carrying out safety checks and adhering to policies, procedures and risk assessments.
Communicating essential information with customers, colleagues and management.
Operator | John's Builders | September 2003 - August 2009
Heavy plant, machinery and equipment operator, working as part of a team.
Attending on-going training for the job.
References
Available on request
Conclusion
LiveCareer's operator CV sample is a great example of the professional tools we have on our website which are free for jobseekers to use to help with the job application process. Choose the CV that suits your skills and make a start today to build your own personal resume.