Residential Care Worker CV Example
When you're applying for a job as a residential care worker, you need to show you're the ideal candidate for the job by submitting a professional and impressive CV along with your application form. The residential care worker CV sample on our site helps you to highlight your unique skillset and qualifications in an easy-to-use format. When you use our sample, your finished CV will be one of the best that's received by those shortlisting for interview, so you're highly likely to be selected for the next stage.
Create This CVSee all templates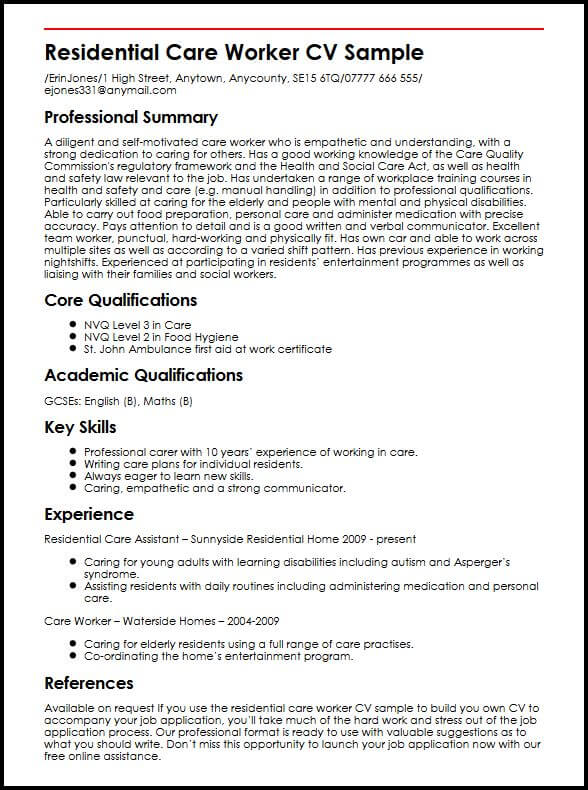 Build a professional CV that gets you hired.
Residential Care Worker CV Sample/ErinJones/1 High Street, Anytown, Anycounty, SE15 6TQ/07777 666 555/ ejones331@anymail.com
Professional Summary
A diligent and self-motivated care worker who is empathetic and understanding, with a strong dedication to caring for others. Has a good working knowledge of the Care Quality Commission's regulatory framework and the Health and Social Care Act, as well as health and safety law relevant to the job. Has undertaken a range of workplace training courses in health and safety and care (e.g. manual handling) in addition to professional qualifications. Particularly skilled at caring for the elderly and people with mental and physical disabilities. Able to carry out food preparation, personal care and administer medication with precise accuracy. Pays attention to detail and is a good written and verbal communicator. Excellent team worker, punctual, hard-working and physically fit. Has own car and able to work across multiple sites as well as according to a varied shift pattern. Has previous experience in working nightshifts. Experienced at participating in residents' entertainment programmes as well as liaising with their families and social workers.
Core Qualifications
NVQ Level 3 in Care
NVQ Level 2 in Food Hygiene
St. John Ambulance first aid at work certificate
Academic Qualifications
GCSEs: English (B), Maths (B)
Key Skills
Professional carer with 10 years' experience of working in care.
Writing care plans for individual residents.
Always eager to learn new skills.
Caring, empathetic and a strong communicator.
Experience
Residential Care Assistant | Sunnyside Residential Home 2009 - present
Caring for young adults with learning disabilities including autism and Asperger's syndrome.
Assisting residents with daily routines including administering medication and personal care.
Care Worker | Waterside Homes | 2004-2009
Caring for elderly residents using a full range of care practises.
Co-ordinating the home's entertainment program.
References
Available on requestIf you use the residential care worker CV sample to build you own CV to accompany your job application, you'll take much of the hard work and stress out of the job application process. Our professional format is ready to use with valuable suggestions as to what you should write. Don't miss this opportunity to launch your job application now with our free online assistance.
Related CVs Social Services CV Examples