Build an attention-grabbing CV
With recruiters spending just 6 seconds looking at your CV before deciding whether to progress your application, it's essential that your CV grabs their attention. But how do you write a standout CV?
We're here to help. Not only will our CV builder make it quick and easy for you to create a winning CV, but we've pulled together expert tips, tricks and FAQs from our 10 years of experience helping candidates get the jobs they want.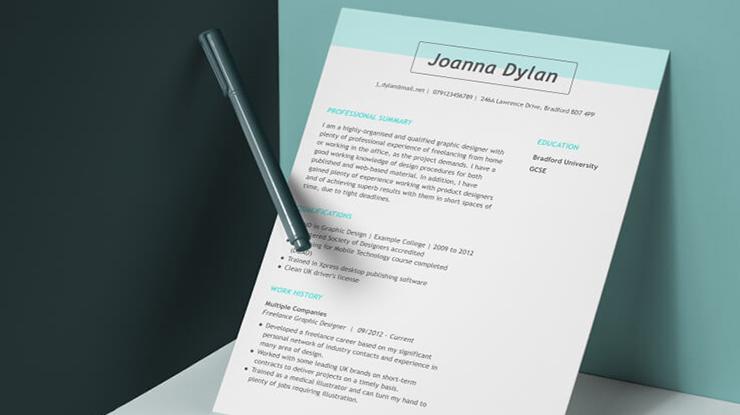 What standard sections should you include on your CV?
What sections you should include on your CV mainly depends on the role you're applying for. There are certain sections that every CV should include, but some that are only relevant for specific jobs. Here are the sections you should include on every version of your CV:
Personal statement
A personal statement is your chance to summarise why you're right for a role. It should touch on your expertise and experience without repeating other sections from your CV. But beware, it's tricky to boil everything down to a sentence or two.
Rather than starting from scratch, our CV builder has professionally-written personal statements tailored to the role you're applying for. They'll give you a perfect place to start.
Relevant experience
This is arguably the most important part of your CV. It shows prospective employers which roles your skills and expertise have come from.
The key word here, though, is relevant. If you have years of experience in roles similar or related to the job you're applying for, you may not need to include the three years of waitressing you worked as a teenager. If you don't have much previous experience, however, it may be useful to include roles like that, as there are a lot of transferable skills gained from such roles.  
Education
When writing your education section, you should list your highest or most recent one or two qualifications. You should only include more if they're specifically relevant to the role you're applying for.
For example, if you have an undergraduate and postgraduate qualification in your field, it's unlikely an employer needs to know what you studied at A level or GCSE.
Skills
The skills section of your CV is important because it shows prospective employers the areas where you will excel. They also show that you're able to pick out not only the things you're good at, but also match them with the skills necessary for the role you're applying for.
To save you from starting from scratch, our online CV builder suggests relevant skills for the role you're applying for to start you off on the right track.
What additional sections could you include on your CV?
Some CV sections are only relevant for specific jobs. Here are the sections you might choose to include depending on what role you're applying for:
Hobbies
A hobbies section on your CV is the perfect place to show some personality. For some roles, it's important for employers to see that you have an interest in areas surrounding the role as well as helping to demonstrate things like interpersonal skills, curiosity or passion for learning new things.
Consider this section very carefully, though, to make sure what you write is not only relevant but is also appropriate for a job application.
Publications
If you're applying for a role in academia or a very niche industry and have published papers or articles on a related topic, it may be useful to add a publications section to your CV.
References
You'll often see the phrase 'references available on request' on the bottom of CVs. Nowadays, it's widely understood that if a recruiter wants to see references, they'll ask for them. This means that, in most cases, you don't need a references section.
If you do choose to include one, or if the application asks you to, make sure you ask the people you're adding before sending off your CV.
Photo or headshot
This is a tricky one as it's very subjective. Some recruiters love them, and some will bin a CV with a photo without even looking at it. The safest bet is to just miss it out—you're not going to be penalised for not having a photo.
How long should a CV be?
With an average of 250 people applying for any given role, your CV should be long enough to communicate clearly why you're right for the role, but not so long the employer loses interest.
The maximum recommended length is two sides of A4, with most people sticking to just one side of A4. To help you keep your CV as succinct as possible without looking cramped, you can use a CV template to get you started.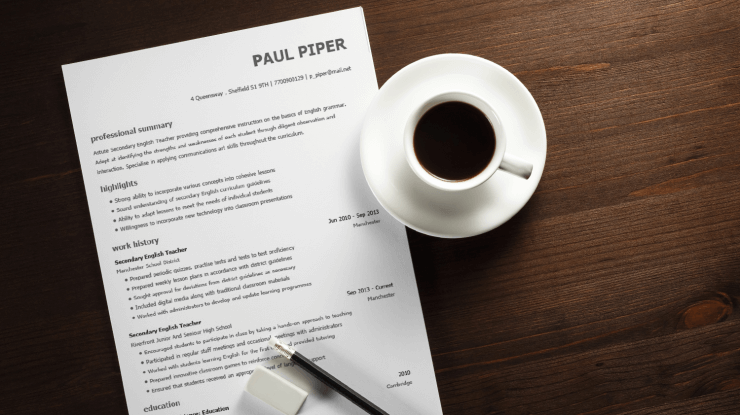 Top 5 tips for writing a winning CV
1. Choose the right template
Even if what you've written is great, a badly designed CV can put a recruiter off. CV templates not only make it quicker and easier to build your CV, but they help make sure your CV looks as good as it can.
Our professionally-designed CV templates will help you get recruiters' attention for the right reasons and get you that job.
2. Put your most recent roles first
In the UK, regardless of your role or experience, it's good practice to write your experience and education sections in reverse-chronological order. That means putting your most recent job or qualification first.
3. Be consistent with format
It doesn't matter how you write the dates on your CV or whether you write job title then employer or the other way round. What does matter is that you're consistent. Not only does it make it easier for a recruiter to read your CV, but it also demonstrates to prospective employers that you have attention to detail.
4. Include the right keywords
Including the right keywords on your CV, often in the skills section, works on two levels. First, it makes it easy for employers to scan your CV, looking for specific words and phrases related to the role they're recruiting for.
Secondly, it helps your CV pass through Applicant Tracking System (ATS) filters. Some businesses use an ATS to automatically scan applicant CVs to find ones that contain certain words.
To make sure your CV includes the right keywords, take a look at the job description. This will contain relevant keywords you might want to use on your CV.
Once you've identified the right keywords, you might be tempted to repeat them as often as possible. But a CV that's overloaded with keywords won't look right to an ATS (or a human!) and is likely to be detected and rejected. So use the right keywords, but make sure it sounds natural.
5. Read it back and spell check it
Finally, before you hit send, make sure you carefully read back through your CV and cover letter, checking for spelling, grammar, punctuation and consistency. If you use our cv builder, there's a handy spell-check button that will check these for you.
How to Write a CV: Top UK CV Examples
To give you a bit of inspiration, we've picked out the top 10 UK CV examples :
Ready to build your perfect CV?
Armed with all this information, it's time to get started. Head over to our CV builder, pick a template suggested for your role and get that job!