Write an attention-grabbing CV
You know the drill: you've just found a brilliant career opportunity, and you want to send your CV in ASAP to beat the competition.
Then you remember you need to update your CV and a rush of panic comes over you. Writing a CV isn't as stressful as it may have been before - tools exist to help and guide you through the writing process. You don't have to be a CV writing expert to write a new CV, but you might need some of our tried-and-tested advice!
Though it's tempting to give up, take a breath and stick with us to learn how to write a fantastic CV. We'll make sure you're up to speed with the 'must-haves' and 'must-nots' for CV writing in the 21st century!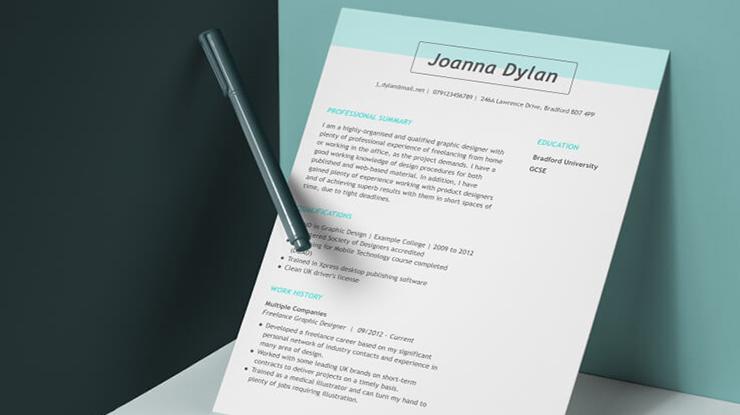 How to write a good CV (and get the job)
Your CV is valuable because it illustrates your carefully gained skills, unique experience, and specialist capabilities. With all that in mind, writing your CV can feel like a challenge.
We're here to show how to effectively and efficiently write a best-in-show CV. One that gets seen and gets you a foot in the door for that perfect new role. Follow our how-to guide on writing a brilliant CV that hits the mark.
Let's go through step by step:
Choose your template
A good CV template will make your writing shine: take a look at our professionally designed CV templates, and choose one to start you off. Don't worry if you pick a CV template that you're not 100% sure of - you can change it quickly once you've built your CV. One of the many perks of creating a CV with myPerfectCV!
Why start a CV writing task with a template? It's not just the design you get - you'll also get a structure and recommendations for how to format what you write.
TOP TIP: Choose a CV template that suits the industry you're aiming for. If you're going for a corporate law job, using classic blue palettes and fonts will make an excellent first impression. Are you headed to the arts? Don't be afraid to show your personality with brighter colors or a more modern look.
Get your personal details right
Though it might sound a little obvious, including correct personal details is one of the most important aspects of what to write in a CV. Make it easy for recruiters to contact you, leaving errors in your contact details just says - 'I don't want to get this job'!
At a minimum, include your first and last name, and a professional sounding email address. If you don't have one, you can easily create one free of charge with Gmail or other email providers.
Physical addresses are less necessary nowadays as the primary method of communication will be via email.
Let's look at some examples:
What many people do
S. Smithson
07555 555 555
HappyFeet19_97@gmail.com
What's not quite right: We don't know what this candidate's name is as they've used a letter instead of their first name. We can't tell their name from their email either, which means they're anonymous and less likely to get called.
What recruiters want to see
Sarah Smithson
07555 555 555
Sarah.Smithson.example@gmail.com
Why it's much better: This includes the candidate's full name and phone number, and it's easy to see that the email address connects to Sarah. By including her name, recruiters can email and contact Sarah by name, kicking off a personal relationship.
Write about your work experience like a pro
In the past, our CVs read like a shopping list of positions with responsibilities listed as tasks. Not only is this boring to write, but it's incredibly dull for recruiters to read through. Lists do nothing to paint a picture of the impact you've made.
For example, If you'd had 3 different jobs as a shop assistant, listing out the same tasks in each of these jobs is a waste of the space on your CV because you're not telling the recruiter the results of what you did.
Instead, aim to write quantifiable examples of how you contributed or added value in your role. What does this mean? We mean numbers; we mean quantities; we mean measurements.
Bear this in mind as you write: ACTION + RESULT = YOUR IMPACT
Let's look at some examples:
Mary is an assistant accountant, and over the past 9 years she's had the following jobs:
Junior accounting assistant
Accounting coordinator
Assistant accountant
In all of these roles, Mary has reconciled accounts against bank statements. But instead of listing this each time as, "reconciled accounts against banks accounts". Mary would write this to show the impact she had while she was performing this task.
Here are three ways Mary can write about the task + her impact:
Helped senior accountant to reconcile accounts with profits lower than £1,000,000, and sped up the reconciliation process.

4 senior accountants to reconcile accounts leading to tax returns being 1 week early for all clients.

Autonomously reconciled client's profit and loss against bank account, saving clients between £300-£1000 on their projected returns.
See how Mary has given the same task a new spin? Each time she does this, Mary has proven to the recruiter that she can perform the task AND what she can contribute to the team or company she joins.
The myPerfectCV builder includes pre-written work experience points for almost every job title out there. Jump into the builder yourself and see how easy making a CV can be with our ready-to-use content.
Create a clear and compelling education section
Your education and qualifications are essential on your CV, especially if you've graduated in the last 10 years or are an entry-level candidate. Entry-level candidates with little work experience can elaborate on the skills they've gained through educational experiences - through these transferable skills recruiters can see how you may fare in a workplace.
If you're using the myPerfectCV builder, complete your education using the guide and read our handy tips to help you fill each field correctly. Pay close attention to all the fields. Your education is essential to show recruiters your area of study and any additional training or certifications.
You should consider if your education is still recent and relevant to the role you are applying for. Generally, if your education was over 10-15 years ago, it is no longer necessary to include dates or the education at all if it's irrelevant and detracts from your current expertise.
TOP TIP: Mature applicants can 'age-proof' their CV by removing graduation dates from university degrees, MBAs, and masters. Protect yourself further by changing the name of your institution of study to its correct name today. For example, Bristol Polytechnic is now named The University of the West of England.
Optimise your CV with your skills section
Skills are an essential section of your CV and though short, still requires thought when it comes to writing.
Skills act as keywords in your CV, by building these to match the job description, you are clearly saying to the recruiter, "I am right for this job." Remember when writing your CV you need to show recruiters why you are the best fit, don't leave anything to guesswork.
We recommend choosing between 6-10 skills that are relevant to the job you're applying for.
Skills can be hard or soft:
Soft skills are those you naturally possess or learn over time like confidence, communication, customer service, or relationship building.
Hard skills are those you have had to learn or train for and tend to be more technical such as HTML, financial modelling, or data analytics.
TOP TIP: Our expert content recommendations feature a mix of both hard and soft skills - try to use an equal number of both. But bear in mind that your hard skills are more likely to make you stand out from other candidates.
Write the perfect personal statement
We recommend writing your personal statement last. By this time, your writing skills will have warmed up, and you'll have a good sense of your experience and skills as a whole.
Also known as a personal summary, summary statement, or personal profile, this is your opportunity to tell recruiters why they should be picking you over other candidates. Used to its full extent, this powerful section entices recruiters to read your whole CV.
Generally placed below your contact details, this little block of text is your "knock 'em dead" elevator pitch: 2-3 sentences or one punchy-paragraph describing the value you'll bring to the role. It's also the longest continuous block of writing that you'll have on your CV, so can be the biggest challenge.
Just like a book synopsis, your personal statement shows at a glance, your highlights, career, and expertise wrapped up neatly in a perfect package.
Let's look at some examples:
What many people write
I'm a confident receptionist and have worked in over 5 places doing general receptionist work. I answer calls, make appointments for people and help with events and meetings. I file paperwork and can take shorthand notes in meetings when needed. I'm available immediately.
What's not quite right: This example reads like a list of tasks without giving the recruiter an understanding of the context in which they were performed, or if they were performed to a high standard. The good news is with a few tweaks, this example could be great. Why not try yourself to rework this example as an exercise?
What recruiters want to see:
First-aid trained legal receptionist with over 5 years of experience in corporate legal settings. Most recently working for Bain & Co Law assisting 5 partners with EA duties, possessing a confident telephone manner, exceptional note-taking abilities, and outstanding organisational skills.
Why this is much better: In this example, you can clearly understand the candidate's strengths. They've clearly outlined their background and added flourishes to show their uniqueness - first aid, for example - might not seem like a big deal but can be very helpful and is different.
This candidate has also included the number of partners they have assisted, giving the recruiter a broader picture of how busy and capable this person was in their last role.
Review your CV like an editor & recruiter
Once you've completed all the sections, it's time to review your CV and your writing. Time to put on your editor and recruiter hats as you look at your CV from two points of view.
First, imagine you're an editor. Read over each section slowly, looking for mistakes in your writing and work history.

Then, imagine you're the recruiter receiving your CV - are you a good match for the role?
One excellent way to review your CV for best fit to the job is to highlight keywords on your job description and your CV - how many times do you hit the keywords for the role? If not enough, you can go back to writing and make sure you include more keywords.
Check whether each of your positions have enough real-life examples of how you improved processes, saved the company money, and so forth.
As with any writing, you must check several times for errors. You can use our handy spellcheck for the perfect CV ready to send to recruiters.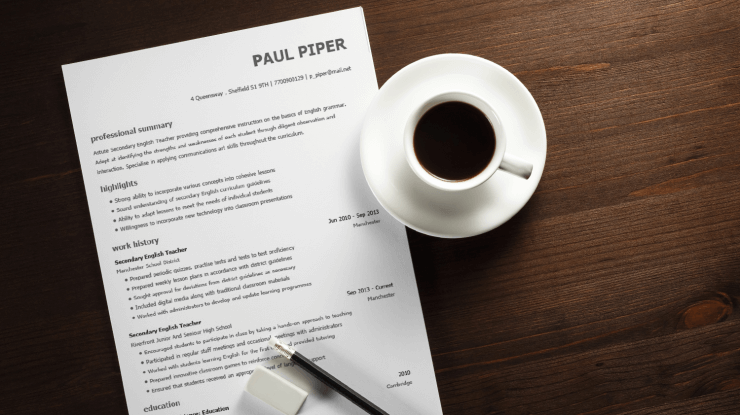 Writing mistakes to avoid when creating your CV
Being too wordy

One sure-fire way to lose the attention of recruiters is making your CV too long and too wordy. But what does being "wordy" mean exactly?

A wordy sentence uses more words than necessary to make an exact point. There are some easy ways to trim back your sentences:</p


Use verbs:
Action words or verbs enhance your writing with energy and liveliness. For example:

Directed
Spearheaded
Actioned
Orchestrated
Generated




Cut out 5 words from every sentence:
Read over your work, and see how many words you can cut to say the same thing. You'll often find a more straightforward way to convey the same message.

Your goal should always be to write as clearly as possible. Simple word choices help your CV to be read more quickly and be better understood.

It's a common misconception that bigger words make you appear more intelligent. It actually can have the opposite effect.

Remove personal pronouns:
It's perfectly acceptable to write using "I", however, the alternative will help you abbreviate your sentences and in our opinion does sound more professional. It's a personal choice. For example:

I generated over £1,000 in additional sales through upselling after client styling appointments.

Drop the "I" and the sentence is still perfect:

Generated over £1,000 in additional sales through upselling after client styling appointments.

Not being specific

A CV is a factual document. There shouldn't be any ambiguity around what you've done or where you performed your duties. Write your CV factually as possible at all times.




Facts are your friend - they help to solidify your experience and give clear examples of your expertise to the hiring manager.

For example, don't say "worked at a butchers" say "worked at H. R Smith & Sons Butchers". Don't say, "filed documents", say "filed important HMRC tax documents such as P11D, P60 and P45".

Backwards or upside-down layout

It's essential to follow the UK standard for CV layouts - there is a time to show your creativity, but generally the more standard your CV, the more easily it can be scanned by ATS and read by recruiters.

Our templates feature some variants on the below, and you might see skills to the left or right of the work experience. The golden rule in CV writing is to always start with your most recent work experience (in reverse chronological order).

The standard layout from top to bottom is:

Name & contact details
Personal summary
Work experience (in reverse chronological order)
Skills
Education
Hobbies (optional)
References (only if requested)

Lying about your experience or education

It can be tempting to tell small white lies on your CV, especially if a role ended badly or if you don't have a lot of experience. We absolutely can't tell you how detrimental this is to your career. Avoid lying about the incident, the time you were at a role or where you went to university. (The latter is degree fraud and carries a prison sentence!)

Just don't do it. Don't ever elaborate or inflate the truth. Your CV is a factual document.

Remember - everyone started somewhere. You're not expected to have the experience of a twenty-something at 18. Showing that you're enthusiastic, positive, and ready to learn will put you in an excellent position to be chosen as a candidate.

Including irrelevant skills

Your skills are keywords that match you up to a specific role. If you've got irrelevant skills in your CV, take them out immediately and replace them with the right ones! Skills are a fantastic section that can be used to your advantage.

Make sure your skills are taken directly from the job description to give you the best chance of being matched to the job and securing an all-important interview!

Using first-person personal pronouns

Think of your CV as a professional document or an essay. You wouldn't write an article or a working document using personal pronouns. We highly recommend writing your CV without using "I", and certainly never used, "me", "she", or "they". Writing in the third person will elevate your CV from a novice to a professional CV writing expert!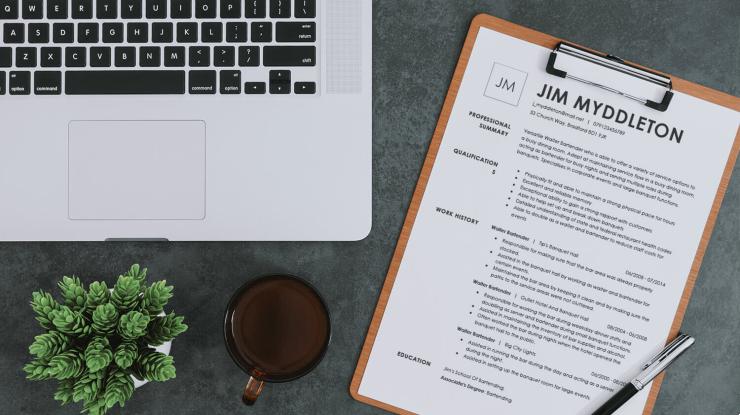 Frequently asked questions about CV writing
I'm a terrible writer. How can I write a good CV?
We've got exciting news for you. myPerfectCV includes pre-written content for summary statements, work experience, and skills. This professionally created content is job title-specific so you can sift through our perfect content, edit it to your specific circumstance and save! It's a no-brainer. It's your CV, but better!
How do I write about career gaps?
Writing your CV should include all of your career history and gaps, right? Well, yes, that is true but don't stress about career gaps. We live in a world where it's acceptable to take a break, raise kids, or travel.
These things are seen as positives as they enhance your understanding of the world. You can add a career gap on your CV, or you can leave it out. There's no hard rule, but if you feel that you want to explain your gap, make sure you frame it positively. Like this:
Took a 3-year career break to raise our children with my partner, learned the importance of family, patience, and organisation!
My CV is so long, what am I doing wrong?
This first thing you might see when researching how to write your CV in the UK is to keep it to 2 pages. This is the golden rule of CV writing, and we recommend sticking to this limit as it helps recruiters get to the heart of your experience faster.
If you're going over this limit, there could be a few reasons why:
You might be including too much experience - positions held over 10 years ago may not be relevant now, significantly if you have changed careers or jobs many times.

You're going into too much detail on all your roles - to combat this, and we recommend giving the most space to your more recent jobs. Use between 6-8 points per jobs title within the last 5 years and 4-6 for those older roles.

You include too much detail on your education section - your education is only vital if you have little work experience, or if it covers the last 10 years.

You're not sticking to a sensible number of relevant skills - we recommend 8-10 skills maximum.

You're using a massive font or large size. We recommend 11-12 points for standard CV text.

You're double spacing your work. Don't - use single line spacing.

You're wasting space on a massive title.
For example, someone who is an account manager now might have started as a hairdresser's assistant over 15 years ago. This experience is no longer relevant to this person's current role or any applications for positions as an account manager, so it's best to leave it off and let your relevant and recent experience shine!
Can I ask a recruiter for CV feedback?
Yes, you can always reach out to a recruiter for feedback; however, it is worth noting how busy they will be if they are currently recruiting. If you've received a "You've been unsuccessful" style email from a job you've applied for, you can reach out for feedback on why you were unsuccessful, and if they had any advice for next time.
Our tip would be to ask a recruiter before you're applying for feedback, especially if they're a specialist in the area you are looking to work in. Or give them a call to ensure you're providing all the information they are looking for - this can also help to build a rapport with them.
If you do call or email be sure to have a list of straightforward questions, and not to waste their time with questions you could have researched online. If you're lucky, the recruiter may be able to give you critical feedback and help you to write a better CV in future.
What if I don't have time to write a good CV?
Making a good CV is something that does take a little time, but thankfully, due to advancements in online CV builders like ours, using pre-written content and templates, you can shave off a lot of time.
Writing a professional CV isn't a lengthy and time-consuming task that it used to be. With myPerfectCV, you can create a clear and concise CV in minutes!
Consider this: if you don't have time to write a new CV and send a poorly written one, you could be sending the wrong impression to a recruiter or company that will last as long as that recruiter is there.
It's always worth the time investing in a good CV. When you create one online, you can easily and quickly edit it - again saving you time!
How do I write a good personal statement?
Our tried and tested way to write a good CV personal statement is to include 3 sentences to make one short paragraph that outlines who you are, what you do and at least one achievement. This gives the recruiter a brief overview of you as a person and entices them to continue reading.
First sentence: Who you are and what you do

Licensed beauty therapist with over 8 years of experience preparing and administering treatments to a range of clientele.
Second sentence: Details of your specialist skills

Specialising in massage therapies such as Swedish, Thai and sports relief massage.
Third sentence: Achievements

Trusted and awarded therapist with 5-star reviews on Google and London's Massage Therapist of the Year Award 2019.
Or, you can skip the thinking and head straight towards our pre-written personal statements in our CV builder, which allows you to personalise and tailor them to your own experience. Use them to form the base of your statement, or don't change them at all.
We're sure our professionally written summaries will help you to create a fantastic CV - saving your time to find the perfect interview outfit!
Can I add in additional sections to my CV?
Most CVs don't need extra sections. We strongly recommend sticking to the UK format and order of sections, however, if you wanted to reorder sections you can do that, but we'd advise against it.
The reason we try to avoid this is for continuity and clarity. If recruiters have to hunt through your CV for details in unusual places, it makes their lives harder. As the applicant, you want to make it as easy as possible through your writing and layout.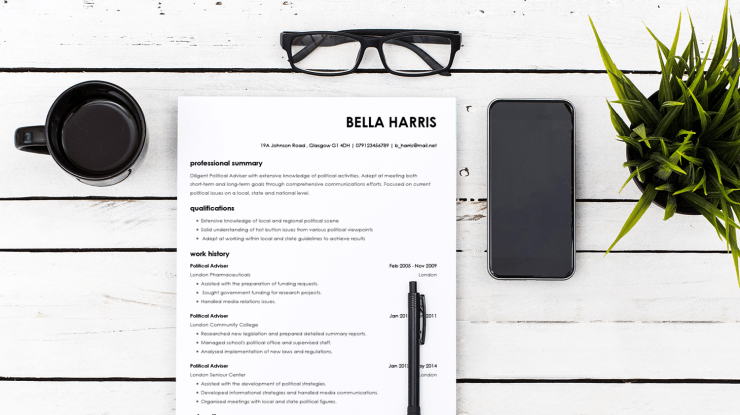 Take action today and write the best CV for your next career move
Now that you know how to write the perfect CV, it's time to put it into practice with myPerfectCV's builder. Access our pre-written content in action within the intuitive, easy-to-use builder. Choose from our large selection of professional CV templates, fonts, and colours with helpful guidance along the way. Need more help? Check out our examples for inspiration.
Build your perfect CV online with us, edit anytime, and download in PDF, Word, and TXT formats. Feel more confident in your CV writing skills and get the job you've always wanted.
It's your CV - only better!