A clear and concise basic CV template showcases your skills, education, and experience in the best way possible. Whether you're aiming for a role as a teacher, shop assistant, warehouse operative or accountant, using a traditional CV template shows recruiters exactly why you're made for the role. Plus, it saves your time and energy for other job-hunting tasks.
Ready to create the perfect basic CV? Discover high-quality, basic CV templates in myPerfectCV's collection to make an amazing first impression on recruiters.
Download one of our basic CV templates
Conservative

Keep things simple with a conservative CV that uses a text box for your contact details, followed by clear sections for your professional summary, skills, work history, and education.

Executive

The executive CV style provides space for all of your experience and key qualities without taking focus away from them in the process, allowing recruiters to easily skim-read.

Traditional

Put the spotlight on you with a traditional CV that's well laid out, properly structured and easy to read. Recruiters will love the clear subheadings and simple font.
Basic CV templates by job title and industry
From teenagers and students to experienced professionals, our basic CV templates have been put to the test for a wide variety of job roles and industries.
Top tips for using a common CV template
Use your basic CV template to show your achievements

A basic CV template can go a long way to showing off your talents. As well as your work history and qualifications, employees want to know about your workplace successes. Along with the duties of your job role, describe the impact your achievements have made at work. Maybe you started an initiative that boosted sales, or perhaps you mentored new members of staff. Even small successes can prove your value to employers, so don't be modest when you create a basic CV.

Make your basic CV layout clear

When you work on your basic CV template, remember that recruiters will be reading it. Choosing the right basic CV format can make a huge difference to the clarity of your CV. Split lengthy blocks of text into shorter paragraphs that make the content easy to read. Record your work and academic history with bullet points to draw the reader's eye through the information.

Use a basic CV template download to save time

Creating a common CV can be time-consuming, so why not get a head start with a basic CV template download? You can choose from a wide variety of templates for your industry, and then focus on filling in the blanks of your basic CV with the details of your career. Having a traditional CV template to hand helps you to send out more CVs in less time, whilst retaining a high level of quality to your basic CV.

Look at basic CV examples before writing

Before getting stuck into your basic blank CV template, it helps to look at finished examples to understand the best way to convey your skills and experience to recruiters. Look at some basic CV examples from the UK for your desired job role. Examine the information included in the personal statements, role descriptions, and skills. Once you've written out your CV, compare the basic CV structure and layout in the CV examples against your own. Are there any areas that could be made clearer?
FAQs about basic CV templates
How to do a basic CV
When you're ready to create a basic CV, there are several general steps that you need to take. Research the company you want to send your CV to, and make sure you are clear on which basic CV format they accept. Next, choose a basic CV template UK download to save time. It's best to choose a UK download, because US resumes can have different formatting and content requirements to UK basic CV templates. As you write your basic CV, ensure you've included all the major details of your work and academic history, but don't be tempted to include everything. Your CV should be two pages as a maximum. Finish by reviewing your CV against other basic CV examples to look for areas you could improve.
How to make a basic CV – layout and formatting
A successful basic CV is about more than just words. You also need to consider the layout and formatting of your basic CV template. Looking for a CV basic layout? There is no one-size-fits-all solution. You may need to use a different layout depending on the job role or your level of experience. However, a basic CV layout will generally include a professional statement, followed by work history, qualifications, and academic history. In regard to basic CV format, you'll need to consider the fact that many companies use ATS software to filter job applications based on certain keywords. Ensure that your formatting is ATS-friendly by choosing a basic CV template Word download, rather than a PDF.
How to write a basic CV
When writing a CV, the basic information that you need to include generally remains the same – your professional and academic history, along with your qualifications and skills. Look at basic CV samples from the UK to ensure that your grammar and spelling is suitable for working in the UK. No matter how qualified and experienced you are, poor English can hold you back from job success.
How to write a basic CV for students
A basic CV for a 16-year-old will look very different to one for a college student. Generally, a basic CV for a teenager will focus on academic achievements from school, key skills, and any hobbies or interests that might be relevant to the job role. Meanwhile, a basic CV for students who are at college or university will also incorporate skills and achievements from their current course or module. Utilising a basic CV template for students is a fantastic time-saver, so young people can focus on their busy study schedules.
Dos and don'ts for writing a successful basic CV
Do
Do research before writing your basic CV outline. The key cornerstone of creating a great CV is awareness of the company you are applying to. If you plan your basic CV outline before researching the company, you could focus on details that are irrelevant to the role, or not in line with the organisation's ethos. Look up their formatting guidelines, as well. If they use ATS software to filter candidates, using a basic CV Word template is the best choice, rather than PDF formatting.
Do write a great personal statement. In your basic CV template download, you'll find a section to create your personal statement. Think carefully about how you want to present yourself to the prospective employer. What will they want to know about you? In a few core sentences, sum up your experience, qualifications, and career goals. Similarly, use bullet points to flesh out details of the tasks you have completed successfully in previous jobs to demonstrate your competency for the position.
Don't
Don't include irrelevant information in your basic CV template. The best way to make use of your basic CV template is to include the right information. If you ramble for several pages about jobs you had twenty years ago in a completely different industry, you're unlikely to be a successful candidate. Keep your CV to two pages maximum. Recruiters are potentially reading hundreds of CVs, so you need to capture their attention quickly and hold it to the final word.
Don't choose the wrong basic CV format. Certain companies require you to use specific formatting to avoid being filtered by their ATS software. Using a basic CV template doc is generally the best option, because Word documents are ATS-friendly. Finding a basic CV template Word download means you don't have to worry about your CV not getting seen by recruiters.
Walk into your perfect interview with our

basic CV templates
Searching for a common CV template to show off your experience and skills? Browse myPerfectCV's selection of basic CV templates to save yourself the time and energy of creating one from scratch. There are many formats to choose from – so if you're searching for a professional basic CV template doc, you'll find plenty of brilliant options in our collection. Discover the perfect CV to impress recruiters and set yourself on the path to a fantastic interview.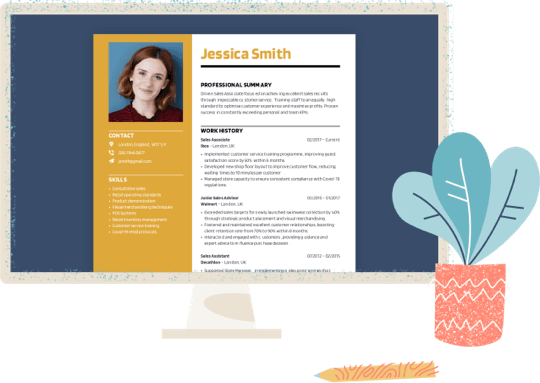 *The names and logos of the companies referred to above are all trademarks of their respective holders. Unless specifically stated otherwise, such references are not intended to imply any affiliation or association with myperfectCV.