A well-written CV is essential when applying for any job. Not only should this document be descriptive, but it must be able to showcase your talents, strengths and personality traits.This can be complicated and you may have a number of questions.The CV example found below will be able to provide you with a basic guideline.Please note that depending upon the specific role that you desire, the final product will be slightly different to this template.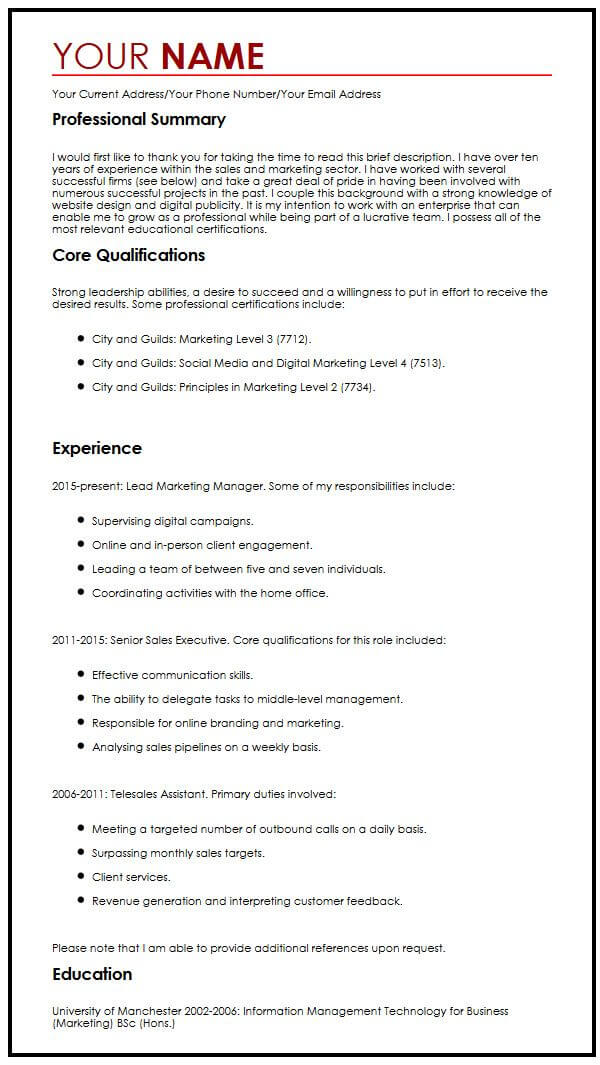 Your Current Address/Your Phone Number/Your Email Address
Professional Summary
I would first like to thank you for taking the time to read this brief description.I have over ten years of experience within the sales and marketing sector.I have worked with several successful firms (see below) and take a great deal of pride in having been involved with numerous successful projects in the past.I couple this background with a strong knowledge of website design and digital publicity.It is my intention to work with an enterprise that can enable me to grow as a professional while being part of a lucrative team.I possess all of the most relevant educational certifications.
Core Qualifications
Strong leadership abilities, a desire to succeed and a willingness to put in effort to receive the desired results.Some professional certifications include:
City and Guilds: Marketing Level 3 (7712).
City and Guilds: Social Media and Digital Marketing Level 4 (7513).
City and Guilds: Principles in Marketing Level 2 (7734).
Experience
2015-present: Lead Marketing Manager.Some of my responsibilities include:
Supervising digital campaigns.
Online and in-person client engagement.
Leading a team of between five and seven individuals.
Coordinating activities with the home office.
2011-2015: Senior Sales Executive.Core qualifications for this role included:
Effective communication skills.
The ability to delegate tasks to middle-level management.
Responsible for online branding and marketing.
Analysing sales pipelines on a weekly basis.
2006-2011: Telesales Assistant.Primary duties involved:
Meeting a targeted number of outbound calls on a daily basis.
Surpassing monthly sales targets.
Client services.
Revenue generation and interpreting customer feedback.
Please note that I am able to provide additional references upon request.
Education
University of Manchester 2002-2006: Information Management Technology for Business (Marketing) BSc (Hons.)
Conclusion
This concise CV example should be able to offer you a general overview of the layout, content and details that need to be included during your presentation.This is one of the many samples that are immediately at your disposal.We encourage you to have a further look within this website for additional tips and tricks.