Encountering a rewarding job is now more challenging than ever before.Whether due to increased competition or a volatile marketplace, many individuals face a lengthy application process.However, one of the keys to landing a lucrative role involves the presentation of a professional CV.Some are still unaware of how this document is formatted and the information that should be contained within.We have therefore created the custom CV example found below.Please note that in this case, the applicant has a background in finance.You should replace this information with your own specialities and skills.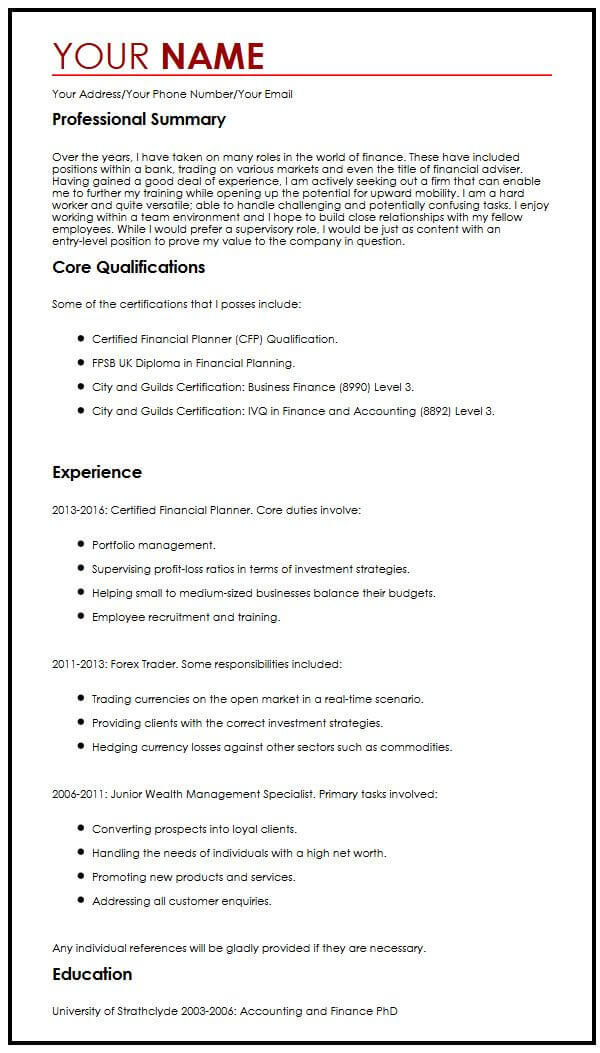 Your Address/Your Phone Number/Your Email
Professional Summary
Over the years, I have taken on many roles in the world of finance.These have included positions within a bank, trading on various markets and even the title of financial adviser.Having gained a good deal of experience, I am actively seeking out a firm that can enable me to further my training while opening up the potential for upward mobility.I am a hard worker and quite versatile; able to handle challenging and potentially confusing tasks.I enjoy working within a team environment and I hope to build close relationships with my fellow employees.While I would prefer a supervisory role, I would be just as content with an entry-level position to prove my value to the company in question.
Core Qualifications
Some of the certifications that I posses include:
Certified Financial Planner (CFP) Qualification.
FPSB UK Diploma in Financial Planning.
City and Guilds Certification: Business Finance (8990) Level 3.
City and Guilds Certification: IVQ in Finance and Accounting (8892) Level 3.
Experience
2013-2016: Certified Financial Planner.Core duties involve:
Portfolio management.
Supervising profit-loss ratios in terms of investment strategies.
Helping small to medium-sized businesses balance their budgets.
Employee recruitment and training.
2011-2013: Forex Trader.Some responsibilities included:
Trading currencies on the open market in a real-time scenario.
Providing clients with the correct investment strategies.
Hedging currency losses against other sectors such as commodities.
2006-2011: Junior Wealth Management Specialist.Primary tasks involved:
Converting prospects into loyal clients.
Handling the needs of individuals with a high net worth.
Promoting new products and services.
Addressing all customer enquiries.
Any individual references will be gladly provided if they are necessary.
Education
University of Strathclyde 2003-2006: Accounting and Finance PhD
Conclusion
While centred around the world of finance, this custom CV example highlights all of the most important aspects that should be listed during the application process.This is only one sample of the kaleidoscope of additional CVs that can be found throughout this site.Please have a more in-depth look at your convenience.