Customer Service Advisor CV
A perfect customer service CV sets out your experience of working in a range of environments, delivering sales and managing accounts using various methods. It outlines your work history, giving brief details of your duties and concrete examples of what you achieved in every job.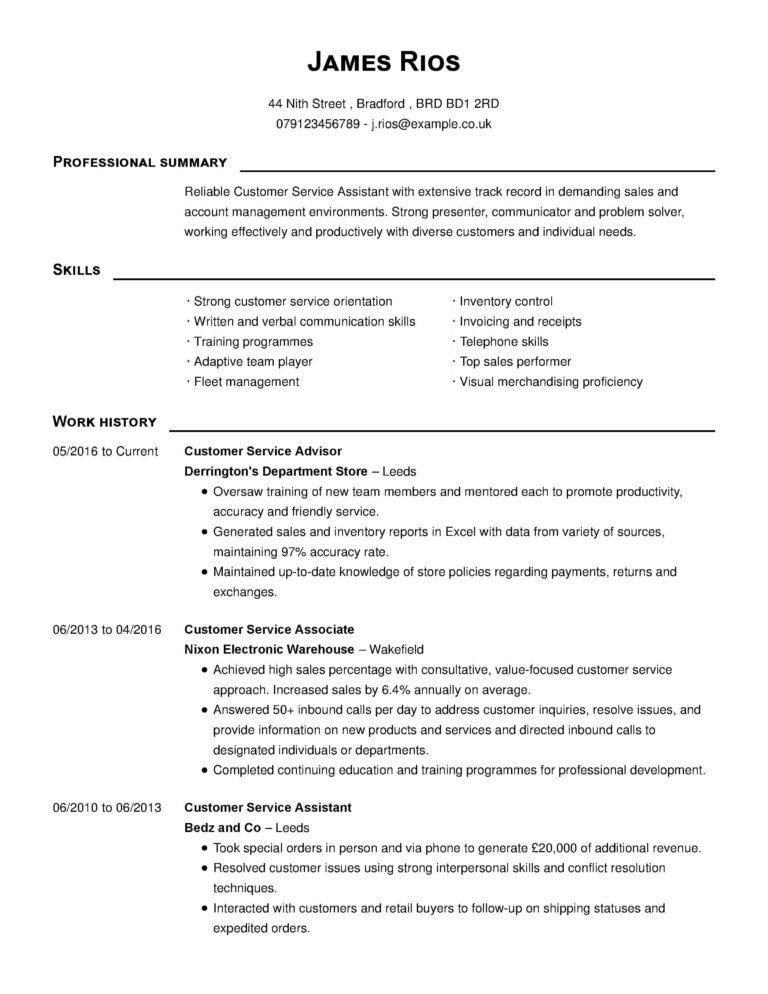 Customer Service Advisor CV Templates
We've been creating highly effective CVs for more than a decade. That's why our customer service CV templates give you such a strong starting point to build your own CV.
How to choose a customer service advisor CV template
The design of each of our recommended customer service CV templates is clean and uncluttered.
Subtle use of colour: Our CV templates don't use the whole rainbow. Instead, they use just one or two colours so that the design is easy to read and looks professional.
Standard fonts: Using the same simple, classic fonts for the entire customer service advisor CV template make it look professional and consistent.
Clean and simple layout: Clearly defined sections with simple headings make it easy for employers to skim your CV and find what's important.
The structure of our customer service advisor CV templates follow a tried and tested formula that works well for employers.
Personal statement: This section sells your ability and ambition to do the job, in a succinct manner.
Work history: Breaking this section up into smaller sections for each job means it's easy to spot career progression.
Qualifications: Professional accreditations like an NVQ in Customer Service showcase your career development, and deserve a separate section of their own.
Skills: Bullet points help you pack in as many relevant skills as possible in a smaller space.
Customer Service Advisor CV Examples
Our customer service CV example shows just what you could achieve with our CV builder. Here's what to pay particular attention to:
Clear contact details: The contact details are provided clearly at the top of the CV, and the customer service advisor has made sure to use a professional sounding email address.
Creating immediate impact: The personal statement at the top of the page is short, but finds room to mention skills including presentations, communication, problem solving, and account management.
Work experience: The duties and responsibilities listed include achievements like generating telephone sales, illustrated with concrete numbers.
Versatility: Throughout the CV, this customer service advisor shows their broad ability and versatility by mentioning experience in staff training, reporting, customer interaction, and sales. The message is that they'd be a great customer service advisor in any company.
Skills: Using bullet points help this customer service advisor to showcase loads of relevant skills, from visual merchandising to fleet management.
How to Write a Perfect Customer Service Advisor CV – 6 Top Tips
The perfect customer service advisor CV highlights your track record of dealing with customers in a way that drives revenue, increases productivity, and is service-focused. Here are our 6 top tips to stand out:
Use the right keywords: Many recruiters use Applicant Tracking Systems (ATS): software that rejects CVs that don't include the right keywords. Read the job advert carefully to make sure you include words like 'complaints', 'sales', and 'customer satisfaction'.
Include facts and figures: When you list your responsibilities, use an actual number to show how you delivered. Don't just say that you increased sales; it's more impactful to point out that you raised them by 6.4% on an annual basis.
Show off a broad skillset: Make sure to list both highly specific skills like fleet management and invoicing, as well as softer skills like verbal communication and sales performance. This shows a company that you understand the demands of the job you want to apply for.
Write carefully: Use words and phrases that are well understood in your sector. Mentioning inventory reports, returns and exchanges, and shipping status will mark you out as an experienced customer service advisor.
Don't forget your certifications: Make it clear exactly when you gained certifications such as an NVQ Level 3. Studying while working shows your work ethic and commitment to professional development.
Remember to use spell-check: Before you finally apply for that job, check your spelling multiple times. Just a single mistake can convince employers that you're not professional enough for the job.
Frequently Asked Questions About Customer Service Advisor CVs
How do you write a personal statement for customer service?
Write a personal statement for a customer service advisor CV by packing the maximum amount of information into fewer than 50 words:
Mention environments you've worked in, like sales and account management.
List specific, transferable skills like communication and problem solving.
Emphasise the fact that you've used your skills to deliver solutions for customers.
Mention your extensive track record - which the rest of the CV outlines.
Check out our CV builder for help building a perfect personal statement.
What's an example of good customer service?
Examples of good customer service include:
Dealing with returns in a prompt and polite manner.
Handling multiple phone calls to answer customer enquiries.
Processing orders to ensure prompt delivery.
Explaining products to customers in a manner that drives higher sales or customer satisfaction ratings.
What do you write in a CV for customer service?
To create the perfect CV for customer services, focus on the following:
A personal statement, summing up your experience and skillset in a single paragraph.
Employment history, giving the names of each company, the dates you worked there, and details of your responsibilities in each job, illustrated with concrete facts and figures.
A list of skills, combining hard skills like inventory control with softer skills like being a team player.
Our CV builder makes it quick and easy to build a perfect customer service CV in minutes. Start now!
Key Skills for Your Customer Service Advisor CV
Your CV should mix highly specific customer service skills with a more general knack for one-to-one communication.
Essential skills for a customer service advisor
Strong customer service orientation
Fleet management
Inventory control
Invoicing and receipts
Telephone skills
Markdown/promotional procedures
Shipping and receiving
Cash handling
Additional skills to help your customer service CV stand out from the crowd
Training programmes
Adaptive team player
Top sales performer
Visual merchandising proficiency
Store maintenance
Problem solver
Visual merchandising proficiency
Sales negotiating
Written and verbal communication skills
Build Your Perfect Customer Service Advisor CV
Choose one of our CV templates, get to work with the CV builder and you'll have the CV you need in just minutes.
Check out our CV examples to see just how effective your customer service advisor CV could be, then start writing your own perfect CV.