Learning how to write a CV that effectively showcases all your relevant skills and interests is a difficult and often time-consuming process. Our CV Sample With Interests can help make this task much easier as it provides the information needed to give you an idea of what to include and what to omit, as well as providing an example of the appropriate formatting of a modern CV. This CV Sample With Interests is a good example of the type of CV that is likely to stand out from the pile when glanced at by a potential employer - it could help you to land that all-important job interview.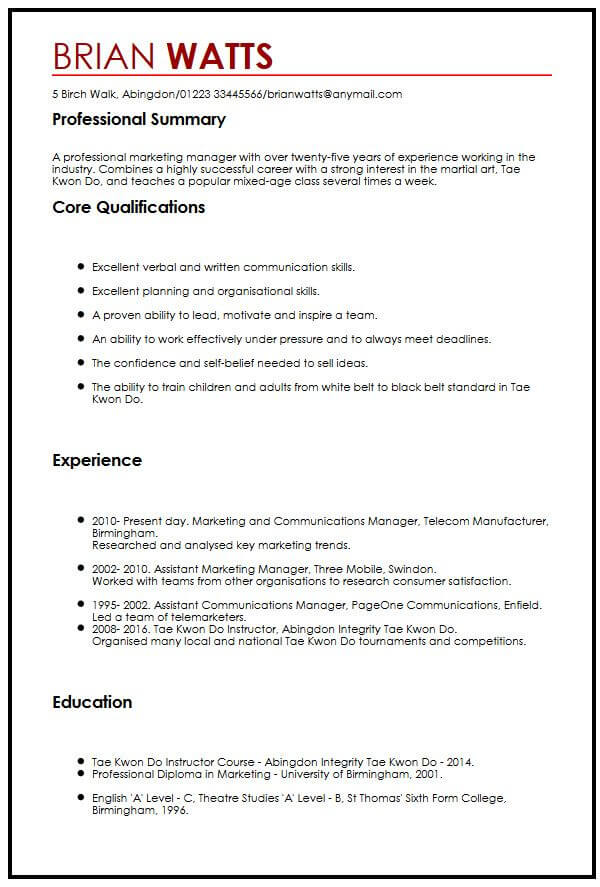 5 Birch Walk, Abingdon/01223 33445566/brianwatts@anymail.com
Professional Summary
A professional marketing manager with over twenty-five years of experience working in the industry. Combines a highly successful career with a strong interest in the martial art, Tae Kwon Do, and teaches a popular mixed-age class several times a week.
Core Qualifications
Excellent verbal and written communication skills.
Excellent planning and organisational skills.
A proven ability to lead, motivate and inspire a team.
An ability to work effectively under pressure and to always meet deadlines.
The confidence and self-belief needed to sell ideas.
The ability to train children and adults from white belt to black belt standard in Tae Kwon Do.
Experience
2010- Present day. Marketing and Communications Manager, Telecom Manufacturer,Birmingham.Researched and analysed key marketing trends.
2002- 2010. Assistant Marketing Manager, Three Mobile, Swindon. Worked with teams from other organisations to research consumer satisfaction.
1995- 2002. Assistant Communications Manager, PageOne Communications,Enfield.Led a team of telemarketers.
2008- 2016. Tae Kwon Do Instructor, Abingdon Integrity Tae Kwon Do.Organised many local and national Tae Kwon Do tournaments and competitions.
Education
Tae Kwon Do Instructor Course - Abingdon Integrity Tae Kwon Do - 2014.
Professional Diploma in Marketing - University of Birmingham, 2001.
English 'A' Level - C, Theatre Studies 'A' Level - B, St Thomas' Sixth Form College, Birmingham, 1996.
Conclusion
This CV Sample With Interests is one of many similar examples that are well worth looking at if you are serious about finding a job. You could also use our free tools and CV builder available on our website for more invaluable guidance.