CV Sample With References
Providing your potential new employer with the right references from trustworthy sources can make a real difference in job applications, whether you are responding to an advertised vacancy or are making a speculative approach to a company where you would like to work. In addition to including personal and work references, a well-written CV can be adapted for the vacancy advertised as the first step in your search for a new job. A CV with references also needs to show your most notable educational qualifications, pertinent work-related skills and job successes to date. The CV sample with references, as shown below, offers helpful pointers with the correct information and appropriate formatting to use and thereby maximise the chances of being invited to an interview with the HR or business manager.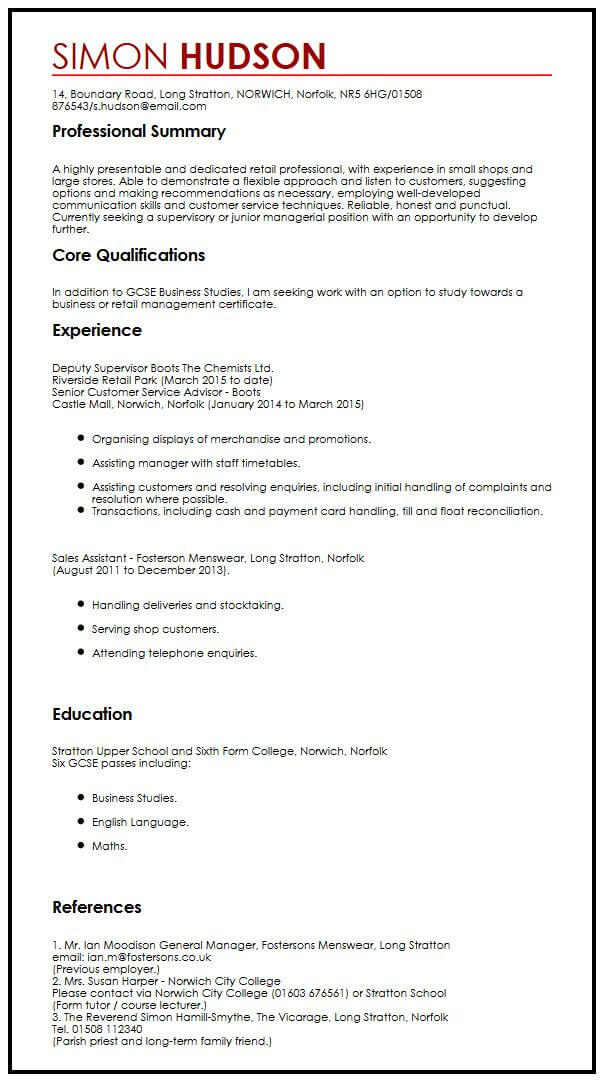 14, Boundary Road, Long Stratton, NORWICH, Norfolk, NR5 6HG/01508 876543/s.hudson@email.com
Professional Summary
A highly presentable and dedicated retail professional, with experience in small shops and large stores. Able to demonstrate a flexible approach and listen to customers, suggesting options and making recommendations as necessary, employing well-developed communication skills and customer service techniques. Reliable, honest and punctual.Currently seeking a supervisory or junior managerial position with an opportunity to develop further.
Core Qualifications
In addition to GCSE Business Studies, I am seeking work with an option to study towards a business or retail management certificate.
Experience
Deputy SupervisorBoots The Chemists Ltd. Riverside Retail Park (March 2015 to date)Senior Customer Service Advisor - BootsCastle Mall, Norwich, Norfolk (January 2014 to March 2015)
Organising displays of merchandise and promotions.
Assisting manager with staff timetables.
Assisting customers and resolving enquiries, including initial handling of complaints and resolution where possible.
Transactions, including cash and payment card handling, till and float reconciliation.
Sales Assistant - Fosterson Menswear, Long Stratton, Norfolk (August 2011 to December 2013).
Handling deliveries and stocktaking.
Serving shop customers.
Attending telephone enquiries.
Education
Stratton Upper School and Sixth Form College, Norwich, NorfolkSix GCSE passes including:
Business Studies.
English Language.
Maths.
References
1. Mr. Ian MoodisonGeneral Manager, Fostersons Menswear, Long Strattonemail: ian.m@fostersons.co.uk(Previous employer.)2. Mrs. Susan Harper - Norwich City College Please contact via Norwich City College (01603 676561) or Stratton School (Form tutor / course lecturer.)3. The Reverend Simon Hamill-Smythe, The Vicarage, Long Stratton, NorfolkTel. 01508 112340(Parish priest and long-term family friend.)
Conclusion
As well as this CV sample with references, a number of alternative and very useful CV samples, guidance articles and job search tools are available on this site. Job seekers are invited to explore and use these free tools in their CV writing process.