What are some of the characteristics that serve to define a professional CV example?Is it a listing all of the most important skills, speaking directly to the reader or illustrating your eagerness to succeed?In fact, all of these attributes should be utilised.This can be a bit daunting if you are entering into the job-seeking market for the first time.So, we will take a look at one example of how a professional CV should be presented.You can thereafter adapt this text to suit your own purposes.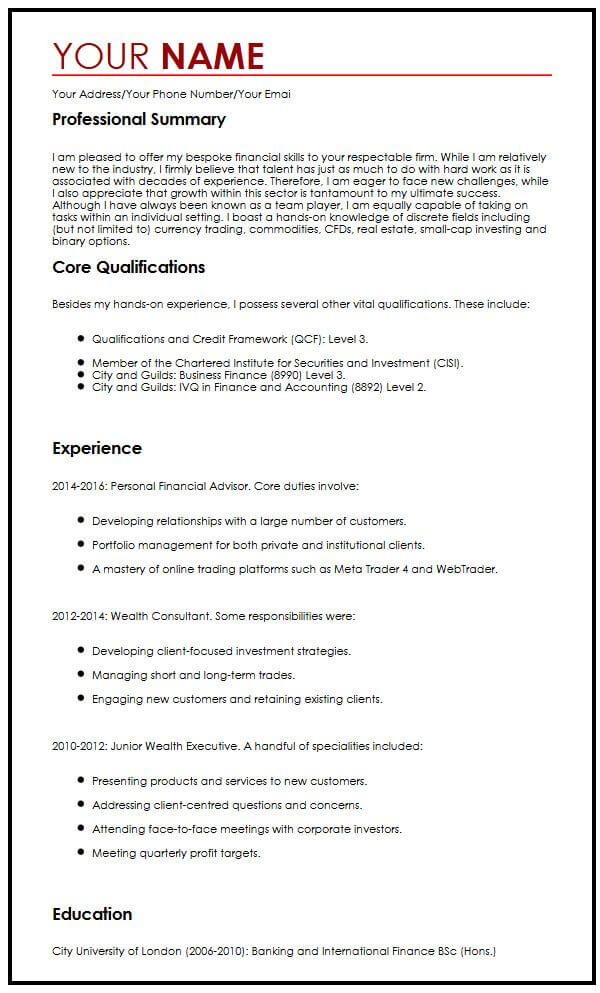 Your Address/Your Phone Number/Your Emai
Professional Summary
I am pleased to offer my bespoke financial skills to your respectable firm.While I am relatively new to the industry, I firmly believe that talent has just as much to do with hard work as it is associated with decades of experience.Therefore, I am eager to face new challenges, while I also appreciate that growth within this sector is tantamount to my ultimate success.Although I have always been known as a team player, I am equally capable of taking on tasks within an individual setting.I boast a hands-on knowledge of discrete fields including (but not limited to) currency trading, commodities, CFDs, real estate, small-cap investing and binary options.
Core Qualifications
Besides my hands-on experience, I possess several other vital qualifications.These include:
Qualifications and Credit Framework (QCF): Level 3.
Member of the Chartered Institute for Securities and Investment (CISI).
City and Guilds: Business Finance (8990) Level 3.
City and Guilds: IVQ in Finance and Accounting (8892) Level 2.
Experience
2014-2016: Personal Financial Advisor.Core duties involve:
Developing relationships with a large number of customers.
Portfolio management for both private and institutional clients.
A mastery of online trading platforms such as Meta Trader 4 and WebTrader.
2012-2014: Wealth Consultant.Some responsibilities were:
Developing client-focused investment strategies.
Managing short and long-term trades.
Engaging new customers and retaining existing clients.
2010-2012: Junior Wealth Executive.A handful of specialities included:
Presenting products and services to new customers.
Addressing client-centred questions and concerns.
Attending face-to-face meetings with corporate investors.
Meeting quarterly profit targets.
Education
City University of London (2006-2010): Banking and International Finance BSc (Hons.)
Conclusion
It is clear to see that this professional CV example is centred around an applicant within the world of corporate finance and investing.However, the structure can remain the same for many other fields of expertise.This is one of many different CV templates that can be found throughout this portal. We encourage any jobseeker to have a further look at what we have to offer.