The task of finding and getting your next job role can be daunting, so it helps to break it down into steps. Start with creating a CV that helps you get a foot in the door. You can use our free sales advisor CV sample as a foundation towards writing the ideal CV, with accurate information and a strong layout. Let us help you to get noticed.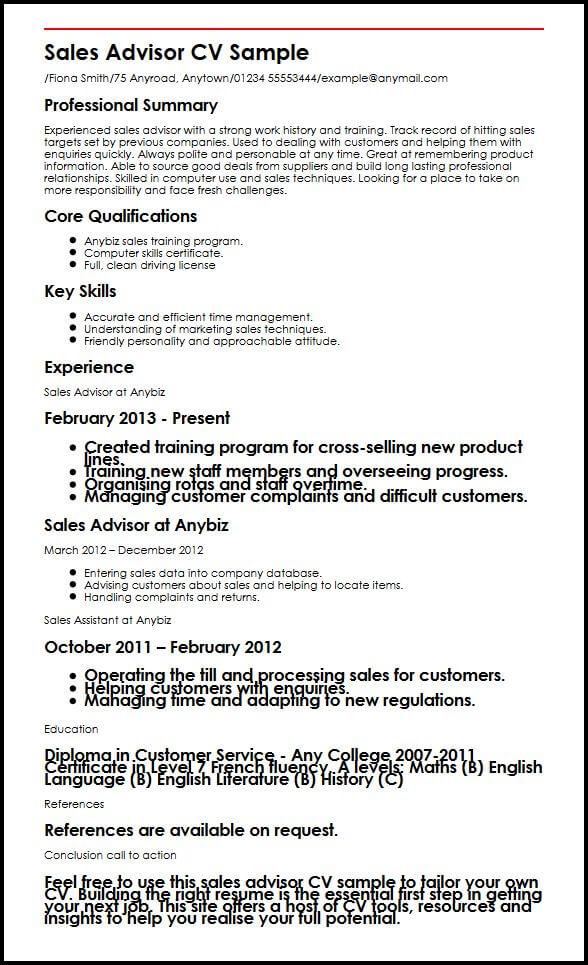 Sales Advisor CV Sample/Fiona Smith/75 Anyroad, Anytown/01234 55553444/example@anymail.com
Professional Summary
Experienced sales advisor with a strong work history and training. Track record of hitting sales targets set by previous companies. Used to dealing with customers and helping them with enquiries quickly. Always polite and personable at any time. Great at remembering product information. Able to source good deals from suppliers and build long lasting professional relationships. Skilled in computer use and sales techniques. Looking for a place to take on more responsibility and face fresh challenges.
Core Qualifications
Anybiz sales training program.
Computer skills certificate.
Full, clean driving license
Key Skills
Accurate and efficient time management.
Understanding of marketing sales techniques.
Friendly personality and approachable attitude.
Experience
Sales Advisor at Anybiz
February 2013 - Present

Created training program for cross-selling new product lines.
Training new staff members and overseeing progress.
Organising rotas and staff overtime.
Managing customer complaints and difficult customers.

Sales Advisor at Anybiz
March 2012 | December 2012
Entering sales data into company database.
Advising customers about sales and helping to locate items.
Handling complaints and returns.
Sales Assistant at Anybiz
October 2011 | February 2012

Operating the till and processing sales for customers.
Helping customers with enquiries.
Managing time and adapting to new regulations.
Education
Diploma in Customer Service - Any College 2007-2011Certificate in Level 7 French fluency.A levels: Maths (B) English Language (B) English Literature (B) History (C)
References
References are available on request.
Conclusion call to action
Feel free to use this sales advisor CV sample to tailor your own CV. Building the right resume is the essential first step in getting your next job. This site offers a host of CV tools, resources and insights to help you realise your full potential.