Animal Care Worker CV Example
Do you intend to work voluntarily with animals, on a part-time basis, or do you want to apply for a full-time position? Using our free animal care worker CV sample will help you arrange your educational qualifications and relevant job experiences in an easy to follow and correctly formatted manner.
Create This CVSee all templates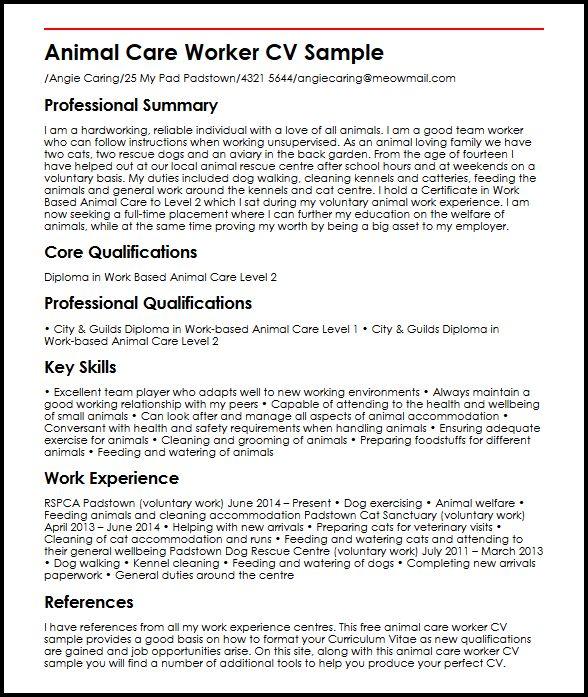 Build a professional CV that gets you hired.
Animal Care Worker CV Sample/Angie Caring/25 My Pad Padstown/4321 5644/angiecaring@meowmail.com
Professional Summary
I am a hardworking, reliable individual with a love of all animals. I am a good team worker who can follow instructions when working unsupervised.As an animal loving family we have two cats, two rescue dogs and an aviary in the back garden. From the age of fourteen I have helped out at our local animal rescue centre after school hours and at weekends on a voluntary basis. My duties included dog walking, cleaning kennels and catteries, feeding the animals and general work around the kennels and cat centre.I hold a Certificate in Work Based Animal Care to Level 2 which I sat during my voluntary animal work experience. I am now seeking a full-time placement where I can further my education on the welfare of animals, while at the same time proving my worth by being a big asset to my employer.
Core Qualifications
Diploma in Work Based Animal Care Level 2
Professional Qualifications

• City & Guilds Diploma in Work-based Animal Care Level 1
•City & Guilds Diploma in Work-based Animal Care Level 2
Key Skills

• Excellent team player who adapts well to new working environments
• Always maintain a good working relationship with my peers
• Capable of attending to the health and wellbeing of small animals
• Can look after and manage all aspects of animal accommodation
• Conversant with health and safety requirements when handling animals
• Ensuring adequate exercise for animals
• Cleaning and grooming of animals
• Preparing foodstuffs for different animals
• Feeding and watering of animals
Work Experience
RSPCA Padstown (voluntary work) June 2014 | Present
• Dog exercising
• Animal welfare
• Feeding animals and cleaning accommodationPadstown Cat Sanctuary (voluntary work) April 2013 | June 2014
• Helping with new arrivals
• Preparing cats for veterinary visits
• Cleaning of cat accommodation and runs
• Feeding and watering cats and attending to their general wellbeingPadstown Dog Rescue Centre (voluntary work) July 2011 | March 2013
• Dog walking
• Kennel cleaning
• Feeding and watering of dogs
• Completing new arrivals paperwork
• General duties around the centre
References
I have references from all my work experience centres.This free animal care worker CV sample provides a good basis on how to format your Curriculum Vitae as new qualifications are gained and job opportunities arise. On this site, along with this animal care worker CV sample you will find a number of additional tools to help you produce your perfect CV.